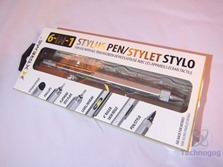 I've got a quick review for you today of something that I think can be very useful, it's a stylus and pen but it's so much more than that. The Xtreme 6 in 1 Combo Stylus Pen is a pen, a stylus, a ruler, a screwdriver and a bubble level in one handy and well made product. The body is made of aluminum making it very study and durable and it's inexpensive and it's just one of those things that can be useful for many situations as it can replace other tools you might carry with you. Read on to learn more..
Specifications and Features
Stylus Pen – Signature Touch 6-in-1 Combo Versatile Universal Stylus Pen for touch screens
Product Features:
ERGONOMICALLY DESIGNED body made of aluminum takes anything you throw at it!
RULER & LEVEL BUILT-IN will make you exact and precise like a rocket scientist
CLIP ON STYLUS allows you to carry it anywhere
SCREW DRIVER includes Phillips head & flathead tips
STYLUS tip for any touch screen
RULER integrated
The 6-in-1 Universal Stylus Pen Combo is a revolutionary stylus pen that is a must-have for IT professionals, do-it-yourself-ers and anyone who likes to be prepared with a couple of handy tools on them at all times. With this stylus pen combo, you can complete an endless number of tasks with ease. On one end, you'll find the black stylus pen for touch screens that makes it easy to make selections and type on a screen. The stylus is optimized to work with all types of tablets, smartphones and GPS devices. With this handy tool, you'll be able to greatly reduce the need to clean your mobile device screen. On the other end of the stylus pen is a traditional black ballpoint pen tip that writes smoothly and clearly. The pen uses a replaceable ink cartridge, so you can continue to use it for years. On the side of the ergonomic stylus is a handy 4-inch ruler, and there is a dual head flathead and Phillips screwdriver tip tucked away beneath the stylus.
Price:  $7.99 (from Amazon at time of review)
The Review
Let's start off with a video unboxing:
The packaging for the stylus penis very nice looking and it has lots of information all over it detailing all of the functions of the product. When you open the package you'll find a clear plastic tray holding the pen for shipping and there are no instructions included, but you don't really need any either.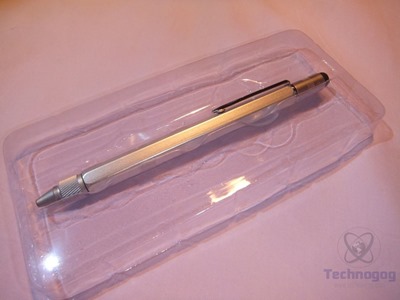 The stylus is very well made of aluminum so it's durable and should last a long time surely and withstand lots of abuse. The stylus is about six inches long when the pen tip is extended and it's about 3/8" thick.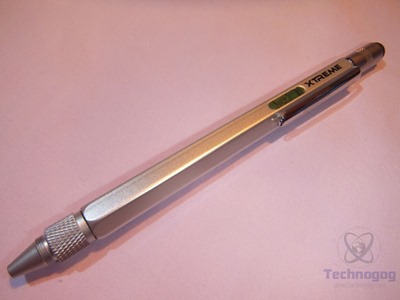 The tip has a knurled grip on the front that you turn to expose the pen tip to write. The ink is black and it writes just fine, it's a ball point so it's smooth writing.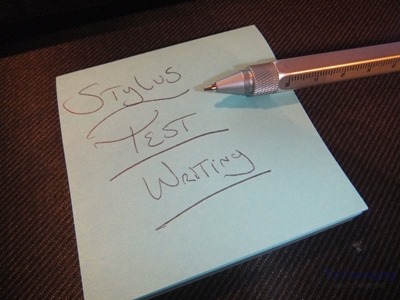 The pen tip pulls out to expose the ink cartridge which you can replace so when it runs outs of ink you can still continue to use it just by putting in a new cartridge.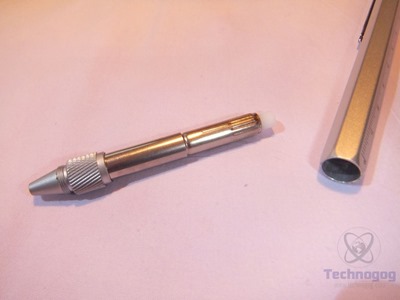 Towards the back you'll find the clip and the built-in bubble level with the Xtreme logo printed there.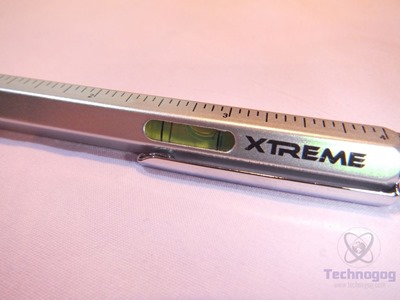 The stylus nub is on the back of the pen and it screws off to reveal the screwdriver. The screwdriver is doubled ended with both flat and Phillips heads, you just pull it out and flip it over to switch.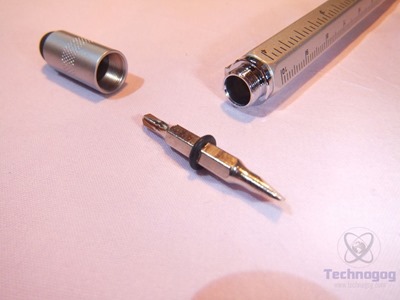 The stylus nub end can actually screw onto the front of the pen over the pen tip to be used that way or for storage so you don't lose the nub while you're using the screwdriver end.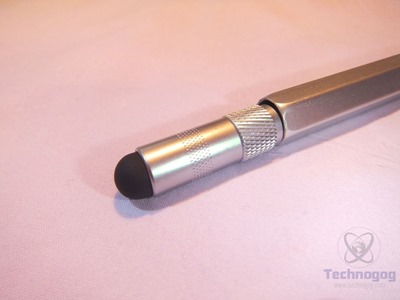 The stylus also features a ruler along the length up to four inches on one side and up to ten centimeters on the other side.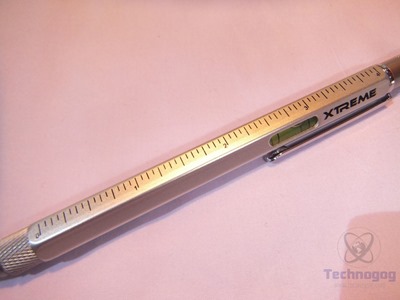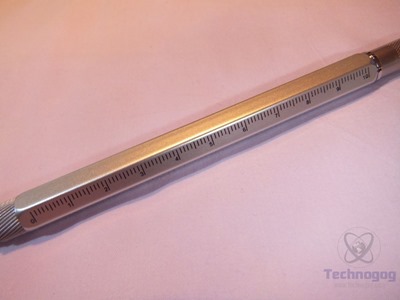 I used the stylus nub with the HTC One M7 Android phone and an Android tablet and found it to be just fine. The screens responded just as if it was my finger on them, but no smears or smudges on the screens.
The stylus can keep your screen free or dirt and oils and smudges from your fingers, and clean is good.
Conclusion
The Xtreme 6 in 1 Combo Stylus Pen is one of those things that can be an invaluable tool for sure as it can do lots of things and replace multiple items with just one.
As a techie I find something like this very useful, the screwdriver sizes are perfect for electronic work and the ruler is in both imperial and metric which comes in very handy as many computer/electronic things are measured in metric.
We all use cellphones, it seems most everyone has a smartphone these days and this stylus can be great for anyone.
I could see adding this to my everyday carry or maybe tossing it in my electronic toolbox. I could also see this product being great for someone doing construction or home remodeling type work as it has a ruler and level built right into it and the stylus end would be great to keep dirty hands off of touch screens.
As is the Xtreme 6 in 1 Combo Stylus Pen is a great product but the problem is I don't know where to get pen refills when it runs out of ink. I checked to see what other products the manufacturer made/selling on Amazon and I couldn't find the refills listed for sale. I guess it could use a generic type refill but not sure what exactly that would be either.
For now I can give it a good review as is, but once the ink runs out the pen will lose some of it's usefulness for sure. Yes it can still be useful for other things, the other functions I mean, but you won't be able to write with it once the ink runs out.
Pros:
+Very well made
+Numerous uses
+Replaceable ink cartridge
Cons:
-Not sure where to get pen refills
| | |
| --- | --- |
| Grading | Scores Out of 10 |
| Overall | |
| Design / Aesthetic | |
| Value / Price | |
| Performance / Usage | |
Disclosure: This product was given to us for review by the company for review purposes only, and is not considered by us as payment for the review.
To learn more about our review policy please visit this page HERE.