Xtrememac is a well known Apple mobile device peripheral maker who in the past has provided Tesfreaks with cases and chargers for review. Today we will look at their Bluetooth enabled iPod/iPhone speaker dock – the Tango TRX. Besides charging and playing music from a docked iPod or iPhone, it can also wirelessly stream music from any Bluetooth stereo capable devices including Android and Blackberry models.
This speaker system includes two midrange drivers, two tweeters and a subwoofer to provide a rich soundstage. The build aesthetic is minimalist and elegant making it ideal for either home or office setting. The Tango TRX includes a small remote or can be controlled via a free downloaded iTunes app for one's iPhone, iPad or iPod Touch.
If you wish to attach a different audio peripheral the Tango TRX also includes a line in jack for playing non-Bluetooth non-Apple devices.
The Tango TRX comes in a cardboard box with plenty of information about the product on most faces of the package. Included on the outside of the box is the iPod/iPhone logo which means it is an Apple sanctioned accessory.
Inside the package we find the Tango TRX speaker, an AC power cord, wireless remote control, and user guide.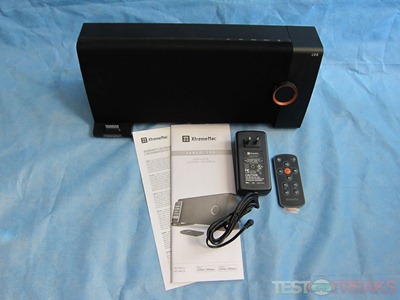 Xtrememac built the Tango TRX with the following specs – Dual 2.75" ported drivers, 1.4" dome tweeters and a downward firing 3.5" subwoofer. The unit measures 7.9" x 13.8" x 5.0". The Tango TRX uses Bluetooth EDR 2.1 technology for wireless transmission of music.
Aesthetically the Tango TRX has a minimalistic appearance with the speaker comprising the majority of the device. On the left is an iPhone/iPod Touch wide size dock with the standard 30 pin connector, at the base of it is the Xtrememac logo.
Towards the right is a black analog knob with an orange ring for volume control. This knob sits halfway over the speaker grill and the right side plastic housing.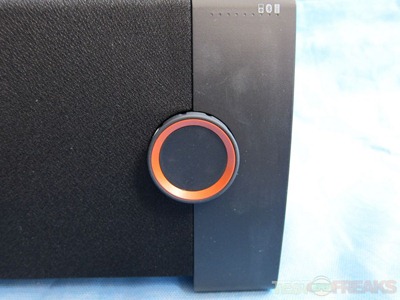 On the top right of this plastic section we find nine LED volume indicator lights. Just above these lights are the input indicators with iPod, Bluetooth and Line In icons. The LEDs below each of these icons indicates which input the Tango TRX is currently playing back.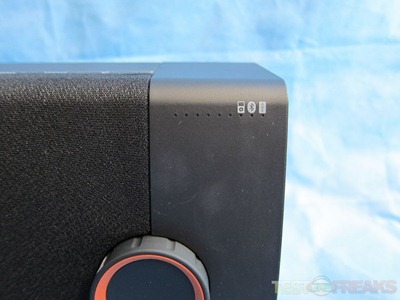 On the top of the Tango TRX is a rubber coated control strip, which includes Play/Pause, Bass, Treble, Source, and Power controls.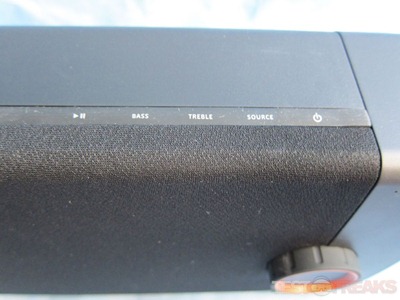 Behind the top center of the speaker grill is the IR sensor and Built-In microphone.
Looking at the rear of the Tango TRX we see the Aux In and AC Power Jacks. In the center is the Xtrememac logo and Tango TRX branding.
The sides are grey plastic with a familiar honeycomb pattern found on several other Xtrememac products.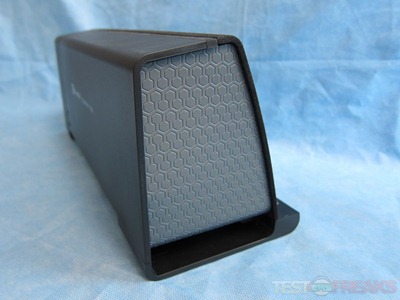 Looking at the bottom of the Tango TRX we discover the downward firing subwoofer.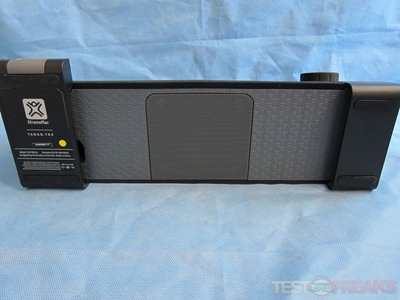 The included remote is nothing special but gets the job done. On the remote are eleven buttons including power, playback controls, input sources and equalizer settings.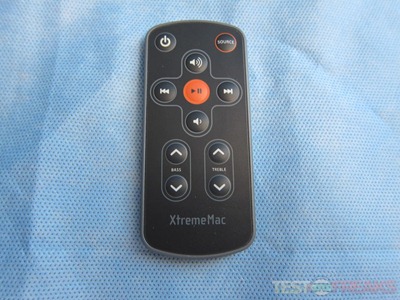 Specifications:
Tango TRX is a 2.1 high fidelity audio system that wirelessly delivers rich sound over Bluetooth from your iPod, iPhone or iPad. This true 2.1 system contains two midrange drivers, two tweeters and a subwoofer for full range audio performance.  Tango TRX includes a free app that integrates with the unit and gives you a five band equalizer for a personalized listening experience plus control over all the unit functions right from your device. It also includes a line-in for listening to other MP3 devices and a full function remote to control the unit while your device is docked and charging. All of these features are packaged in an elegant design perfect for home or office.
NEW! Play your music wirelessly with XtremeMac's Tango TRX 2.1 digital audio system. Tango TRX with dock delivers rich, full sound over Bluetooth from your iPod touch, iPhone or any other Bluetooth enabled device and includes a free app for enhanced functionality and control.
-Integrated Bluetooth EDR 2.1 Technology for wirelessly transmitting music
-Two midrange drivers, two tweeters and subwoofer for dynamic sound
-Power and charge iPod/iPhone devices
-Enhanced functionality and control with the Tango TRX app
-Easy to use controls for source, play/pause and bass and treble
-Line-in jack for easy connection of other audio devices
-Multifunction wireless remote with EQ controls
-Elegant design ideal for home or office
For testing, the Tango TRX was used with an iPhone 4, iPod Nano (4th Gen), iPod Touch (4th Gen) and an iPad. As a dock, the Tango TRX was able to charge any mobile Apple device thrown on it.
Listening to music through the all three Tango TRX inputs surprisingly sounded pretty equal, even via the Bluetooth.
To test the sound quality of the Tango TRX I played a variety of musical styles including Dream Theater, Mumford & Sons, Jeff Buckley, Joan Baez, Jay Z and Ben Harper. Playback of all these differing musical styles sounded crisp; however there was a booming bass quality noticeable especially with rock and rap. Unlike other speaker dock systems the bass can be fine tuned using the downloadable app.
Another limitation of the speaker is when cranking up the volume; the sounded tended to get distorted.
Compared to other speakers systems such as the Bose SoundDock, the Tango TRX sounded fairly comparable. While the Tango TRX will probably not agree with the audiophile's sensibilities it should sound perfectly acceptable to most other folks and sound better than most other dock/speaker solutions.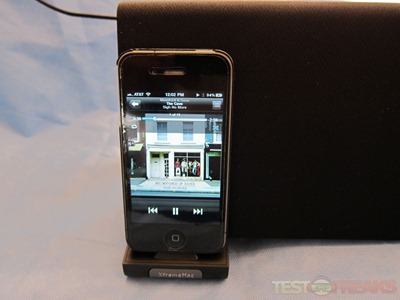 Although I am not a fan of Bluetooth technology for wireless audio as there are better alternatives including Apple's Airplay, its implementation on the Tango TRX does sound pretty good. There was little noticeable difference in music being transmitted via Bluetooth versus being played from the dock other than the occasional lag when starting playback.
One issue with the Tango TRX's Bluetooth is that the dock does not automatically pair with the target Bluetooth device. This requires manually going into the iPod/iPhone settings to pair the Bluetooth devices together as opposed to automatic pairing found in Bluetooth cell phone headsets.
The included remote is rudimentary but gets the job done. The controls on top of the unit are a bit finicky as presses on the source button did not always seem to register immediately.
Xtrememac also offers a free iTunes app, which offers more in depth control options. From this app there are two additional controls besides the virtual remote; the iPod tab is where the current song/playlist can be controlled. Unfortunately you cannot browse your music library from this setting, just basic song control.
The other additional control tab is the Equalizer with four presets – pop, rock, rap and jazz. The flat setting lets the user manually tweak the equalizer settings. This feature helps set the Tango TRX apart from its competitors.
The problem with this app is it only controls the device it is installed on, which is fine when listening via Bluetooth, but when iPod Touch/iPhone or iPad is docked the remote app becomes a dock based app. For instance if my iPad is docked and playing music, I can't control its playback on the Tango TRX via the app installed on my iPhone 4.
In the user guide Xtrememac indicates that the Tango TRX works as a Bluetooth speaker for phone calls. Either my review sample of the Tango TRX was defective or my iPhones were unable to connect properly with the Xtrememac device. I attempt calls on both my iPhone 4 and my wife's iPhone 3G without success. The Tango TRX was a speaker option on the iPhones but sound was never played back or picked up by the built in speaker. Personally I would not use this feature so this was not a big issue for me.
Conclusion:
Although the hands free speaker for phone calls feature did not work on my test unit, I still came away impressed with the Tango TRX overall. The wireless music playback via Bluetooth works pretty well as there is no discernable change in sound quality versus docked music playback.
The downloadable app provides sound customization that is not found on many other dock/speaker combos although the app is still rough around the edges. Hopefully Xtrememac will address this issue in the future.
For a stand alone dock/speaker system the Tango TRX looks terrific and sounds great. Aesthetically it fits well in either a home or office setting. Currently it is available on Amazon for $130 which is on par with dock speakers without wireless music playback making it a worthy investment.
Pros:
+Excellent sound
+Wireless music playback visa Bluetooth
+Stylish appearance
+Bluetooth audio sounds as good as direct connection
Cons:
-The iTunes app needs improvement
-Bluetooth calls not working on this test unit
-No USB input
| | |
| --- | --- |
| Grades: | |
| Overall | |
| Design | |
| Performance | |
To learn more about our review policy please visit this page HERE.