The latest DSLR cameras are designed to work at speeds their predecessors can only dream of. Features such as 1080P video recording make lightning fast read/write speeds a necessity. If you are an owner of a newer cameras such as the Canon EOS 5D Mark II, then the Sandisk Extreme Pro Compact Flash card maybe worth checking out. Released this past October, this CF card features unprecedented 90 MB/s max read/write speeds.
The Extreme Pro series is available in 16GB, 32GB and 64GB capacities and are UDMA 6 enabled. It features Power Core Controller & Enhanced Super-Parallel Processing "ESP" designed by SanDisk to increase the card's performance level. The card is rated for use in temperatures from -25°C to 85°C and can withstand falls from a height of up to 9 feet. Plus it has Sandisk's lifetime warranty.
Reviewing the new SanDisk Extreme Pro Compact Flash card is easier said than done due to its blazing speed. The card is so fast that every device I tested with the SanDisk Extreme Pro Compact Flash Card was slower than the CF card.
After testing the card with multiple cameras including fairly recent offerings from Nikon and Canon I discovered the real world benefits from the SanDisk Extreme Pro Compact Flash Card come when shooting fast moving action or sports.

Sandisk keeps things mostly Green with a small cardboard package with the CF card found within. They do use a plastic tray to secure the card when a cardboard one would work just as well.
Besides the CF card, Sandisk provides a protective plastic case for storing the card outside of the camera. As an added bonus Sandisk also includes the serial number to activate a copy RescuePRO recovery software that is available via download.
The SanDisk Extreme Pro Compact Flash Card will look familiar to owners of prior Sandisk Extreme Compact Flash cards. On the front is the Sandisk Label indicating the card's size, model and speed while on the back is a blank area for labeling the card.
For today's review we received the 32 GB SanDisk Extreme Pro Compact Flash Card. Freshly formatted the card held 6730 highest resolution (10.1 megapixels) non-RAW jpg shots on my Canon EOS 400D.
Specifications:
SanDisk Extreme Pro 32gb Compact Flash Card
Now there's a memory card fast enough to keep up with your advanced DSLR: The SanDisk Extreme® Pro™ CompactFlash® card. With lightning-fast (up to 90 MB/s* read/write) speed, you'll be able to capture more continuous burst shooting-and get the most out of your professional digital SLR camera. And with up to 64GB** of storage, you'll be ready for more RAW+JPEG and high-def video.
SanDisk engineered its Power Core™ Controller to take whatever your camera's buffer can dish out. By distributing image data across the card more rapidly and efficiently, this card delivers professional performance.
READ & WRITE PERFORMANCE: Up to 90MB/s (600x)* for serious performance gains.
CAPACITIES: 16GB, 32GB, 64GB** give you more room to capture RAW+JPEG, sequential bursts and high-definition video
UDMA: UDMA 6 enabled (works in all UDMA modes)
POWER CORE CONTROLLERTM & ENHANCED SUPER-PARALLEL PROCESSINGTM "ESP": Was invented by SanDisk to increase the card's performance level.
TEMPERATURE: Tested to perform from -25°C to 85°C (-13°F to 185°F)
SPECIFICATION: Meets CFA Specification Type I Card
DURABILITY: Shock protection and RTV silicone coating added inside for protection against moisture and humidity
WARRANTY: Backed by rigorous stress-testing procedures and our limited lifetime warranty.
* Up to 90MB/s read/write.Based on SanDisk internal testing: performance may be vary depending upon host device. **1 megabyte (MB) = 1 million bytes. X = 150 KB/sec. and 1 gigabyte (GB) = 1 billion bytes
† 30 years warranty in Germany and regions not recognizing Limited Lifetime warranty
Not all cameras can support 64GB capacity CompactFlash cards. Please check with your camera manufacturer for 64GB compatibility.
Price: $559.99
Digital SLR cameras require fast CF cards primarily in burst mode when the camera needs to offload data from its buffer quickly. There are several variables that affect the speed of this transfer such as large files, small buffers and slow controllers; all of which can cause delays in writing to a card yielding lower frames per second.
When transferring data from the CF card to a hard disk interface; the card's speed, operating system used, and card reader performance are areas where bottlenecks can occur. SanDisk has a new Express Card Reader, which operates under OS X and supposedly yields close to 90 MB per second speeds. Sadly, USB based card readers will not be able to achieve anywhere near those numbers due to limitations of the interface's speed.
For benchmarking, I used ATTO DiskBenchmark and DiskBench. For comparison I used the ATP ProMax II CF 8GB, which is also a CDMA enabled CF card and is rated at 45 MB/sec speeds. To test transfer speeds, I used the Kingston 19-in-1 Card Reader.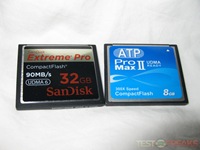 Looking at the ATTO DiskBenchmark results the read speeds for the ATP top out around 24 MB/s while the Sandisk hits 28 MB/s and for the write speeds 17 MB/s for the ATP and 21 for the Sandisk. So there is a slight speed gain with the SanDisk Extreme Pro Compact Flash Card with a USB interface, however the bottleneck seems to be the USB interface in the PC operating system not the CF card itself.
DiskBench is used to tests disks and drives in real world situations copying and reading files you choose. For this benchmark I used a 720 MB file. Once again the Sandisk Extreme Pro comes out on top.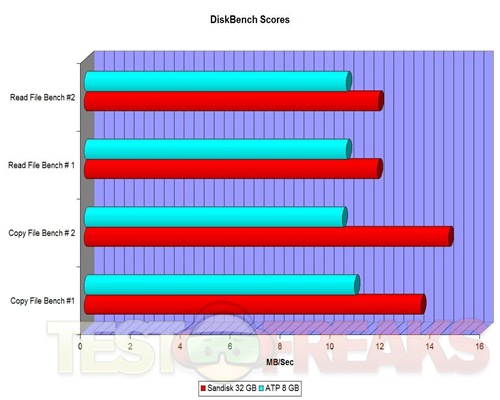 During real world testing with a Canon 40D and Nikon D300 we saw no discernable difference between the SanDisk Extreme Pro Compact Flash Card and CompactFlash cards rated at 60 MB/sec. Using the Canon 40D we were able to keep our finger down on burst mode almost indefinitely getting about 6.3 frames per second. The older Canon 400D operating on the highest quality with RAW mode was able to handle a burst of 6-7 shots before succumbing to the camera's slower buffer.
Here are some shots one of my colleagues took using the Sandisk Extreme Pro with the Canon 40D at an NHL game.
Researching online literature the most extensive testing was performed by CNET's Lori Grunin who tested the SanDisk Extreme Pro Compact Flash Card with the Nikon D300 and Canon 5D Mark II. The burst completed on the Extreme Pro 1.3 seconds faster than the Extreme version on the Nikon. While on the Canon 5D Mark II there was a 1.9 second savings for burst completion in the JPEG +RAW mode.
In plain English, unless shooting long bursts using the highest resolution JPEG +RAW files there really are no noticeable performance gains using the Extreme Pro over the last Extreme card.
Conclusion:
The Sandisk Extreme Pro is the fastest CF card on the market. It is best designed to work with the newest DSLR models which are CDMA 6 enabled. The photographer who captures lots of fast moving action such as sporting events will see the most benefits from the new SanDisk Extreme Pro Compact Flash Card especially when shooting in the best resolution in JPEG +RAW mode. Otherwise the performance gains are slight.
As newer cameras are released they will be optimized for the fastest card on the market. On these cameras we will see the true gains from the SanDisk Extreme Pro Compact Flash Card.
The other drawback of the SanDisk Extreme Pro Compact Flash Card is the price. Its high price may turn off many consumers when the slightly slower Sandisk Extreme cards are available for a few hundred dollars less for comparably sized cards; unless you want the 64 GB version which is only available in the Extreme Pro model.
Unfortunately the card is too fast for most cameras on the market and unless using the SanDisk Extreme Card Reader you will not see the fastest speeds with file transfers to the PC or Mac. Like all other storage media as the product stays out of the market for longer duration prices usually drop significantly. Unless you need the fastest CompactFlash card market and your camera and/or computer can see the real world gains I would recommend to wait a little while before investing in this card.
Pros:
+Available 64 GB version
+Lightning fast
+Lifetime warranty
+Extreme weather resistant
+Impact resistance
Cons:
-Price
-Optimal for newer digital SLR cameras
| | |
| --- | --- |
| Grades: | |
| Overall | |
| Design | |
| Performance | |