Testing, Benchmarking and generally getting information about your computer is important to not only product testers and companies but it can also be a valuable source of information for the general user as well. If you look around the internet at product reviews and comparisons you'll notice a few benchmarks that have pretty much become the standard, one such suite of software is SiSoft Sandra. I use it myself quite a bit for testing all sorts of products and getting more information about my computers and their components. Sandra is a well known and respected set of tools that will do much more than just benchmarks though, it's a complete suite of tools that can help you learn everything and anything about your computers from temperatures to voltages to even giving you information about your portable devices like MP3 players and phones. SiSoftware has recently released portable versions of their Sandra testing and diagnostic utility, it comes on a USB drive to make it fully portable so you can easily take it with you if need be, and it can be run right from the USB drive with no installation necessary.
SiSoftware sent me the new 2010 Engineering Edition on the USB drive, along with it came a testing DVD that is used in conjunction with the CD/DVD benchmark program.
The USB Drive itself is blue and silver with the Sandra logo and name on it, it also comes with a key ring as well. The USB drive is the type that swivels so there's no cap to lose. I you're curious the USB drive is 4gig in capacity, with the actual program only taking up about 120MB so that leaver a lot of space left over for database and testing results.
Specifications:
SiSoft Sandra 2010 Portable USB Edition
Who/What is Sandra?
SiSoftware Sandra (the System ANalyser, Diagnostic and Reporting Assistant) is an information & diagnostic utility. It should provide most of the information (including undocumented) you need to know about your hardware, software and other devices whether hardware or software.
Sandra is a (girl) name of Greek origin that means "defender", "helper of mankind". We think that's quite fitting.
It works along the lines of other Windows utilities, however it tries to go beyond them and show you more of what's really going on. Giving the user the ability to draw comparisons at both a high and low-level. You can get information about the CPU, chipset, video adapter, ports, printers, sound card, memory, network, Windows internals, AGP, PCI, PCI-X, PCIe (PCI Express), database, USB, USB2, 1394/Firewire, etc.
Just insert the disk into a PC to test/benchmark it without installing/uninstalling Sandra. The benchmark results will be archived in the database on the disk and always available with you.
Price: $399.99
The USB Drive is autorun enabled so if you have it enabled on your computer the software will run when you plug in the USB drive, if not you'll have to open it up and start it yourself.
Sandra is broken down into three main sections, Computer Maintenance, Module Types and Program Maintenance.
The first section, Computer Maintenance just has one choice which is Tools, which is then broken down into two more sections.
Computer Maintenance is basic tools for you computer, you can even Analyze your computer and get Advice as to how you can improve performance. For the overclockers out there there's even a Burn-In module to test the stability of your computer. The first module is the Create Report which is very useful you can learn everything there is to know about your computer and its components.
Here's an example of the Environment Sensors module, there's tabs across the top so you can individually monitor things like fan speeds, temperature and voltages: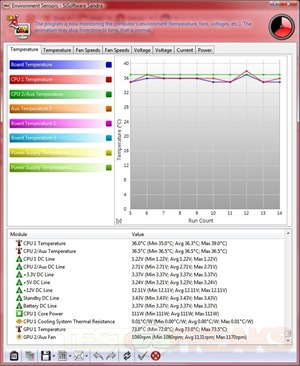 The part of Sandra that most people are familiar with is the Benchmarking suite, here you'll find tests to benchmark pretty much everything in and out of your systems. The Benchmark section is broken down into seven sections itself. You'll be able to test everything from the CPU and Video Cards down to even wireless networking.
The benchmarking modules allow you to not only test things but compare your hardware with other hardware as well. You can even enable things like pricing so you can get an idea of the cost of your components and the others. The example below is the Processor Arithmetic benchmark, across the top are tabs so you can see different comparisons like Performance vs Power, Capacity vs. Power and Performance vs. Speed. On the left side you can use the drop down boxes to select other CPUs to compare to, and when the benchmark is complete you'll get the results in the graphs and in detail in the box below.
Here's the CD/DVD benchmark using the included disc, it's only the read test though:
The next tab would be pertaining to hardware and here you can learn all there is to know about everything in and out of your computer really. It's divided into six sections, Storage, Network, Portable Devices, Computer Maintenance, On-Board Devices and Peripherals.
The last main tab is titled Software and here you can learn all about things related to software in your computer, it sounds basic but it's not.  In this section you can learn everything from what fonts and applications you have installed to DirectX and OpenGl information along with Start menu Applications and much much more.
The next main tab is titled Support, there's not much here really, just things like Event Logs, Registry Settings, Hardware Registers, Server Status and Comments.
The last tab is Favorites, here the things you use the most will be automatically added for so they're ready when you need them.
Now we have the tab, but we also have drop down menus across the very top as well. The first one is Tools and it's the same as the Tools tab.
The next menu is Views, here you can change things around to how you like it.
Next up we have options, basic stuff, and from here you can enable or disable the Price and Ranking engines.
The last menu is a  question mark. Here you can access the help files and learn what version you've got along with some other information.
The version I got from Sisoftware is the Engineering one and it's rather expensive coning in at about $400, but being a product tester/reviewer I need something like this to make life easier when moving from machine to machine. There are Personal editions available like the Professional Home five license pack with is only $50, or a single license for $30. All of the versions are comparable to each other in terms of testing so you can compare testing results across the versions. The main differences are the uses of the versions and the actual licenses. There is of course the lite version which is free, but just quite limited.
Conclusion:
SiSoft Sandra is one of the most comprehensive suites of tools on the market today, it's something that even the most novice user can utilize to their advantage to learn more about their system or systems. With Sandra you'll be able to learn more about, test and even help diagnose any problems that your system might have, it truly is an excellent diagnostic and testing suite.
For a company, technician or product tester it's an invaluable tool that should be part of your tech tool box.
The portable USB version is an excellent choice for anyone with multiple computers, there's no installation, just plug it in and go. This USB version is the perfect companion for a techie to have in their tool box.
Pros:
+Valuable tool for learning about and testing your computer
+Lots of modules
+Home versions are inexpensive
+Simple to use
Cons:
-Can get expensive depending which version you get
| | |
| --- | --- |
| Grades: | |
| Overall | |
| Design | |
| Performance | |
This product was given to technogog for review by the company for review purposes only, and is not considered by us as payment for the review, we do not, and never will, accept payment from companies to review their products. To learn more about our review policy please visit this page HERE.