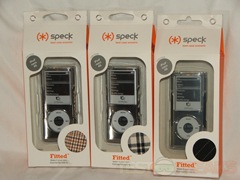 We've featured Speck products before on technogog, and from what we found they were very good quality products. I'm currently using a Speck case to protect my Zune actually, it goes with me everywhere and the case does an excellent job of protecting it. Today I've got three cases from Speck for the iPod nano 4th Generation, they're called 'Fitted' cases and they fit the nano very well. They're clear hard plastic with a fabric wrapped back that is available in three different patterns, these cases do a very good job at protecting the nano and look stylish as well.

The Speck fitted cases are available in three different patterns as I mentioned, the boxes feature a small fabric sample on them so you can feel the fabric.
Inside we find the cases themselves and an instruction sheet.
The cases are clear in color and offer excellent protection for your iPod, the top layer is clear and covers the screen while leaving the area for the click wheel open for access.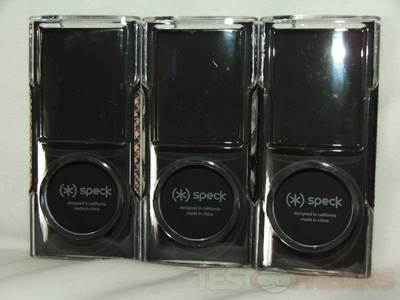 The three different fabric patterns are interesting, not quite my style exactly, but I do like the black pinstripe one.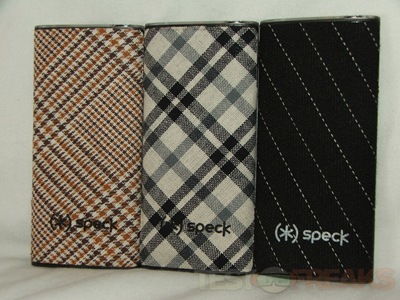 The names of the patterns are, from left to right, Tan Houndstooth, Black and White Plaid , and Black Pinstripe.
Specifications:
Fabric Wrapped Hard Case
For iPod nano (4th gen)
Price:  $29.95
Pimp your iPod nano with a chic Fitted case by Speck! This hard case brings clear protection to the front of your iPod and a cool fabric wrap to the back, creating a comfortable feel and original look for your trusty device. The simple, snug, snap-together design gives you full access to your viewing screen, click wheel, earphone plug and dock connector. Available in Black Pinstripe, Fitted is a fashion statement that proves hip can be practical!
Features:
*  Authentic fabric over a hard shell creates original looks
* Clear hard shell top protects face and screen
* Simple, two-piece snap-together design
* Sleek and lightweight — doesn't add bulk
* Openings for access to all ports and controls
* Tailored protection, custom-fit for iPod nano 4G (4th Gen)

Getting your iPod in the Fitted case is a bit of work, the two halves are very tightly attached to each other, this is a good thing as you won't have to worry about your iPod falling out.
Here's several pictures of my iPod inside these cases:
The case is fairly thick, the top offers a built in screen protector and leaves an open space for the click wheel.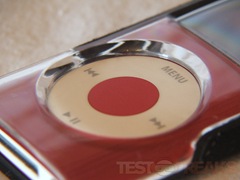 The top is open where the slide lock is, and the bottom is open fully to allow you to sync, charge and plug your headphones into your iPod.
The fabric back covering offers a non-slip and tactile feel to the case.
I did notice one small flaw with these cases, well one of them, the fabric seemed to be peeling off a bit on the black pinstripe case, but the other two seemed attached well and didn't have that problem. Pushing the fabric back down fixed the problem, but I'm sure after using it the fabric will come back up. I'm thinking, since the other two are fine, I got one that slipped passed quality control, I don't think enough adhesive was used on it.
The fabric of the Black Pinstripe version also collects lint, so having these in your pocket will cause them to get covered in lint, but it just rubs off so not a big deal.
These are new cases so there aren't many reviews out yet, I wanted to look around and see if anyone else reported anything similar with the fabric peeling off. Gear Diary just reviewed the nano and touch versions of the Fitted cases a few days ago and didn't have the fabric peeling problem, I can only assume it was an isolated incident.
Conclusion:
The Speck Fitted cases for iPod nano 4th Gen offer excellent protection for your iPod, they are form fitting and will keep you iPod secure inside of them. I like the built-in screen protector, and the fabric backing offers a non-slip tactile feel, the fabric backing also has a nice stylish look to it.
Pros:
+Available in three different designs
+Offers great protection for your iPod
+Built-in screen protector
+Keeps iPod secure inside
+Allows access to port and buttons
+Offers non-slip grip, tactile feel
Cons:
-Fabric peeling, possibly an isolated incident
-Collects lint
| | |
| --- | --- |
| Grades: |   |
| Overall | |
| Design | |
| Performance | |