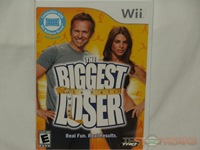 The Nintendo Wii is a great little console, there's no doubt about that, with it's motion sensing abilities and the balance board add-on it's spawned a rather large collection of fitness type games that work rather well with it. I'm sure everyone knows The Biggest Loser TV show, me personally I'm not into watching those types of shows, I don't do 'reality TV' really, but many people like it or it wouldn't be so popular right?  Today for review I've got the Wii game based on the TV show The Biggest Loser, and it's actually not bad, think Wii Fit on steroids. The Biggest Loser game is much more than just a bunch of exercises for you to get into shape, though it does have a plethora of them for you to do. The game features the ability to help you lose weight or just get in shape if you need to. In The Biggest Loser you'll find full menus with directions to make healthy food, everything from snacks and main courses, all the way down to desserts. I'm not fat by any measure, but not being fat doesn't mean that I'm in shape, after all how much exercise do I get while sitting at a desk most of the day?! So if you're looking for a decent and fun way to help you get in shape or lose weight you might want to check out The Biggest Loser, even if you don't like the show, the game will offer something for everyone to help you achieve you fitness and weight goals…

We'll start with the box shots and then the intro video:
I've been playing The Biggest Loser for a while now, and it truly is fun, but I started a new game to show you a few things.. When I played it I just did the quick play option, you don't have to go through everything like registering, you can just do the exercises basically and that's what's really the core part of the game. With The Biggest Loser you can use the Wii Balance Board, but I was surprised to find that you won't be using it that much, many of the exercises don't use it. This is on of those games where I needed a lot of screen shots to really show you how the game works, so I've got a bunch of those and a couple videos as well.
In the settings you can adjust the volumes and calibrate your balance board.
When you stat a new game you'll enter your name, select your sex, add you height and then you can use the balance board to get your weight or you can input it yourself.
Once you've completed that you can select a character to represent yourself, everyone starts out being overweight, after all this is The Biggest Loser. Then you'll select who's going to be your trainer, either Bob Harper or Jillian Michaels, doesn't look like Jillian at all or Bob for that matter..
The next step is to set your goal, you've got three choices: Improve Health, Lose a Little Weight or Lose a Lot of Weight..
Then you'll need to select your difficulty level, fitness program duration and confirm it..
Specifications:
Based on the highly rated NBC show, The Biggest Loser interactive fitness game features the expertise of personal trainers Bob Harper and Jillian Michaels who help you transform your life through diet and exercise.
Change Your Body, Change Your Life!
Game details
Genre: Life Simulation
JOIN THE BIGGEST LOSER CHALLENGE! – Select from a 4, 8 or 12 week program and compete with contestants from the prior seasons of The Biggest Loser.
A CUSTOMIZED PROGRAM JUST FOR YOU! – Based on your fitness goals, choose one of our Biggest Loser Workout routines, or customize your own. With over 88 exercises, including upper and lower body, core, cardio and yoga, you'll get a total body workout every time.
YOUR OWN NUTRITION PLAN! – Customize your daily calorie diet based on your specific weight loss goals and track your caloric intake to see if you are on track.
HEALTH AND LIFESTYLE TIPS – Monitor and track your daily calorie intake, receive personal advice and health tips and get valuable access to over 50 healthy recipes from the show's experts.
Rating: E
Price: $29.99 (Price from Amazon at Time of Review)

Once you're into to the game you'll have several choices of things to do and see or learn about. You can choose from Fitness Program, Health & LifeStyle, Exercise Routines, Challenge Events, Single Exercises and then you've got Settings.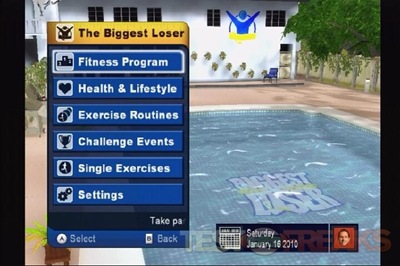 I want to start with Health & Lifestyle since it's really not the game part of it, we'll get into that next since there's much more to cover there. Under this selection you've got three choices: Healthy recipes, Tips and Advice and Calorie Counter.
We'll start with the Calorie Counter, here you can calculate what your recommended daily calorie intake should be for you goals and it's based upon not only your goals but your exercise level as well.
The next section would be the Tips and Advice, in here you'll find many different tips on lifestyle, diet, exercise and just general tips and even videos
v
I save the recipe section for the last part of this because I was truly impressed by the amount of content here you'll find many, many recipes with instructions and nutritional information for every category of eating like main dishes, side dishes, snacks and even desserts.
Ok let's get into the actual exercise or fitness part of this game.
The exercise routines are broken down into specific parts you can work on like Full Body, Upper Body, Core, Lower Body, Yoga and you can even Customize your own routines if you wish.
The Challenge Events combine two or more of the exercises to do some fun type of event like you might see on the TV show.
You can also just choose from single exercises instead of doing one of the pre-planned routines, this is great for going back and doing something that you might really like or to work on something specific.
As I mentioned a lot of the exercises and games you don't use the Wi balance Board at all, many of them involve sticking the Wii Remote in your pocket… (Is that a Wii remote in your pocket or are you happy to see me?..sorry couldn't resists that one, just too easy..)
Here's one that you do use the Wii Balance Board with:
The graphics overall aren't that good really, I've seen better on the Wii. A good example of the graphics is that Jillian Michaels doesn't look nothing like her in real life.
Despite the graphics, The Biggest Loser is a decent game, it has a ton of content and that's not including the actual exercise part of it.
Another issue with the game is the controls, they're not exactly the most accurate, the motion sensing is a bit off, but once you're playing for a while you'll figure out where the sweet spot is to play correctly.
Conclusion:
For what it is, they've done an admirably good job with this game. Yes the graphics and controls aren't the greatest, but the vast amount of content more than makes up for the few issues with this game. You can easily get in shape, lose weight and have fun doing it all at the same time.
If you like Wii Fit then you'll love this game really, as I said in the intro it's like Wii Fit on steroids. It's what Wii Fit should have been truly, it offers everything to help you get in shape and stay in shape.
it's one of those I'm sure you'll get a lot of use from.
Pros:
+Much more than just a fitness game
+Tons of content besides just exercising
+It's a fun and interesting way to get in shape or lose weight
Cons:
-Not the greatest graphics
-Controls aren't very accurate
| | |
| --- | --- |
| Grades: | |
| Overall | |
| Design | |
| Performance | |
This product was given to technogog for review by the company for review purposes only, and is not considered by us as payment for the review, we do not, and never will, accept payment from companies to review their products. To learn more about our review policy please visit this page HERE.