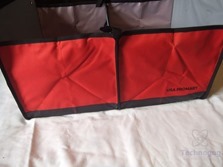 Today for review I've got a product that I just love and have found very useful, it's a trunk organizer, yes it's a simple product but it's just awesome honestly. I've seen this all over the place for sale but never really thought much about them and it was kind of in the back of my mind to buy one but then I was offered one for review and I'm just happy that I accepted it. This trunk organizer is from a company called USA Promart and it looks great, it's well made, and it works great at keeping things organized and in their place in my trunk. I should have gotten one of these a long time ago, I can highly recommend it for sure. Read on to learn more…

Specifications and Features
USA PROMART Premium Car Trunk Organizer & Free Cooler Bag- GREAT GIFT FOR MEN AND WOMEN – Auto Cargo Storage case -Perfect for your car, SUV, Truck ,RV ,Minivan ,and Groceries Organization.
BEST QUALITY AT THE BEST PRICE: Our premium auto cargo storage container is made of extremely durable, heavy duty, 600D Polyester material that promises to last. Featuring a special padded bottom, this durable car tailgate organizer provides extra security for your road tools, work equipment, groceries, auto or pet travel accessories.Stop wasting tons of money on unreliable SUV trunk organizers that fail you after the first few weeks
VERSATILITY AT ITS FINEST: Our cool, vehicle trunk storage box is a great way to keep all your vehicles (SUV, RV, car, Camper, Jeep, Minivan, Truck) clean and tidy at all times. why not use it to organize your garage and garden tools or carry your groceries or camping accessories safely! Featuring strong, non-slip strap handles with comfortable grips, it allows for effortless transport, while the heavy duty eye hole makes it easy to clip onto the back of your car for increased stability.
CONVENIENT & SPACE SAVING: With a size of 23.5″(60 cm) x 15(37 cm) x 12 inches (32 cm), this highly practical minivan trunk organizer is one of the largest on the market and offers the perfect storage solution for all your supplies. It can also be folded in half for your convenience, thus saving you precious space in the garage, car interior, home or garden. Featuring waterproof, spill resistant materials, it is easy to clean in a whiz!
UNIQUE & STYLISH DESIGN: With a USA vintage flag on both sides, don't be surprised if everyone starts asking you where you bought it! Carry this cool, stylish SUV cargo organizer tote in your vehicle and make a powerful statement, wherever you go!
FREE COOLER BAG: Benefit from this unique offer and get an amazing cooler bag completely FREE! Great for carrying your drinks and food to work or during your travels, this stylish cooler bag can be used with the automotive organizer or separately!
Price: $29.21 (from Amazon at time of review)
The Review
Let's start with a video unboxing and product tour and move on:
The trunk organizer comes packaged in just a plastic bag and it's very flat, just an inch or so thick as when not in use you can fold it up for easy travel and storage. The bag has plastic buckle style clips that hold it flat for you as well. There's also a decorative flag on the front which I very much like the looks of.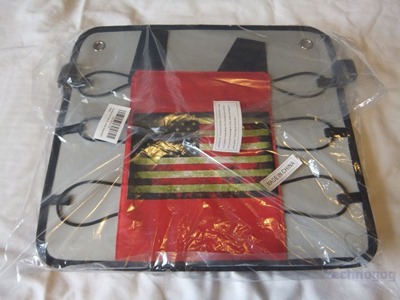 When unfolded the organizer is 23.5 x 15 x 12 inches in dimensions. It's red on the outside and a silver gray on the inside.
One of the biggest complaints I read about other trunk organizers is the lack of a sturdy or stiff bottom but this organizer comes with two of them, one for each side. They have tabs on them for easy removal as well. The pieces are stiff, and I believe they are plastic inside of the fabric coating.
Between the compartments is a net bag so you can store smaller things that might other get lost among your stuff.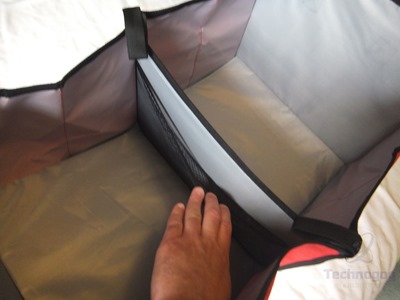 Both sides of the bag have thick nylon handles so you can carry it while it's full with ease. Both sides also have elastic straps so you can store other things there as well.
As a bonus they also included a small collapsible cooler that's large enough to hold a six pack and an an ice pack. It's black nylon with a sturdy zipper and inside is a shiny thermal material. The cooler is actually really nice and sturdy. We've already taken it to the amusement park and now my son takes it everyday with him to his band camp for his lunch and drink and it works very well to keep everything cold until his lunch time. it's a great little cooler really, very nice bonus for sure.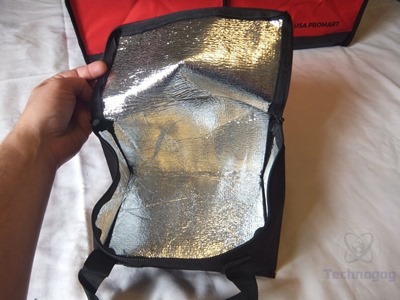 I don't actually have a trunk as I have a minivan, but in the back is where I store my stuff that I may need. I had everything inside of an old milk crate and also strapped to the outside with bungee cords and just stacked on top. At least once a week things would fall out and I'd have to put it back in. It was very annoying but I've dealt with it for years now, not the best solution but it worked, mostly…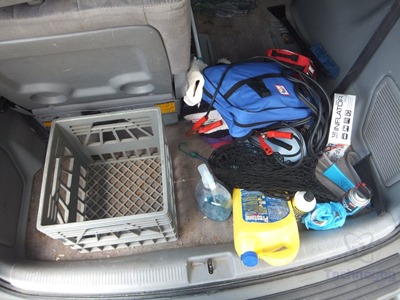 I put everything inside of the organizer and it fit great with room to spare, now everything stays in place and I've not had to clean anything up since I started using it. I also found it's great for groceries too. Normally I put like the eggs and bread up on the seat to keep them safe, but now I can set them in the organizer since there's room and they're safe and I don't have to climb over to get the bags anymore.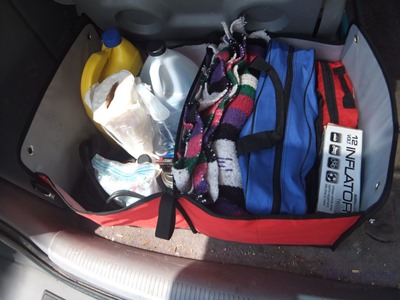 I used the outside elastic straps to hold my ice scrapers so they're easy to find when I need them.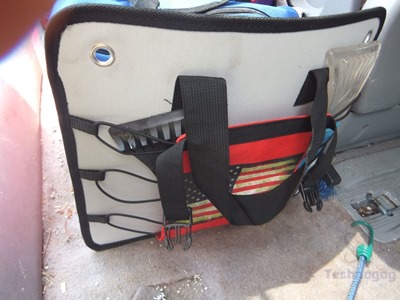 Conclusion
There's really not much more to say, I absolutely love this thing, I can't see myself not having one now.
This organizer is very well made and sturdy and it looks great and it has plenty of room for all of my stuff.
I can highly recommend getting one of these as it's just extremely useful.
Pros:
+Very well made
+Looks great
+Extremely useful
Cons:
-None
| | |
| --- | --- |
| Grading | Scores Out of 10 |
| Overall | |
| Design / Aesthetic | |
| Value / Price | |
| Performance / Usage | |
Disclosure: This product was given to me for review by the company for review purposes only for free or at a discounted price.
To learn more about our review policy please visit this page HERE.