All of the phones I've reviewed up until now have been for the AT&T network, the obvious reason is that I'm on the AT&T network. Recently Verizon emailed me and asked me to check out some of their products and of course I said yes. They gave me several choices of phones to look at and I had to pick the DROID for the first one to review.  I love phones, they're great little devices that have come very far in terms of advancements over the years, and the Droid is one of the most advanced ones on the market today. I'll admit it, I'm a bit jealous of the Verizon customers for getting this phone, when I first saw this I wished I could get my hands on it to not only review but own. I got one of my wishes anyway, I get to use it for a while, play with it and review it.
So today I've got the Motorola DROID from Verizon Wireless. My first impression of this phone was that it is very well made.  When I unboxed it the first time I was truly and pleasantly surprised by the build quality of the Droid. I've been using it for a few weeks now and I love it honestly, I'd happily give up my AT&T Tilt for it, but sadly it's not available on the the AT&T network yet, though there are rumors that it will be. The interface is intuitive and it works well for anything you need to do. Reception on the Verizon network is very good here in Pittsburgh on the Droid. Overall I've very much enjoyed using the Droid, it seems to make using a phone for more than just calls much easier. The screen is bright and colorful, and very responsive to touch making it easy to use as well.
The Droid arrived in a small box, it's a presentation style box that slides off to reveal the phone.
Inside you'll find the phone, USB cable, AC USB adapter for charging and some information booklets along with the quick start guide.
The Droid is primarily all black with just some gold accents on the back and the camera button is gold as well. The Motorola logo is on the top and at the bottom you'll find four buttons, beneath those is the Verizon logo.
The back is the battery cover with the Verizon logo and Google logos, you'll also find the 5MP camera along with its flash.
A nice surprise is that a 16gb microSD card is included with the Droid, that should be more than enough for most anything you need to take with you. The microSD card slot is under the battery cover, but you've got to remove the battery to access the card. I don't like that at all, why should I have to power down the phone to access the memory card?
There aren't many button on the Droid. The top is where you'll find the power/lock button and the 3.5mm audio jack and the left side has the USB port.
On the right side you'll find the camera and volume buttons.
The Droid is a slider with an almost full QWERTY keyboard, but almost I mean there's no separate numbers, you'll have to press the ALT button to access the numbers and special characters. This isn't too big of a deal though, it's common to do that on many phones today.
When you power up the Droid you're greeted with the Motorola logo, the Droid log and the HAL style Droid symbol.
Specifications:
Check it out. DROID by Motorola is fast. Like scary fast. You can blaze across the Web with a massive processor and Verizon's powerful 3G network. You don't even need to type! With Google Search by Voice, you just tell it what you want and DROID searches the Web to find it. You can switch between up to six apps at once! Choose a few (or a few hundred) from Android Market and try it yourself. DROID won't bother you while you're running those apps. It keeps disruptive alerts at bay in a handy expandable notification panel.
It's a pint–sized power plant. It's location–aware. Voice–recognizing. App–mashing and multi–tasking. It can see through walls. And connect you to anyone or anything at break–neck speed. At some point, power and intelligence mean something more than a phone. At some point, you have yourself a DROID by Motorola.
Design:
* World's Thinnest QWERTY Slider
* 3.7″ Touch Screen 480×854 WVGA display — supports up to 16M colors
* Slide–Out QWERTY Keyboard
* Bluetooth v2.1 + EDR Supported Profiles: Headset (HSP), Hands–free (HFP), Stereo Audio, Phonebook Access
* 5 Megapixel camera with auto–focus, dual LED Flash and Image Stabilization
* DVD Quality Video Capture with quick and easy uploading to YouTube
* Dedicated Camera/Video Key
Specifications:
* All–Digital, 800/1900, CDMA EVDO Rev A
* OMAP3430 — 550MHz
* Memory — ROM: 512MB, RAM: 256MB
* Dimensions: 4.56″ (H) x 2.36″ (W) x 0.54″ (D)
* Weight: 5.96 ounces
* Usage Time: Up 385 minutes OR
* Standby Time: Up to 270 hours
* SAR: Head: 1.49 W/kg; Body: 1.50 W/Kg
(This is just part of the specs and features listing, you can visit the DROID site HERE to learn more about it)
The Droid is a slider as we know, a very thin slider which is nice.
The Droid has a slide to unlock on it to unlock the phone, to lock it you just tap the power button or wait for it to lock itself.
Once unlocked the home screen will appear, the following picture has more icons than are displayed on the Droid by default, I added them myself.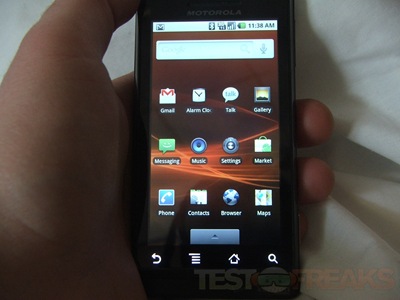 Tapping the arrow on the bottom of the screen brings up the programs menu.
There's a whole lot of stuff in the Droid to cover really, so I'm just touching on a few, or else I'd have many, many more pictures for you. Here's a video of the interface for you though:
Here's some select pictures of the interface.
Tapping the 'lined' button below the screen brings up a small menu, here you can select settings where you can change wallpaper, search, set notifications and adjust the settings of the Droid.
Under the settings you'll find the networking settings as well. Here you can access Bluetooth and Wifi along with other network related things.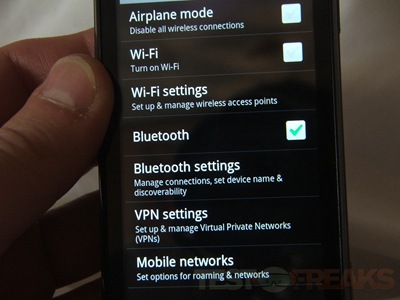 As far as Bluetooth it worked perfectly for me, I paired it with my Jawbone2 and had no issues at all with it.
Wi-Fi worked well also, the Droid actually seems to see more WiFi networks than my netbook does in the same places.
The media player is nice, it's basic but it does what it needs to do. I did notice that loading up the music player does take a while, I'm guessing that because it has to search and list your music, but even if there's no music on the phone it takes quite while to load.
Google maps comes with the Droid and it does do basic navigation. It's not like having TomTom on your phone like my Tilt does, but in a pinch it works for quick directions. GPS fix is fast and accurate.
The web browser is fast as was accessing the Verizon network and it has the now common zooming feature. Websites look clear and readable even when not zoomed in. Load times seem fast, but that also has to do with the website itself. There is no flash support yet for the browser, I tried to go to Hulu and watch something but it said I needed the plug-in which isn't available yet according to Adobe.
I like the dialing pad, the numbers are nice and large and spaced far enough apart that you won't accidentally hit the one next to it.
The call quality is very good on the Verizon network, I was able to clearly hear other people and the people I called said I sound fine with no issues. The ear piece speaker is nice and loud also. The speaker phone part is not bad, but it's kind of grainy and not exactly clear but you can understand what people are saying. It's not perfect but it works.
As far as the camera, it's very good outside in natural lighting. The following three pictures were taken on a rainy, overcast day, hence the rainbows, but they're clear and look pretty good.
Taking pictures inside isn't bad but you've really got to hold the phone still. The flash works well, as does the zoom feature. You can get very close to things to get very good detail, you can see the details but they're a bit grainy. I took some other ones at my sons Holiday party with the Droid and they didn't come out so good, so I'm not too impressed with the indoor picture quality, especially when the subject is moving even in the slightest. Colors though seem to be right on, but when zooming they appear a bit washed out.
No sample video for you, video isn't bad, but it's not great either, it's what we've come to expect from a cell phone camera.
I did run across one problem that really bugged me. You can put shortcuts on the home screen to lead to things you use most often, but they don't always work. For example I put a shortcut to the picture gallery on the home screen, when i press it it says that application isn't installed.. I don't get it, I know it's installed.
I'm a Windows Mobile kind of guy, my last couple phones have been and honestly I like Android much better than WinMo. It just seems so much easier to use, the phone itself is much more responsive and overall just faster.
The battery life is good as well, even with leaving Bluetooth on all of the time.
There is one other thing that I don't care too much for, the screen is very glossy and it reflects everything, in bright light, especially if it's behind you it can be hard to see the screen.
Conclusion:
Everything about the Droid screams quality, from the build to the interface itself. I'm truly impressed by the actual build quality, this thing is built like a little tank. The interface is intuitive and it works well, everything just seems to much easier to do. The phone is fast at pretty much everything it does, with a few exceptions though. I really do like this phone truly.
Camera picture quality is not the best indoors but it works very well outdoors. Sound quality is very good, i had no problems with hearing people or them hearing me.
Reception on the Verizon wireless network here in Pittsburgh is excellent, no matter where I went I had a signal. One of the reasons I'm on AT&T myself is that I can get a phone call in my house, AT&T is the third carrier I tried actually. I didn't get to try the Verizon network though, but it works well here.
If you're a Verizon customer or thinking of switching then I can certainly recommend you give the Droid a look, it's a great phone overall really.
Pros:
+Excellent build quality
+Good reception
+Easy to use
+Everything is fairly fast
+Great interface
Cons:
-Picture quality isn't the greatest indoors, and video is not the greatest
-Shortcuts don't seem to work all of the time for some reason
-Must remove battery to access microSD card
-No flash support for browser
| | |
| --- | --- |
| Grades: | |
| Overall | |
| Design | |
| Performance | |
This product was given to technogog for review by the company for review purposes only, and is not considered by us as payment for the review, we do not, and never will, accept payment from companies to review their products. To learn more about our review policy please visit this page HERE.