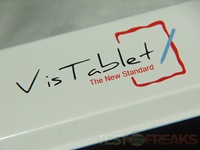 The mouse we all use is something that most likely will never be replaced, sure it will be re-designed and improved, but it will stay the same for the most part. A mouse is a great tool that let's us do most anything with our computers, while it's good at a lot of things, it's not the best tool for drawing with, for that you need some sort of tablet really.
Today for review I'm taking a look at the VisTabelt, and don't be fooled by the name it's not just for Vista, it also works on Macs and Xp. The VisTablet is a well made product that works well and comes in at an attractive price point, overall it's not a bad choice for a tablet really.

Yes, we've got an unboxing video for you for this product, though I realized, after it was too late, that I mispronounced the name a few times, so I apologize for that… but check it out and continue on:
The box is nicely done with lots of information on it.
We find the VisTablet wrapped nicely inside the box along with the accessories including a few discs, stylus, extra tips, stylus base and the instructions.
Of course to get the stylus to work you need batteries, which were included in the box.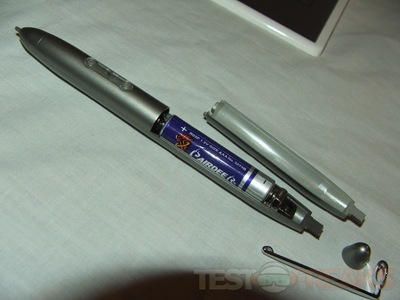 The tablet itself is very nicely made, it feels very sturdy and stiff, made of metal and plastic, it also has rubber feet to prevent it from moving around.
There are two templates included, one for XP and one for Vista, since I use Vista that's the template I'm using. Basically across the top of the pad are several icons for office related tasks, just tap to activate them.
Specifications:
What is a tablet?
Pen tablets have been around for some time. Not until recently have they become affordable to the general public. They were primarily used by professionals in the Graphic art and Photo industries. VisTablet allows you to explore the internet, draw, paint, write, highlight and do professional or home photo editing. VisTablet also opens up advanced pen features available in all the new Microsoft Office applications. Through electro- magnetic induction, information is exchanged between the pen and the tablet while your movements are translated to your computer screen. With no stand-alone power supply required, the VisTablet is a great choice for portable computers as well as desktop PC's. VisTablet will open up the world of design to you in ways that were previously either to expensive or to limiting. VisTablet is the new standard in graphics tablets.
Tablets are not only used for drawing or tracing.  They also function like a mouse to interface with your computer's operating system.  Use the pen on the tablet to control your on-screen cursor, move it to a desired location and click!  Vista's new ink input functions in Microsoft Office greatly extend the features of your software and the VisTablet can make those features accessible.
What kind of pressure sensitivity does the VisTablet have?
Pen sensitivity is a very important for professional artists. The more you press the pen down the wider the brush stroke will get. VisTablet currently has 1024 pen sensitivity levels. That matches tablets at twice the price!
The Original VisTablet is the New Standard in graphics tablets. With a 12.1" widescreen tracing surface, 29 customizable macro fields and an incredibly slim design, this highly affordable tablet is optimized for Windows Vista's advanced tablet capabilities and compatible with Apple's OSX and Windows XP/2000.
With 1,024 levels of sensitivity in its pen, this tablet is ready to become part of your creative process. The graphics tablet has found a new standard; the Original VisTablet is here.
Introductory Future-Proof Program
Backed by a two-year full replacement warranty, buy your VisTablet today and get a full-value credit to your next VisTablet purchase on a future exchange! We stand by our products 100%! See our terms and conditions for the exchange program.
Price: $129.99

When you insert the CD , if you have autorun enabled, up will pop up the menu:
You'll notice that Free Notes/Office Ink and Power Presenter RE II are grayed out so that you can't install them, that's just for Vista, but you can still install them on Vista manually from the disc, at least you can with Free Notes and Office Ink which I did..
When you've got a tablet like the VisTablet hooked up to Vista, and use Word you can use the handwriting recognition built into windows, it pops open automatically, it's a nice feature. Though it isn't perfect and has to be trained as with any, no fault of the VisTablet, it's
Office Ink is my youngest son's favorite application, I've got a smaller tablet that came with it as well, but it freezes your desktop essentially and you can draw all over it, which of course is great for presentations and such as well as just having fun. Turn the program on and you're ready to go, then just hit erase and it's all clear again.
Free Notes is basically a note pad that you can actually write on, instead of the normal Windows notepad. This way you can hand write notes to people if you wish.
It takes quite a bit a practice to get accustomed to writing on a tablet though, any tablet, not just the VisTablet, and of course my handwriting isn't the greatest to begin with, so combine the two factors and you get what you see above… not very pretty at all..
If you noticed earlier I showed you the icons on the VisTablet, some of them had pictures on them of their functions, but the majority of them are blank, in total you can have 29 different macros while you're using the VisTablet. One of the programs that comes with it is one that allows you to program them and even save several different profiles as well to use in different programs, just switch profiles and the macros are loaded for you.<
One thing nice about most all tablets is that you can use them as a mouse as well if you wish to, but not all tablets work that well as a mouse. The VisTablet works decent enough to get your tasks done that you need to, but you'll need to get accustomed to it as it's quite different than a mouse. Tracking on the VisTablet is excellent, and since I use three monitors I can really appreciate the fact the it recognizes them. My other tablet only works on the main monitor, which is a big shortcoming in my book.
Using the tablet for everyday work instead of a mouse can take time to get adapted to, and it will never really replace the mouse, but I can see using it in a pinch, especially with a laptop instead of the trackpad. You won't be gaming or anything with it though, not like I would ever ever try to play a game with a tablet. As I said the tracking is very good, but not perfect, there are times when it will skip around for no reason, but not often, just enough to get annoying though.
The pen does feature buttons on it that act like right and left clicks of the mouse, and it features 1024 pressure levels which is great for drawing. What that means is that the harder of softer you press down on the pen, the thicker or thinner the line you're drawing will be, just like a real pen basically. The actual use of the pressure sensitivity though is spotty, it seems as though you really need to press hard on the tablet to get the thicker lines, I almost feel like I'm going to damage the tablet.
I like the idea of the flip cover on it, you can place a drawing or whatever under it and trace it, my other tablet did not have that feature.
The USB cable is long, but not quite long enough really, I'd like it to be a couple feet longer, especially if you've got your computer located under your desk, the cable just isn't long enough for using that way. Yes you can get a USB extension, but why not just have it come with a long cord to begin with?
You can do lots of things with a mouse, but drawing isn't the greatest with it, you really need something like the VisTablet to do it well.
All in all the Vistablet is nice alternative to others out there, it might not be for the professional, but for the novice or amateur it should be just fine, it's perfect for someone like me who uses one on rare occasions, but needs something that works well. Personally I like this product quite a bit, and will continue to use it as the need arises, it's much nicer than the Adesso 4×6 tablet that  I currently own.
One thing I noticed on the VisTablet site is they've got an offer where you can trade in your tablet within two years towards the purchase of a newer product, basically an upgrade program, I think it's a nice touch.
Conclusion:
The VisTablet is a great product really, but not a perfect one, it's not without it's faults, and I've already mentioned them, but it is a good product that works well at what it is supposed to do. It's got a nice large area to work with and many programmable macros as well to make life a bit easier.
The price point of the VisTablet is low actually, coming in at $129, it's well worth the cost, it's a nicely made product that works very well. So if you're looking for an inexpensive, but very good tablet then be sure to check out the VisTablet first. I can easily recommend it to anyone looking for a nice and fully feature tablet that's inexpensive as well, it might not be perfect, but for what it is it's fine for those that dabble in drawing etc.
Pros:
Well made product
Easy to use
Large working area
29 programmable macros
Inexpensive compared to others of the same quality and feature set
Compatible with multiple monitor setups
Tracks very well
Cons:
Tracking could be better
Pressure sensitivity could be better
Cord could be longer
| | |
| --- | --- |
| Grades: |   |
| Overall | |
| Design | |
| Performance | |