Mousepads aren't that exciting to most people really, and most people take them for granted and feel that any old pad or even just a bare desk will work for them. Whatever you believe though, mousepads can be a bit exciting, watching them evolve from a foam cloth pad to the nano materials used in them today, the pads out there today certainly are high-tech and much more advanced than they used to be.
Today for review I've got a new pad from XTracPads, it's the Logic. There are a couple things that set the Logic apart from any other pad out there. The first being that it's thin, probably the thinnest pad out the on the market today. The second is that it has an adhesive backing that allows you to stick it most anywhere and it will stay there, but it can be easily removed as well and re-stuck elsewhere if need be. So read on to learn more…
The XTracPads Logic comes in a cardboard envelope type of package that lists specs and features and has an open spot so you can see and feel the actual surface. There are two different ones in the following few pictures,  the  Hex version and the Pink Hex version. I tested the  Hex version only and I'm going to be giving away the Pink Hex one in the coming weeks, so be sure to look for it.
The Logic mousepad isn't what I would call a pad at all, it's as thin as a piece of paper really. I've always liked XTracPads for their distinct Hex pattern on them, in fact XTracPads was one of the first true professional mousepads that I bought many years ago.
There's not much to look at on the back of the pad, basically just plain white..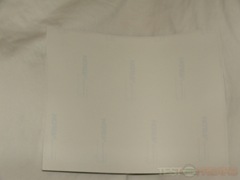 What really makes the Logic special is that it's sticky on the back so it is sure to stay in place anywhere you put it, and it can be removed as well and then re-stuck elsewhere.
Specifications:
The XTracPads Logic is one of the thinnest mouse surfaces in the computer industry so we have classified it as "ultra thin". How thin is "ultra thin"? Imagine a credit cards thickness and now take half of that away. What is left is ultra thin!
There are many qualities to the Logic that separate it from the pack. First up is the world class plastic surface. Your mouse will love it because it is so slick. Additionally, the Logic is available in three unique colors, Hex, Black and Pink.
Next up is the backing we have used. We decided on a semi adhesive backing enabling the Logic to stick to almost every desktop surface imaginable.
Last but not least is the reusable Logic backing sheet. This sheet not only acts as a flexible substrate for transportation purposes, it also is a great tool for removing the Logic from its desktop surface. Simply place the sheet beneath one of the corners of the Logic and slowly peel it from the desktop surface.
XTracPads Logic features:
* Super slick plastic surface
* Available hexagon pattern for precision tracking
* Semi adhesive backing for superior grip
* Easy to clean <
Specifications:
8.5" x 11" (216mm x 280mm)
Semi adhesive backing
Available in Hex, Black or Pink
XTracPads Logic
Designed in the USA
Made in USA
**Logic precision mouse surface is intended for application to flat surfaces only. Painted surfaces must have adequate adhesion of paint to the desktop surface to prevent paint coming off during mouse surface removal.
It is recommended the user place the Logic in an inconspicuous area of the desktop surface to test for safety and functionality of the Logic semi tack adhesive backing prior to final placement.

I tested the Logic with my Microsoft X8 Wireless Gaming Mouse: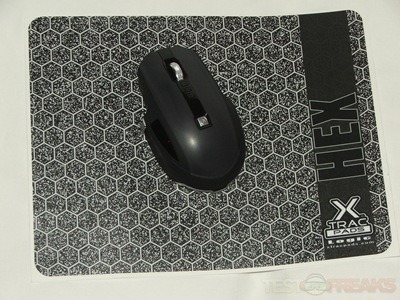 You can see by the picture that the Logic is a fairly small pad, the size of a standard piece of paper actually
Since the Logic is small it will fit on virtually any desk which is good news for those space limited people out there, you too can have a great mousepad.
The Logic is also very thin, it's maybe a little thicker than a single sheet of regular paper really, meaning that it won't rub on your wrist as thick pads do. The downside here though is that you don't have that built-in wrist rest anymore, something I kinda like about thicker pads.
Using the Logic is easy, just slap it on any open spot on your desk. Two details though, one is that you really can't use a painted surface as the adhesive could pull the paint off. The second one is that it has to be a flat surface. Flat surface meaning flat, not a wood grained desk, the pad forms to the grain of the wood making it not flat anymore. (I know this from first hand experience, actually both of these two little items. )
Using the Logic is a bit odd at first, I'm accustomed to having something under my wrist, with the Logic it's like just using your desktop and no pad. Once you use it a few times though you'll quickly realize that it's not the surface of your desk, the mouse glides over the surface of the Logic nicely.
Using it for everyday tasks and gaming is great, my X8 worked perfectly with it and didn't skip a bit, tracking is excellent.
Removing the Logic is fairly easy, though the adhesive is strong enough to make it stay put where you place it, it comes off just by sliding something under the corner and pealing it up.
Personally this pad isn't for me, I like a pad with a bit of thickness to it, but that's just my opinion.
Conclusion:
The XTracPads Logic is a mousepad like no other I've seen, it's probably the thinnest pad out there today. The Logic works very well for any type of use, my mouse tracked perfectly fine on it. It seems well made, the material is durable and the adhesive backing is strong but yet can be removed if need be.
The thinness of the Logic is both a good and a bad though, at least for me, I like thin pads, but not this thin, I do like to have a bit of support under my wrist.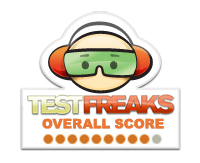 Pros:
+Very thin
+Adhesive backing keeps pad in place
+Excellent tracking
Cons:
-Very thin, no wrist support
| | |
| --- | --- |
| Grades: |   |
| Overall | |
| Design | |
| Performance | |