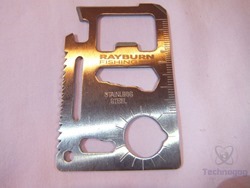 Up for review today I've got another tool or multi-tool actually that's small and portable and very handy to have around. It's simple named the 11 in 1 Credit Card Wallet Knife and it's from a company called Rayburn Fishing, but it's not just for fishing as it would be great to take camping and hiking or just to have in an emergency maybe in your glove compartment. Read on to learn more…
Specifications and Features
11 in 1 Credit Card Wallet Knife
This wallet sized credit card knife and multitool is the perfect mini survival tool for camping, hiking, backpacking, hunting, trail riding Functions: Can opener Knife edge Screwdriver Ruler Bottle opener Butterfly screw wrench 2 position wrench Saw blade Direction auxiliary indication 4 position wrench Key chain hole
Specifications:
Material: 420 high quality stainless steel
Size: about 6.9 x 4.5x 0.2cm(2.68″ x 1.78″ x 0.079″)
Weight: about 30g
Hardness: 55HRC
Package included: 1 x Mini Multi-tool 1 x Black case.
Price: $8.99 (from Amazon at time of review)
The Review
Let's start with a video for you, then continue on from there:
The packaging for the 11 in 1 tool is a heavy duty zipper style bag.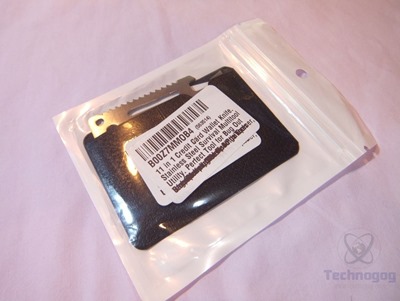 The multi-tool comes with a protective case that the tool just slides in and out of and helps protect it and you as it does have a knife edge on it.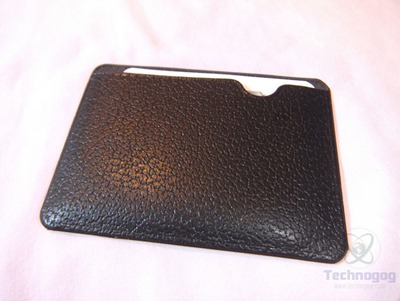 Inside of the case you'll find the multi-tool itself and a handy reference card that tells you what everything is or what it's used for.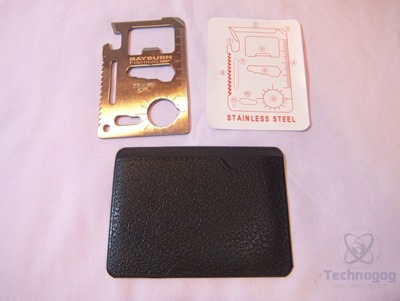 On one side of the reference card is a numbered diagram of the multi-tool and the other side tells you what all the numbers mean.
The multi-tool itself is small and certainly pocket or credit card sized at 2.68″ x 1.78″ x 0.079″ or about 6.9 x 4.5x 0.2cm and it weighs in at about 30 grams. It's made of 420 stainless steel and it feels very solidly made. The front is etched with the Rayburn Fishing logo along with ruler and angle etchings.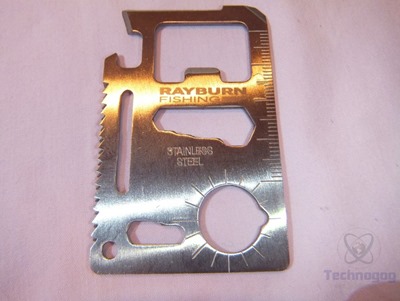 The back is just totally plain, no etching, nothing there.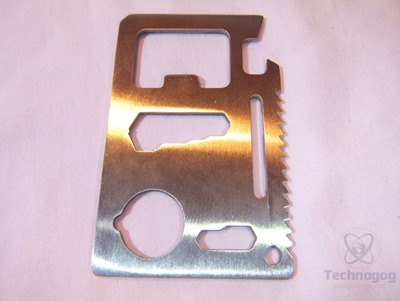 There are various useful tools included on this gadget, they are:
Can opener
Knife edge
Screwdriver
Ruler
Bottle opener
Butterfly screw wrench
2 position wrench
Saw blade
Direction auxiliary indication
4 position wrench
Key chain hole
The knife edge isn't razor sharp, but I don't think you'd want it to be either. It is sharp enough to easily cut paper or rope and string though. In an emergency it would work fine for sure, or even for just general usage while you're out camping or hiking.
Conclusion
The 11 in 1 Credit Card Wallet Knife Multi-tool is one of those things that I would toss in my fishing tackle box, glove compartment or even my tool box as I think it can come in very handy.
This product is well made of 420 stainless steel making it very sturdy and durable.
The knife edge is sharp, but not razor sharp, but it is sharp enough for most needs I would think. I did try it with paper and string and it did cut them with light force.
Overall I think it's well worth the price. It's one of those things that you don't necessarily need but it's nice to have around as it can come in very handy.
Pros:
+Well made
+Numerous uses
+Sturdy and durable
Cons:
-None really
| | |
| --- | --- |
| Grading | Scores Out of 10 |
| Overall | |
| Design / Aesthetic | |
| Value / Price | |
| Performance / Usage | |
Disclosure: This product was given to us for review by the company for review purposes only, and is not considered by us as payment for the review.
To learn more about our review policy please visit this page HERE.