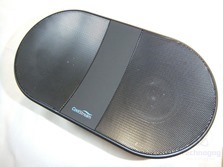 Up for review today I've got another Bluetooth speaker from a company called CoolStream, it's the BTS201 and it's not Bluetooth but it has an auxiliary input along with USB and an SD card slot. The speaker would be great for home or office as it's rather large, but it's still portable. Sadly the sound isn't that great, and that's not what you want to hear when you talk about speaker. Read on to learn more…

Specifications and Features
Wireless Speaker by CoolStream Portable Bluetooth Speaker with Rechargeable Battery for Laptop, iPhone, iPad, and Samsung Galaxy.
CoolStream Portable Bluetooth Speaker (BTS201) – For Your Wireless Lifestyle
Bluetooth Speaker and More
Stream music wirelessly from your smart phone, tablet or computer to this powerful, yet small speaker via Bluetooth. Listen to your favorite tunes (MP3 format only) that are saved on a SD Card or USB Flash drive with the CoolStream BTS201. Plug in your reliable MP3 player into the speaker's 3.5mm auxiliary jack. Wherever your music is, the CoolStream Portable Bluetooth Speaker has you covered.
Portable Speakerphone
With its rechargeable battery, the CoolStream BTS201 goes where you want to go. So whether you need your tunes inside or outside, the CoolStream BTS201 is ready to go. Worried you'll miss a call while listening to music? No worries, this Bluetooth speaker supports Hands Free Talking with its built in microphone.
Key Features:
* 6-Watt Speaker System with Unique Acoustic Chamber
* Wirelessly Stream Music via Bluetooth
* Built-in Microphone for Speaker Phone Function
* USB Port for Music Playback from USB Flash Drive
* Memory Card Slot for Music Playback from SD Card
* Auxiliary Jack Connects to MP3 Player
* Rechargeable Battery for 4-5 Hours of Completely Wireless Music
Price: $29.99 (from Amazon at time of review)
The Review
Let's start with a video unboxing and then move on:
The CoolStream speaker comes in a nice looking box with plenty of pictures and information on the box. Inside you'll find the speaker wrapped in a think layer of styrofoam or protection during shipping.
Once you get the box unpacked you'll find the speaker, user guide, 3.5mm audio cable and a UBS charging cable. Sadly the USB cable is proprietary so if you lose it you won't be able to charge the speaker anymore. I don't understand why companies still do this when micro USB is like a standard anymore it seems.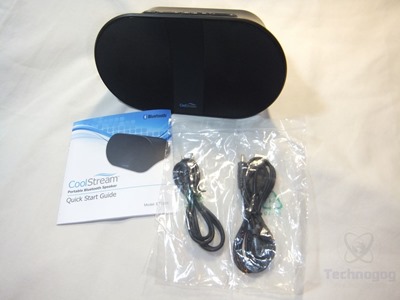 The speaker is black in color with a metal grill over the speakers on the front and then the rest is made of plastic. The speaker is about 7.25 x 3 x 4 inches in dimensions but it's not perfectly square, it tapers from the front to the back.
On the top you'll find six buttons for power, modes, backward, play/pause, forward and volume up and down.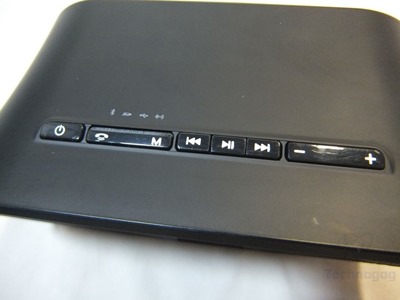 On the back you'll find an SD card slot and a regular USB port along with a 2.5mm audio jack and the power connection. You can put your music on an SD card or USB flash drive and plug it into the speaker and play music that way, it acts like a large MP3 player really.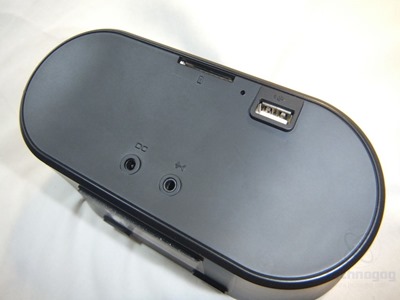 The bottom is the ID label and three rubber feet, two and small and one is long to keep the speaker in place.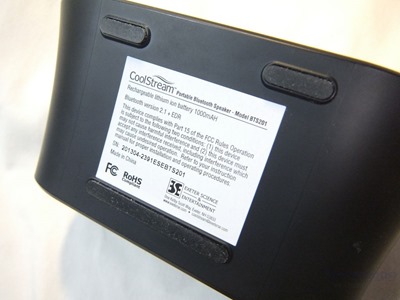 So I tested the speaker with my Samsung Galaxy S6 and Playstation Vita and pairing worked fine overall, no real issues there.
Sounds quality is fairly bad overall honestly, it has a very muffled sound no matter the volume and there really isn't any treble present, the highs are just non-existent in the music with this speaker. At high volume it gets very distorted especially with bass heavy music.
Conclusion
The CoolStream BTS201 Bluetooth speaker has plenty of features like an SD card slot and a USB port so you can play music right from it like an MP3 player but you can also connect most any other device with a 3.5mm audio connection to it and then of course over Bluetooth. Sadly the sound is just not good at all, even at low volumes I'm not happy with the sound overall, but at high volume it gets very distorted.
Pros:
+Seems well made overall
+Bluetooth, USB, AUX or SD Card inputs
Cons:
-Lacking treble
-Lots of distortion at high volume
-Only about 10 feet range
-Proprietary power connection
| | |
| --- | --- |
| Grading | Scores Out of 10 |
| Overall | |
| Design / Aesthetic | |
| Value / Price | |
| Performance / Usage | |

Disclosure: This product was given to us for review by the company for review purposes only, and is not considered by us as payment for the review.
To learn more about our review policy please visit this page HERE.