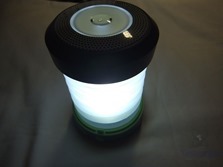 I like flashlights, always have, I've got all kinds of them and now I've got another one from a company called Bright Outdoors which is a combination flashlight and lamp. The lamp can be charged by the sun thanks to the solar panel or via USB and it has a standard USB port built-in so you can charge your phone in an emergency. The flashlight is very bright but it can expand to be a lantern with more than enough light to light up your tent at night. I like it. Read on to learn more…
Specifications and Features
Bright Outdoors Solar Lantern / Flashlight with Emergency Powerbank – LED, USB Rechargeable and Collapsible. Versatile Camping, Safety, Patio or Travel Lamp. Portable, Innovative Sun-Powered Light
Join the Solar Revolution and Brighten the Outdoors Night
If you love the outdoors as much as we do, then you'll want to avoid the hassles of cables and wiring. This solar lantern is a simple, reliable, stylish light that recharges during the day and brightens up the night. Simply leave it to soak up the sun's rays or plug in to a USB outlet for 6-10 hours of light. Sustainable, Solar, Simple.
Versatile and multi-purpose
The ingenious design creates 3 products in one: leave closed for a directional flashlight or pull open for a lantern that lights up the campsite or yard. If you need to charge your phone or other device, simply plug into the powerbank (will charge the average smartphone about 50%) 2 different brightness modes let you control the battery life. And there's even an SOS flash setting for when things get rough.
Smart, Compact Design
Clever design gives big light (65 lumens) from a package that folds down to just 2 inches high and 3 inches wide. It easily fits in your backpack, cupboard, glove compartment or just about anywhere!
Durable, long-lasting components
The solar flashlight lantern features a durable water resistant enclosure. Reinforced handles make for easy hanging. High quality electronic components mean that the long-life battery can be charged either from solar or via USB.
Price: $19.95 (from Amazon at time of review)
The Review
The Bright Outdoors LED lantern comes in a very nice looking box with some basic specs on the back.
Once you get the box unpacked you'll find the lamp wrapped in bubble wrap along with a user guide and a micro USB cable.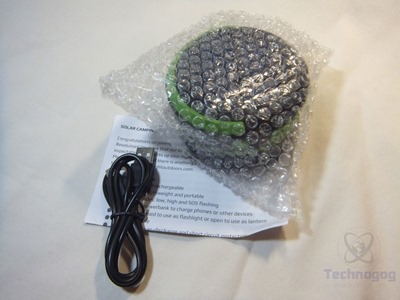 On the top of the lantern is the flashlight part essentially, but it's really a lens as the LED is inside on the bottom so when it's closed the LED shines through the lens to act as a flashlight. When collapsed the lamp is about 3.25" x 1.75" in dimensions and it's made of plastic, but seems well made.
On the bottom you'll find the solar panel for charging via the sun and then four rubber feet so you can rest the lamp and protect the solar panel. On the bottom is also a built-in handle so you can carry it or hang it up to provide light in the lantern mode, the handle folds down out of the way.
On the side of the bottom is a rubber door behind which is a micro USB port for charging the lantern and then a standard USB port so you can charge your phone in an emergency. The battery inside is 800mAh which should provide about half charge for most phones out there today, more than enough for an emergency call surely. There's an LED built-in the rubber door on the right side to indicate charging. To the right side of the door is the power button which has a rubber cover over it. The door and power button seals to keep the weather out.
You can charge via solar or over USB with the included cable, when charging the LED lights up red and then turns off when done charging.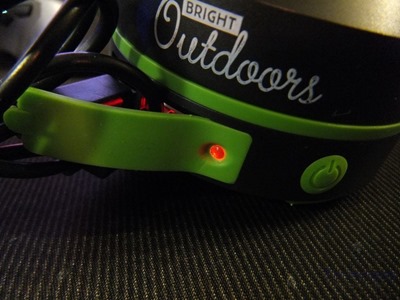 The lamp and flashlight has three modes, high, low and strobe.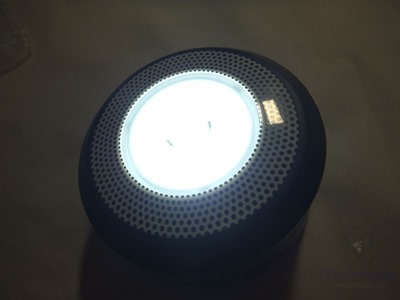 To use it as a lantern you just pull it up and it expands to about five inches high. The LED seems very bright to me, the specs say it's 65 lumens on high and 25 lumens on low. When you have the lantern expanded it does provide a lot of light, more then enough to light up a tent at night or your way on a dark trail.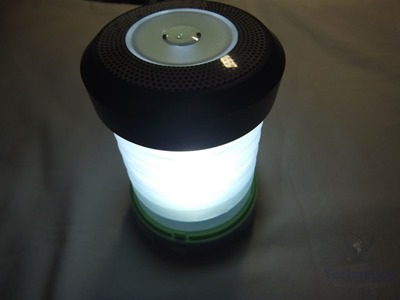 Conclusion
I like this product a lot but I think it's a bit overpriced for what it is, it's selling for about twenty dollars right now and that might just be a bit too much.
The lamp is bright and useful for sure, and I like the fact that it can collapse down to about two inches so you can easily fit it into your backpack.
The lantern provides more than enough light to provide illumination in a tent in the dark to see what you're doing or even read by.
Pros:
+Small and portable
+Dual power, solar and USB
+Can charge phone from it
+Well made
+Very bright
+Dual mode, flashlight and lantern
Cons:
-A bit expensive for what it is
| | |
| --- | --- |
| Grading | Scores Out of 10 |
| Overall | |
| Design / Aesthetic | |
| Value / Price | |
| Performance / Usage | |
To learn more about our review policy please visit this page HERE.