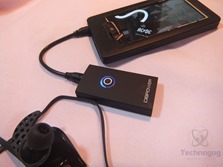 A lot of our devices are Bluetooth enabled but not everything is and you sometimes you need a way to make something either transmit or receive Bluetooth signals and that's what the little product I have today for review does. The DBPower BA-800 is a tiny battery powered Bluetooth transmitter and receiver in one and it can makes something that's not Bluetooth enable have Bluetooth functionality. It's a very simple device but one that can be very handy. Read on to learn more…

Specifications and Features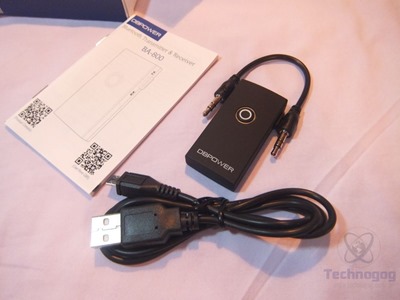 The transmitter/receiver is very small making it portable, it looks like a small black box and there's a single button on the front of it.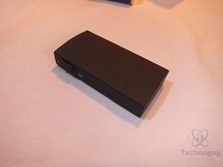 On the top edge is a 3.5mm audio jack and the microUSB port for charging. On the side is a sliding switch labeled TX and RX for transmitting and receiving, just slide the switch to the mode you want.
The first thing you'll need to do is charge the battery, the button lights up red to indicate charging and you charge it with the included microUSB cable or any other one you may have.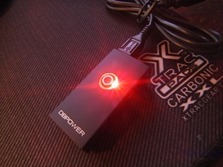 You can use the BA-800 for transmitting or receiving Bluetooth signals. For example I used it with my ZuneHD to transmit to a pair of Bluetooth enabled headphones. Pairing took a bit of time, but it worked and when it's connected the LED blinks blue. It did take a few tried to get paired to the headphones, they have to recognize each other basically and that takes time.
The BA-800 can also be used to turn a standard set of speakers into Bluetooth equipped ones. For example you can transmit vie Bluetooth from your phone to the receiver and have it hooked up to your speakers.
Conclusion
All in all the BA-800 works as it's supposed to for me. You can turn any non-Bluetooth device into a Bluetooth one and transmit the signal to a Bluetooth enabled device like headphones or speakers. The BA-800 can also receive Bluetooth signals so you can turn non-Bluetooth speakers into Bluetooth enabled ones. The BA-800 is a handy little gadget for sure.
It's very small and portable and it's fairly simple to use. Pairing might take a few tries but it does work.

Pros:
+Simple to use
+Small and portable
+Transmit or receive with same device
Cons:
-Pairing can take a few tries
| | |
| --- | --- |
| Grading | Scores Out of 10 |
| Overall | |
| Design / Aesthetic | |
| Value / Price | |
| Performance / Usage | |
Disclosure: This product was given to us for review by the company for review purposes only, and is not considered by us as payment for the review.
To learn more about our review policy please visit this page HERE.