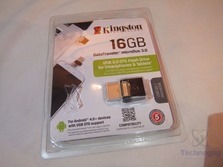 Up for review today I've got another USB 3.0 flash drive, this one is from Kingston and it's called the DataTraveler microDuo and it's 16gb in capacity. This drive is tiny and offer very fast read speeds but what makes it special is the fact that is also has a microUSB connector built-into it so you can use it as external storage for your phone or tablet. Read on to learn more…
Specifications and Features
THe microDuo is tiny, it's slight over an inch long and about 1/2 an inch wide and weighs about 1/2 an ounce. It's metal and plastic, the drive itself has a metal housing while the black cap is plastic. It seems well made for what it is.
The USB connection is colored blue to signify the USB 3.0 connector.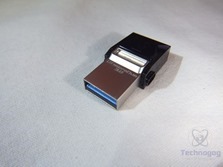 The black plastic caps pulls out and then flips or rotates to reveal the microUSB connector for your phone or tablet.
I used it with both my Samsung Galaxy S6 Android phone and a Windows 10 tablet and both worked as expected with the microDuo flash drive. It was recognized and I could access the files with no issues. I did run into an issue with using it with the case on my phone, it just wouldn't work as the drive is too wide to fit so I had to take the phone out of the case, not sure if it's worth doing that every time I want to use the drive.
So I did testing on it to see how it performs.
The first test I ran was ATTO Disk Benchmark on USB 2.0 and USB 3.0 and then I compared it to the recently reviewed Corsair Flash Voyager mini 16gb USB 3.0 flash drive to see the differences.
As expected the drive has fast read speeds, I maxed out at 115MB/s but write speed were slowing only hitting a bit over 12MB/s.
I ran Crystal Diskmark as well and speeds reach 110MB/s for read and 9.8MB/s for write.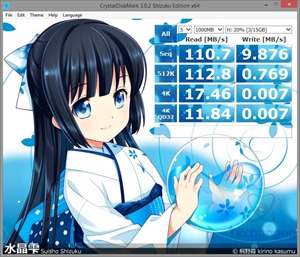 Comparing the Corsair to the Kingston, the Kingston drive is faster with the Corsair only hitting 10MB/s for write and about 82MB/s for read speeds.. The Kingston drive is the better choice here of course in terms of speed.
I also ran Diskbench with various file sizes and mixtures of files and folders to see the write speeds of the Kingston drive.
A video file at around 900mb, an ISO file at about 3.2gb and a full folder with 874 files and folders in it at about 3.2gb. I only ran the write test there as I wanted to be sure of the speeds and they averaged between 9MB/s and 10MB/s as well. I got about the same speeds as the Corsair Flash Voyager Mini in the DiskBench test.
Conclusion
The Kinston DataTraveler microDuo offers just excellent read speeds, but the write speeds are quite slow.
Having tested two USB 3.0 drives now with very similar write speeds I'm thinking this is a pattern with these flash drives. These two drives are from different companies but yet the write speeds are almost exactly that same really, not sure what to make of it. I do have a couple other USB 3.0 drives here that I need to test yet, so I guess we'll learn more soon.
The microDuo does have a microUSB port in it so you can use it with your Android phone or tablet or Windows tablet as I did and that feature worked fine.
All in all the Kingston DataTraveler microDUO is a decent drive in my opinion that offers a bit more value thanks to the microUSB connection and it's inexpensive
Pros:
+Very fast read speeds
+microUSB connection
+Inexpensive
Cons:
-Slow write speeds
-Drive might not fit with phone in case
| | |
| --- | --- |
| Grading | Scores Out of 10 |
| Overall | |
| Design / Aesthetic | |
| Value / Price | |
| Performance / Usage | |
Disclosure: I purchased this product for my personal use and thought a review would benefit other consumers in making an informed purchasing decision.
To learn more about our review policy please visit this page HERE.