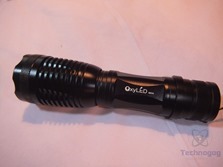 It's like the sun! That's the first thing I thought when I turned on the flashlight IU have for review today. This light is the MD50 from OxyLED and it's supposed to be 500 lumens of brightness but it seems a lot more than that. The light can use an 18650 rechargeable battery or three AAA batteries and it's very rugged and durable and the beam can be adjusted from flood to spot with just your finger while you're holding it. The light also have five modes and overall it's just a great light, it's become my favorite flashlight. Read on to learn more…

Specifications and Features
Once you get everything unpacked you'll find the light, charger with AC adapter, battery and adapter, user guide and thank you card.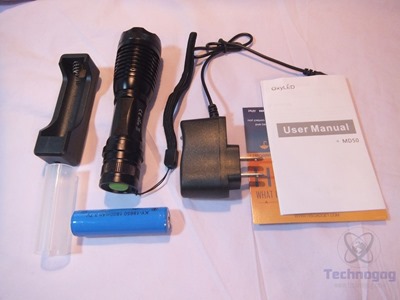 The battery is a 18650 style that is 1800mAh in capacity. The charger is two parts, the AC adapter and the charger itself. The AC adapter has an LED on it that lights up red to indicate charging and turns green when complete.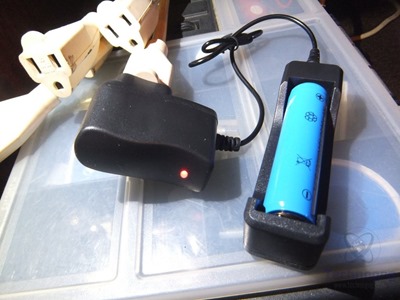 The MD50 light itself is very well made, I'm very impressed with the build quality, it's rugged and it's IPX-6 rated for water resistance meaning you can take it out in heavy rain etc and it will be fine, but it's not submersible. It's more than good enough for hiking, camping and any other outdoors activities for sure. The light is about 5.3 inches long and it weighs in at a little over 6.5 ounces.
The light is adjustable from spot to flood by sliding the head piece up and down and thanks to how it's designed it's very easy to do with one hand while holding the light. I just hold it in my hand and use my thumb to slide it up and down to adjust the beam. The top section is is made of what can best be described as rings of metal around it and it allows you to easily slide it up and down.
The front can come off to reveal the Cree LED which is supposed to have a 50,000 hour lifespan which is pretty good. Inside you'll find a copper reflector which is interesting as more are chromed and very shiny.
On the tail end you'll find the power button which is clicky and audible and it controls the five different modes of the light, high, medium, low, strobe and SOS. The light can be fully clicked to change the modes or you can depress it half way without the click and it will change the modes.
The MD50 is very bright and it seems much brighter than the stated 500 Lumens. I have a HandAcc LED light that is 500 lumens and an Ultrafire that is supposed to be 2000 lumens and the OxyLED MD50 is much, much brighter than either of those.
Conclusion
If you're looking for a very bright and well made LED flashlight then I can highly recommend the OxyLED MD50 for sure.
This is my new go to flashlight for all of my lighting needs, I've been using all the time for everything really and I'm very happy with it.
The carrying case is nice but I don't think I'd really use it as it's a bit big and bulky but I'm going to re-purpose it for another use as it is a handy box.
All in all I like this light a lot and I'm very happy with it.
Pros:
+Very well made
+Includes carrying case
+Can use rechargeable battery or standard batteries
+Easy to use
+Extremely bright
Cons:
-None that I could find
| | |
| --- | --- |
| Grading | Scores Out of 10 |
| Overall | |
| Design / Aesthetic | |
| Value / Price | |
| Performance / Usage | |
Disclosure: This product was given to us for review by the company for review purposes only, and is not considered by us as payment for the review.
To learn more about our review policy please visit this page HERE.