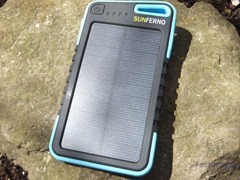 Going green is popular and has been but that doesn't have to mean going without power when you need it. Solar chargers are becoming more popular and as technology improves so do they. Today for review I have the Sunferno Flintstone 5000mAh Solar Charger which is basically what it sounds like, a battery powered by the sun to charge your devices. The Flintstone has two USB ports so you can charge two devices at the same time and the 5000mAh battery should provide several charges for one device or charge a couple devices once. How many charges you get will depend on your devices and the battery that is inside of them of course. The Flintstone is certified to be water and dust proof and it's ruggedly made so you can take it with you camping or hiking and it will be just fine no matter the weather conditions. I've sent some time with it and I've found it to be a decent little charger that for the most part I can recommend if you're in the market for something like this. Read on to learn more…
Unboxing
Let's start with the video unboxing and then the pictures after:
Once you get everything unpacked you'll find the user guide, QR code free eBook, a carabineer and a microUSB cable for charging the Flintstone and for charging your devices.
The Sunferno Flintstone is a solar charger so the majority of the front is covered with solar panels which look just like any other I've seen on similar devices. These are 1.2 watt panels which might seem like a lot but in this scale they really aren't. The solar panels are used to charge the internal 5000mAh battery for charging your devices.
On the top left of the front is the power button and four LEDs which are in 25% increments to let you know the battery status. To right is a large sort of oblong shaped hole where you can attach the included carabineer. You can attach it to the outside of your backpack while hiking and it can charge while you're on the go.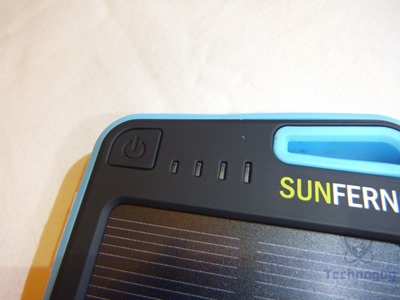 On the front edge is a single LED which is the flashlight that works by holding the power button in for a few seconds, and then the same to turn it off.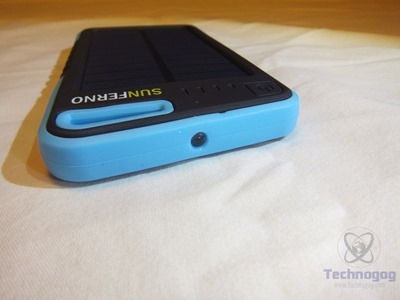 On the left side of the Flintstone is a rubber cover labeled USB which comes off to reveal a regular USB port.
On the right side you'll find another rubber door labeled USB but this one is slightly larger and behind it you'll find a standard USB port and a microUSB port. The Flintstone can charge from the sun but the fastest was is charge it via the microUSB port and included cable.
The rubber doors help keep water and dust out, the Flintstone is IPX4 certified which means: "Splashing of water – Water splashing against the enclosure from any direction shall have no harmful effect." So it's waterproof for the most part yes, but you can't submerge it in water for any amount of time. Basically what that means is that if you're hiking and it starts raining the Flintstone will still be safe.
On the bottom you'll find the ID label and other specifications, but that's not what's important, the feature here is the rubberized backing for both grip and padding.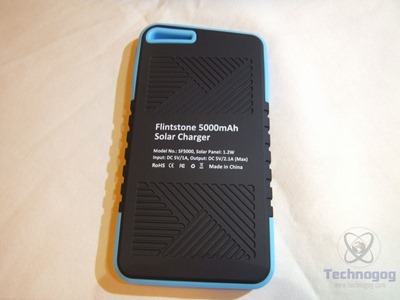 Specifications and Features
It has two USB ports so you can charge two devices at the same time which can come in very handy.
I did run into a problem with my Windows 8 tablet where, for some reason, it wouldn't charge from the right USB port of the Flintstone but it would charge just fine from the left USB port. I read the directions and it didn't say anything specific about the ports so I'm not sure why it wouldn't charge from the right port. I switched my phone the right and the tablet to the left and they both charged just fine. I should note though that everything else I tried to charge from the left port worked, just the tablet wouldn't for some odd reason. To me, it's not that big of a concern as I don't think many people would be taking a tablet with them camping or hiking, but you never know…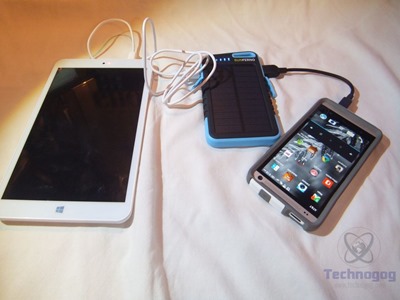 The Sunferno Flintstone is a solar charger and to test that function I put it out in the sun and it charged the internal battery as it should. Yes the charging from the sun is slow, but any charger of this type is so it's no surprise. The Flintstone is meant to be charged via electricity and then in an emergency you have the solar panels to provide power as well if you need it.
The Flintstone does even charge from indirect sunlight, behind the clouds, much more slowly, but it does charge. The idea of the solar panel is for emergency uses and not as the only power source and that's fine I think. As I mentioned earlier you can hang it off of your bag while you're traveling and the sun will charge it, that's how I would use it anyway.
I should note also that I did use the included carabineer and it was a very tight fit to get into the hole at the top of the Flintstone. It's so tight that it really doesn't even move, you have to sort of wedge it into the position you want it to be at and it will stay there for the most part.
The Sunferno Flintstone isn't just for outdoor type people, anyone can use it really. I can see this being used by people from all walks of life, for example a bike messenger could attach it to his bag and let charge while on the go. We all have our mobile devices and the majority of us have phones that need power but we don't always have access to an electrical outlet but the sun is always there. I personally like portable batteries very much, I have a few of them and they do get used often, it's always nice to have extra power just in case. We've had power outages and I'm thankful for my external battery packs but they need power as well to charge them but the Flintstone can charge by the sun so in an emergency the Flintstone is really one to have handy.
Conclusion
If you're into camping and hiking the the Sunferno Flintstone 5000mAh solar charger is something you should seriously consider adding to your carry as you never know when you'll need the extra power. Even if you're not an outdoors type person the Flintstone can work for you as it can provider extra power for your devices while you're on the go.
The Flintstone is waterproof and dustproof and ruggedly made and should be more than be able to handle being outdoors in all kinds of weather and all situations.
Inside you'll find a 5000mAh battery that should provide several charges for your cellphone or power for multiple devices thanks to the dual USB ports it has.
The Flintstone can power virtually anything that can be charged over USB so it can come in very handy in any situation where extra power is needed.
My kids are in scouts and we do the camping and hiking trips and there's not always power out there in the woods for my phone, but I take it with me for emergencies and usually carry a portable battery but now I'll also be carrying the Sunferno Flintstone as a backup power source as well as you can never be too prepared.

Pros:
+Free hiking basics eBook
+Water / Rain Proof
+Simple to use
+Dual USB ports for charging multiple devices
+Good capacity battery for several charges or multiple devices
Cons:
-Couldn't charge tablet in one port but other worked fine
-Carabineer is very tight fit
| | |
| --- | --- |
| Grading | Scores Out of 10 |
| Overall | |
| Design / Aesthetic | |
| Value / Price | |
| Performance / Usage | |
To learn more about our review policy please visit this page HERE.