I've reviewed a lot of portable power banks or portable batteries and most are the same, but some are different like the one I today which is solar powered, or it can be powered by the sun. There are many of these out there and this one works just like all the others. The Treqkr50 is a 5000mAh power bank with a secondary solar panel built-in so in an emergency you can power your phone by the sun. It works fine, read on to learn more…
Specifications and Features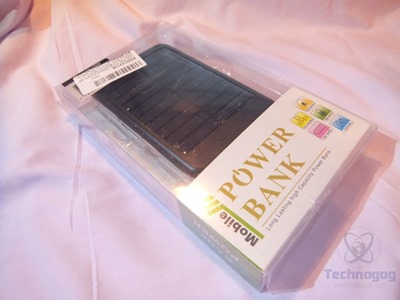 Once you get everything unpacked you'll find the charger, user guide and a bag of tips and a USB cable.
The adapters included are for Apple, microUSB, miniUSB and Nokia and the tips fit the included USB cable. You don't have to use the included cable as the charger has a standard USB port on it.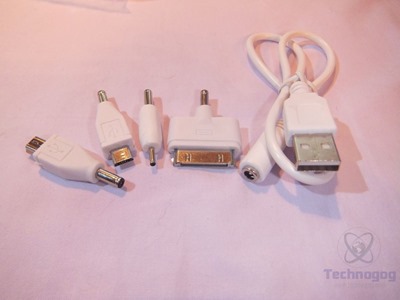 It's a solar charger so most of the top is a solar panel and it looks like most any other I've seen.
On the bottom of the charger is an ID label and labels for the ports on the side.
On the bottom edge you'll find the microUSB port for charging the battery itself from your computer or AC USB adapter. There are four LEDs that light up blue to let you know the battery level, 25% each, next to them is a small button to power it on and check the battery levels. To the far right is a standard USB port that use to charge your stuff with.
For testing I charged my phone, the Samsung Galaxy S6, outside, but the solar charger isn't made for actually charging from the sun. That's normal though, none of the solar chargers I've gotten are made for that, they're made for emergency use solar charging. You can very slowly charge the battery from the sun, but you should just charge it fully from your computer before going out.
The LEDs on the charger do light up to let you know it's charging from the sun and blink as they are charging and then get full when complete.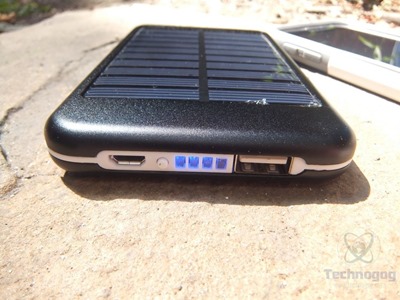 Conclusion
The Trekqr50 solar charger works just as I expected it would. I've reviewed similar ones before and they all work the same.
The 5000mAh battery inside is more than enough to keep you charged, but it depends on your phone of course as to how many chargers you can get from it.
The Treqkr50 is made for outdoor use but I don't see anything in the specs about it being weatherproof or very rugged. I'm not sure how it would do outside if you take it camping or hiking. I guess you could keep it in your bag and only take it out as needed, but I don't know.
The charger is solar powered but you can't actually really use it that way, it's made more for emergency use and for that I guess it's fine.
All in all it's not a bad product, it's fairly inexpensive and the battery inside should provide enough power for most devices out there when you need it.
Pros:
+Small and portable
+Fast charging
+Seems well made
Cons:
-Solar is slow and only for emergencies
| | |
| --- | --- |
| Grading | Scores Out of 10 |
| Overall | |
| Design / Aesthetic | |
| Value / Price | |
| Performance / Usage | |
Disclosure: This product was given to us for review by the company for review purposes only, and is not considered by us as payment for the review.
To learn more about our review policy please visit this page HERE.