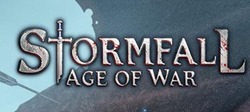 Stormfall: Age of War is a real-time strategy MMO game playable on Facebook or in your PC browser that will have players questing to gain resources by battling other castles, raiding or trading and forming alliances with other players around the world.
Players must build their empire and protect it from other players and non-players and acquire recourses to protect their kingdom and keep their subjects happy. Rule, conquer, win.
Learn the Lost Arts by collecting ancient scrolls that allow players to unlock new and better units, buildings, creatures and machines of war.
Follow the advice of Lord Oberon in a fully voiced tutorial that will teach you the basics of gameplay and learn to build your kingdom.
Features:
-Construct your own empire and rule over mines, guilds, farms and markets
-Immersive gameplay thanks to fully voiced narratives
-Real time interface that will appeal to both seasoned and casual gamers
-Defend your castle alone or form alliances with other lords
-Defend your castle with barbarians, paladins, knights, shades and even dragons
-Raid or trade to acquire resources to build your army and fortify your castle and protect your empire
-Visit other castles and compare ranks globally with friends
Stormfall: Age of War is free to play and available in several languages