The beauty of free fillable pdf forms templates is that they can be standardized and used repeatedly. They are easy to edit with remote access rights, and no printing is needed. Being well organized in your remote operations and having a green company are vital to the current business environment!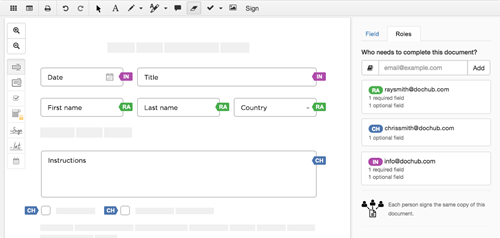 Not every pdf editor allows you to fill out a pdf form. Below are our top five picks of the most trusted software
1. Adobe Acrobat Pro DC fillable forms pdf editor
Adobe is probably one of the first names that comes to mind in regard to how to fill out a pdf form. It is a well-known tool for creating, editing, signing, and sharing pdf files. Its integrated kit consists of three applications:
Acrobat Reader for reading, signing, and printing pdf files
Acrobat Pro DC to make pdf editable (scanning, merging, splitting, organizing, cropping, rotating, converting from Word/Excel/PowerPoint/Webpage to pdf, etc.)
Adobe Document Cloud for remote storage of pdf documents on cloud servers
The Acrobat package includes the modifiable forms feature. It is capable of generating editable online forms from both scanned and Word/Excel files. Once a template is ready, it can be filled in, signed, and even integrated with external scripts. One of these scripts allows calculations right in the document!
2. Jotform fillable forms pdf editor
Jotform is an online pdf editor specialized in forms. With its support, users can fill out a pdf form collectively, choosing from a wide collection:
Application Forms
Registration Forms
Contact Forms
Feedback Forms
Order Forms
Evaluation Forms
Reservation Forms
Booking Forms
Request Forms
Jotform offers over 10,000 fillable pdf forms, for industries ranging from healthcare and e-commerce to education and IT.
You do not have to know anything about programming. By applying the logic conditions, you can make forms more interactive. For instance, you can set a condition: if someone enters $100,000 in the yearly income field, the tax rate field is automatically filled in with the 25% rate.
It also has many third-party integrations. Some examples include payment services (PayPal, Stripe) and remote collaboration tools (Trello, Slack).
Finally, the editor can be used from a smartphone or a tablet.
3. WuFoo fillable forms pdf editor
WuFoo is a product of SurveyMonkey, a popular survey platform, designed specifically as an online pdf editor for creating, editing, and sharing different forms.
It has an intuitive WYSISWYG dashboard where users with free subscriptions can create up to five fillable pdf forms. To create more templates, export data, get analytics, and access integrations with other platforms, users will need to choose one of the paid plans.
Utilising WuFoo to edit a fillable pdf is very straightforward. There only three steps to create an editable pdf form:
1) Drag and drop the fields you need (there are plenty to choose from; number, checkboxes, dropdown, multiple choice, paragraph text, price, rating, signature, file upload, and many others).
2) Go to field & form settings for adding styling and user instructions.
3) Apply one of the templates that best suits the case
Once the form has been created, it can be shared (via a link, Facebook, Twitter, WordPress, other APIs).
4. DocHub fillable forms pdf editor
DocHub PDF is another online application to make pdf editable from a browser or a smartphone. As the name suggests, it functions as a hub that can convert pdf to fillable form, integrate elements from Word or PowerPoint documents, and store everything on Google Drive or Dropbox.
An interesting feature that makes it stand out from the previously mentioned solutions is the ability to control editing rights per field. This means that if a lessor and a lessee are preparing a rental agreement through a shared DocHub link, the lessor can make the pdf fillable and invite the lessee to edit only specific fields with personal information. The lessor can rest assured that the lessee will not secretly change any clause to make it more favorable.
5. Lumin fillable forms pdf editor
Lumin PDF is an online pdf editor that combines the functionality of pdf editors and cloud-stored document management. It allows the creation of fillable pdf documents using numerous templates and forms for different occasions, from a resignation letter to a financial statement. Some examples of the universal pdf templates collection are:
Loan contract
Offer letter template
To whom it may concern letter
Ticket template
Income statement template
Purchase order template
Scholarship thank you letter
Employee disciplinary action form
Letter of intent fillable pdf form
Simple balance sheet template
Two weeks notice resignation letter
Rental application form
Medical records request form
Project proposal template
NDA agreement fillable pdf form
Similarly to previous pdf software solutions, both a PC and a smartphone can be used to create fillable pdf forms using Lumin PDF.
Summary
In the modern world, individuals and businesses no longer need to worry about how to fill out a pdf form. The existing online pdf editors offer a plethora of templates and forms to choose from for automating and simplifying the document management routine. Many of these forms can be used free of charge.
Image credit: dochub.com