The travel industry is back to booming business after the restrictions and lockdowns of the pandemic that caused many hotels to go on hiatus. Although the period had several drawbacks, it did bring some positive changes, including digitalization initiatives in various industries.
The travel sector also realizes a plethora of benefits they can utilize from mobile apps that can instantly connect travelers with hotels. Several hotels have optimized websites that provide all the necessary information so that guests can easily access and book their rooms with just a few clicks.
Hence, it has become essential to have a booking app to boost your hotel's business and raise your reputation in the industry. Check out some of the best reasons to have a booking app for your hotel and how it can make your business flourish in the long run.
5 Reasons Why A Booking App Is A Good Idea For Your Hotel
A free booking app for business can help your guests with their entire journey and enable you to assist them with your hospitality services.
However, there are plenty of other reasons to go for a booking app for your hotel. So, here are the 5 fundamental reasons why you should have a mobile-based booking application.
Your Guests Can Book Reservations Anytime, Anywhere
One of the best reasons for having a hotel booking app is the flexibility it provides your guests.
As the world has become smaller over the years, with people being able to travel far and wide, they find ways to access hotels without having to use the traditional methods of calling or showing up at the hotel for reservations.
Your customers from around the globe can make reservations anytime they plan to travel using automated booking services. Neither you nor your guests have to put any manual effort into calling and booking, saving you both time and effort.
Hotel Booking Apps Provide A User-Friendly Optimized Experience
Your customers can get detailed information regarding your hotel once they get your hotel app on their device. They can easily navigate to find the best options available for their stay at your hotel with just a few clicks and swipes.
Also, your guests can easily check in to their rooms, order essentials like food and drinks, and use a mobile key with the hotel app. It will help you make a positive impression on your prospective customers and boost your reputation.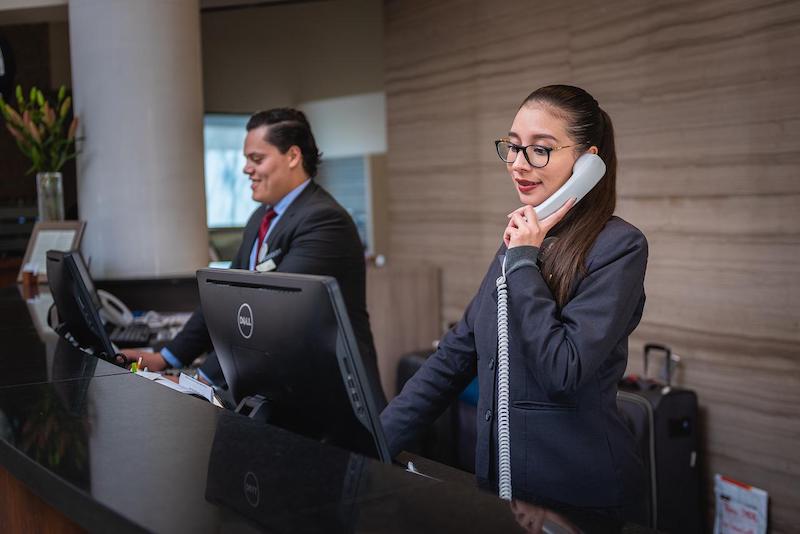 3. A Hotel Booking App Can Boost Your Revenue
With a hotel booking app, you can promote the specialties of your hotel and the offers and packages you have for your guests. You can also provide special discounts during specific periods of the year to attract more customers.
You can encourage your guests to take advantage of extra services like spas, restaurants, package and room upgrades, add-ons, pre-booking meals, or any other service that your hotel offers.
4. You Can Track Data And Manage Bookings Easily
A hotel booking app will help you track the data of your guests to analyze customer behavior. It will help you improve the services you provide and develop marketing strategies to boost your business.
The app will also keep track of your customers and manage their bookings effortlessly. Hence, you and your guests can have a hassle-free experience in handling bookings and also reduce the chances of no-shows.
5.You Can Use Multiple Languages And Social Media For Enhanced Communication
Having a multi-lingual booking app can help attract international guests and make their hotel booking journey smooth and convenient. It will reduce miscommunication and understanding issues with your guests as they can get all the relevant information regarding the hotel and the services in the language they understand.
You can also use social media channels to effectively communicate with your prospective customers by integrating them into your booking app.
Final Thoughts
A booking app for your hotel business can benefit you in several ways. You can manage your customers' bookings and provide them with the best services to boost your business. A booking app will offer you a competitive advantage that will enhance your presence and reputation in the industry.
A well-experienced professional app developer can help you create the best booking app by integrating all the essential features that benefit you and your customers.