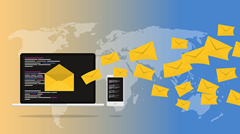 Are you still stuck in the debate of whether email drip campaigns would be useful for your business? Chuck all the doubts in the bin as here we are with the significant benefits of drip email campaigns or as it is named, drip marketing.
Greater engagement
It is quite obvious as the triggered emails on the basis of user actions mean that you have a higher chance of receiving a response in comparison with the regular email campaigns. You can know this by tracking the open rates and click rates of drip campaigns and compare them to BAU emails. According to the research, businesses using drip marketing campaigns are successfully engaging their prospective customers in a more efficient manner.
Automated funnel movement
Drip campaigns along with greater engagement, push the prospective leads in direction of conversion without any kind of manual interference. However, you need to be sure about one thing – the creation of a campaign. Keep in mind what the prospects expect and what steps you want them to take towards conversions. Draw a rough sketch of what your main areas of focus are and then start considering each point in detail.
Time and effort-saving
Thanks to its automated funnel movement, it saves your team from manual intervention. You and your team have all the time to focus on other important things such as tracking various other funnels, closing deals, strategizing other campaigns or talking to your potential customers or clients. You just need to make the initial effort while setting up the drip campaign. The rest is automatically taken care of.
No frustrated potential leads
As you formulate a cut-to-cut strategy while creating the drip campaign, the prospects receive the emails relevant to their requirements and when you send them what they want, they will be rather happy than irritated.
Remember, the prospect is there to see something informative and beneficial. Make their journey more pleasant.
Re-engagement
Through email drip campaigns, you can get back your lost prospects too. Now, that's what we call some intriguing benefit! These campaigns are perfect to contact inactive clients or prospects and pull them back into the direction of conversions. Don't worry if they are deleting your emails as soon as they receive it or failing to click through – creating re-engagement emails through drip marketing can captivate the uninterested prospects.
Cross-selling/upselling
Through the automation funnel movement, you can get the prospects to make a purchase but you also might want more from them. It is certain that marketers want their customers to keep coming back to them and continue shopping their products and so do you. There is nothing wrong in it. Drip campaigns can help you do all of this – getting the customers on board for their second purchase. If it's a single sale product, you can ask them for recommendation to friends. Similarly, for subscription sales, you can encourage them to renew subscription through drip campaigns.
These things depend on how much appreciated you make your customers feel and this depends on your service and quality of the product. Creating post-purchase emails will make them feel appreciated – show them you care and ask for feedback and reviews. Reviews have a crucial impact on buying behavior.
Brand awareness improvement
No matter if a customer doesn't buy from you, with the regular relevant emails, they will surely remember your brand name for a long time. So, they know the place to reach when they need to buy something.
You can also combine triggered emails and targeted re-marketing campaigns on multiple channels to spread brand awareness through drip marketing.
Create your own drip campaign
Now you know its benefits and impact it creates on your business, be it on sales or lead conversions. Hopefully, confusion and all the doubts are dispelled and are ready to create your first email drip campaign.
What are you waiting for? Get ready to build the email campaign with Snovio drip campaign tool!