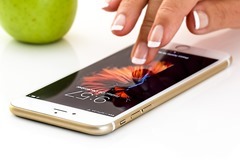 Online casinos have increased in popularity over the last few years, and at the same time, mobile phones have become smarter meaning that users can do more. The cross over is now huge, and users are opting to use their phones rather than desktops and tablets where possible. So just what casino games can you play on your mobile? Whichcasino.com reports.
In order to keep up with the current trends, casino providers not only offer online sites, but most now have an app which can be downloaded to give access to their games on the go. Of course, in most case, you can also use the web browser on your handset, but the nice thing about apps is that they have been specifically designed to be user-friendly, intuitive and have the perfect graphical display for the smaller screen of a mobile phone. Most sites have apps available for the major platforms which currently are iOS and Android phones, with some going further and having apps for Windows and Blackberry mobiles.
What this means is that you can basically play any of the games available at the online casino on your mobile phone and these tend to fall into three categories. Firstly slots, or the electronic version of the old one-armed bandit machines found in casinos. There is a vast range of choice here with loads of slots being developed in many different categories and themes. From sport to movie and film themed there is something to appeal to everyone when you play slots online. They have slots with animal themes or luck of the Irish themes and many more.
The next category of games is live dealer games. These have become seriously popular over the last few years. A live dealer casino game is the closest experience possible to being inside a casino. There is a live stream running, and your dealer is there, a real person, that interacts with you in real time. This is proven really popular but it is not always available through the apps, so it is worth checking in advance if this is the type of game you like to play. Live dealer games tend to be all of the table games found in casinos, things like roulette, blackjack and poker etc. There is normally a large selection to choose from, and different casinos have different games on offer. Your croupier is there to ensure that all players are keeping up with the game and aware of what to do and when.
Finally, there are computer generated simulation table games. Again all the popular table games like baccarat and pontoon as well as roulette are presented here. This time they are interactive computer simulations which means you can play at your own pace. The graphics tend to be very high end, and the experience is excellent, with advancements in CGI they are very realistic. The screen will guide you on the gameplay and help you place your bets and start the play.