In the era of instant communication, faxes have their importance. Numerous businesses use this method to send and receive relevant documents. Nowadays, online fax services are available to decrease the need for a fax machine.
Trust of millions of users and recognition from the New York Times, TechRadar, Digital trends, Android authority and many others are enough to trust on CocoFax. It is a reliable, safe, fast and big brand to manage your fax communications.
There is no need to worry about the security of your sensitive documents because CocoFax uses TLS (Transport Layer Security) and SSL (Secure Sockets Layer). CocoFax is a HIPAA compliant fax service. For this reason, it is famous among insurance companies and healthcare offices.
Fortunately, you can use your Gmail account to send a fax. It will help you to avoid a fax machine and a physical document. CocoFax will help you to send fax through Gmail. Once you sign up for this service, you can get support to send faxes by email.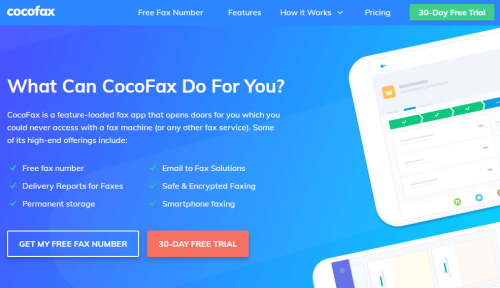 It will be easy for you to compose faxes and send them. Remember, a free trial for almost 30 days and a free fax number is available via CocoFax. You will need this number to send and receive relevant documents.
After your trial period, you have to upgrade your plan to use your fax number permanently. Make sure to use the same email address that you have shared with CocoFax to get a free number.
Use CocoFax to Send Fax through Gmail
CocoFax is an affordable alternative to fax servers and fax machines. Feel free to choose them to manage high-volume faxing. With this service, you can send faxes from anywhere through an encrypted and secure method.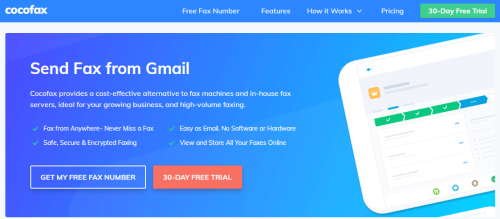 Innovative solutions of this reputed brand allow you to send faxes from Gmail. Remember, Gmail fax can be a regular part of your business. Faxes and Gmail are two different platforms. CocoFax becomes a bridge between analogue telephonic signals and a digital platform.
Procedure to Send Faxes from Gmail
Sending and receiving a fax from Gmail will be an easy process. CocoFax can translate the communications from Gmail to fax. With this reliable service provider, you can turn your laptops, computers and mobile into a virtual fax machine. To send a fax through Gmail, you will need these things:
· A personal Gmail account

· CocoFax account

· Internet connection

· Fax Number (CocoFax offers a free number)
After arranging these things, you will be able to send faxes from Gmail. See these easy steps to send messages.
Step 01: Sign up and avail a free trial period of 30 days. Once you get a fax number, you can use this to send and receive faxes. It is necessary to register an email address to receive and send the faxes.
Step 02: Open a Gmail app or use a web browser. Tap on "Compose a Mail" and see a new window.
Step 03: You can compose a fax document here and fill the "To" field with the email address of the receiver. Make sure to enter the fax number along @cocofax.com. For instance, 12345656@cocofax.com.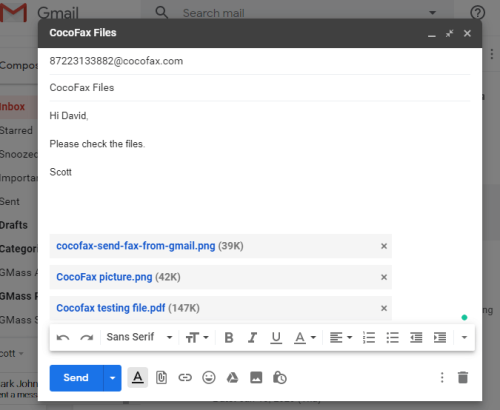 Step 04: Remember, you can leave the subject field empty. If you write anything in this field, it will appear as a note on the fax document. The body of an email is also optional. Any text in the body of your email will appear as a cover page in the fax of receiver.
Step 05: Actual fax documents are an integral part of fax. Feel free to attach a fax document in the attachment of the email. You have to press an icon of a paper clip to attach documents. This process supports different formats, such as jpg, png, xlsx, xls, docx, doc.
You have to double-check the information before sending a fax. Check every field, s[2] uch as subject field, To field, the body of the email and attachment. Remember, a confirmation message in your inbox will be a sign that your fax is successfully delivered.
You can receive faxes on the same Gmail account. CocoFax will forward your faxes on the registered email address. To check received faxes, you have to check the email notification of CocoFax in the Gmail inbox. Attachments will be available in PDF format.
Keep it in mind; this procedure is incomplete without a fax number. You will get your free fax number during a free sign up with CocoFax. To use this number permanently, you have to purchase a premium plan. If you don't have a fax machine, you must not worry because CocoFax has the best options for you.