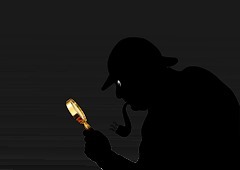 Tracking someone down online and finding out information about them doesn't necessarily have to equate to stalking. You'll be glad to hear that most people use online people search engines for useful things like reconnecting with an old friend or colleague, or simply tracking down a distant relative they've lost touch with. In today's digital age, finding out info about someone is easier than ever. If you know where to look that is. The overwhelming amount of information is too much for the human brain to process, which is why we turn to search engines. Here are the best people finders using which you can track down just about anyone online.
1. CheckThem
A people search website which is rapidly expanding, both in terms of users and database. It uses advanced algorithms to scroll through all kinds of public records and gather info, before neatly returning them to you in a report that is easy to read and understand. If you just want the fastest and most effective people search engine, you might as well open CheckThem and close this article. For the sake of being fair and transparent, you should probably keep reading however and see the alternatives. After all, running two separate checks isn't going to cost you that much extra time, but you'll be able to compare results afterwards.
2. ZabaSearch
Unlike a lot of the most popular people search engines, ZabaSearch only focuses on public records when scouring the web for info. It looks at databases, directories and court records to retrieve said information and present it to you. Since it doesn't perform a "full" search it won't be effective as, say, CheckThem, but it's still a decent service with plenty of data.
3. PeekYou
PeekYou is the opposite of ZabaSearch. It allows you, the user, to conduct a wide people search across a variety of social communities using just the username. Let's say you want to know everything about someone using the moniker "Legendary-Gamer-11". PeekYou will list through the web and display every website where that username can be found. Just like that, in an instant, you have reddit and YouTube posts from the user with that nickname.
4. Facebook
It's not strictly a people search engine, but most of the information actual search engines collect comes from Facebook anyway, so why not do the work yourself. Makes sense right? The largest social network is a great place for tracking someone down, especially if they've listed their workplace and date of birth, and made all of that info publicly available. More to the point, you can easily recognize them thanks to Facebook's profile picture system.
Conclusion
Using the above-mentioned websites you should be able to track down just about anyone online, provided they leave some digital footprint of course. One thing we'd warn you about is to use these websites at your discretion. The line between public records/looking someone up and stalking is pretty thin.