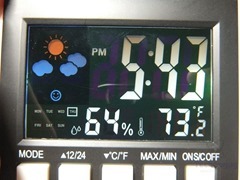 Up for review today I've got a little clock from a company called WuluWindy and it's a neat little clock really as it shows time, date, temperature and humidity along with a graphic representing the weather based on the temperature and humidity. The clock is small and battery operated making it portable and it keeps good time. Read on to learn more…

Specifications and Features
WulaWindy Digital Alarm Clock Led Desk Clock with Date Temperature humidity meter Backlight & Weather Channel Portable Travel
Handy alarm clock ,easy to take ,Provide all the information you need to start a great day.
The color led digital clock works as a hygrometer, thermometer, clock, alarm, calendar, shows you the week/day, weather forecast.
MULTI FUNCTION: Work as hygrometer, thermometer, alarm clock, calendar, weather forecast etc.
MINI SIZE:this small portable travel alarm clock takes up very little space on your bed stand. Great for small apartments,dormitory, camping,road trip
LIGHT OPTION: The sound activated LCD light feature saves energy and keep the batteries long lasting . The backlight lasts 8 seconds and then goes out. you can Clap or press the"SNOOZE/LIGHT" to activate the back light if you need.
EASY TO READ : digital alarm clock with large display ,actually can see what time it is without glasses.
APPLICABLE SCOPE : Widely used at home, office, kitchen, bedroom or car. Indoor Humidity Meter ensures proper humidity control.
Price: $9.99 (from Amazon at time of review)
The Review

Let's start with a video unboxing and mini review and then move on:
The clock is packaged well in a colorful and sturdy cardboard box. Inside you'll find the clock wrapped in bubble wrap for protection and the user manual on the side.
The clock is black with white buttons. It's about 4.75 inches high, 3.5 inches wide and about 1.5 inches thick at the base which is a built-in stand at the back. There are four actual buttons and the last on the far right is a sliding switch. The buttons are used to change the time, date etc and change modes and other settings of the clock. The sliding switch is to change the display function as it can be activated by sound or by pushing the snooze button, or both.
On the top is a long white button labeled 'snooze/light' and it is what it is, it's the snooze button and it can activate the backlight. The clock has a stand built-into it as part of the back and battery compartment, above the battery compartment is two speakers where the sound for the alarm comes out of.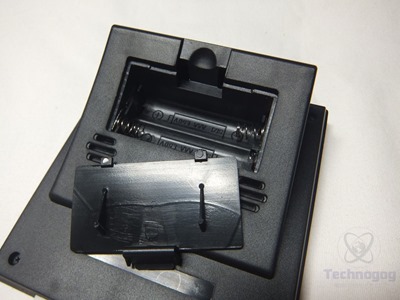 One big issue in my opinion with this clock is the display when the backlight isn't on, in the dark you can't see it at all and in a brightly lit room it's barely visible.
When the backlight is activated the display looks nice, it's very bright and colorful and has lots of information for you including time, day of the week, humidity and temperature along with a graphic that tell you the weather based on temperature and humidity.
Conclusion

This clock is only $10 on Amazon right now and for the most part I can say it's worth that as it does what it says it does and it does look nice overall.
The clock isn't fancy or anything like that but it would be fine in an office or home or to take with you camping or other traveling.
I do have an issue with the display and the fact that you really can't see it unless you activate the backlight especially in the dark. You can activate it by pressing the button or I found out that just touching it anywhere works as well and it will come on with sound. I put it near where I sleep and I found I can just touch tap the shelf and it comes on at night so it's not too bad I guess for nighttime use.
The clock does seem to keep good time, I set it about 2 weeks ago to match my computer clock and it's still correct as of now.

Pros:
+Small and portable
+Multi-function
+Easy to use
Cons:
-Very dim display
| | |
| --- | --- |
| Grading | Scores Out of 10 |
| Overall | |
| Design / Aesthetic | |
| Value / Price | |
| Performance / Usage | |
Disclosure: This product was given to me for review by the company for review purposes only for free or at a discounted price.

To learn more about our review policy please visit this page HERE.