It's an organization which has always made waves. Since Blizzard announced the global eSports tournament for its newest title in 2016, the Overwatch League has grabbed headlines. Unlike most competitive gaming competitions, Blizzard's offering takes a leaf out of the book of traditional sports. Gone are the eSports organizations, replaced by a city-based franchise structure. Now, the Overwatch League is ready to enter its next phase.
12 teams became 20 in the second season of the league. The third year of the competition will see the Overwatch League go on the road. Blizzard has announced that from 2020, every team will host matches in their home cities across the world. 52 homestead weekends will be held during the season with every team hosting between two and five events. The league will, in essence, become something of a roadshow.
This has long been the aspiration of the league. It was the reason why Blizzard opted for a city-based franchise structure instead of the model used by most other eSports leagues. There have even been a couple of trials to test the homestead model. There were weekends in Atlanta and Dallas earlier this year, moving the league away from its traditional home in Los Angeles. There will also be fewer matches, something which implies that this is very much a work in progress.
"We're announcing fewer events in most markets than we had discussed in the past," Pete Vlastelica, commissioner of Overwatch League, told ESPN.
"Part of the reason for that is to ensure that we get as many people as possible into these venues. We were optimizing for big, sold-out crowds. Because it's our first year, we don't know how many big, sold-out crowds a market can support yet.
"We're pretty sure that it's at least a couple, but we don't know if it's 10 or eight, or what. Starting with a couple and giving more than that to the teams that convince us and/or convince themselves that there's more demand in that market starting next year felt like the right place to start."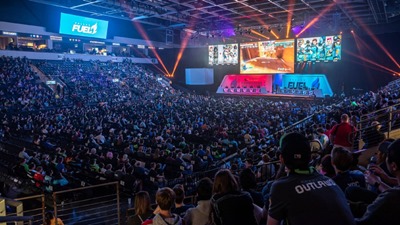 Away games are the norm for most traditional sports teams. It adds an element of fairness to big money leagues, allowing teams to play in front of local fans as much as away from them. But of course, these teams have been built up over decades. The structure has been in place for some time while the Overwatch League is still in its relative infancy. The league may not get to the point where every team plays half of its matches in its own home arena, but this is a step in the right direction.
It's just further proof that competitive gaming is taking inspirational from more traditional sports. It goes far beyond league setup. Individual eSports teams operate in very much the same way as traditional sporting outfits. Managers, coaches, and analysts are the norm on teams in most titles. The best players attract sponsorship deals and can be the subject of trades and transfers to other teams.
But this also extends to the fans. Supporters tend to stick to one eSports team, following their journey through high and low. They'll watch matches – attend them in person if possible – and even invest in merchandise. Sites like ESL Gaming offer replica jerseys and clothing based on eSports teams. Fans can now even bet on matches with sites like Betway offering odds on numerous eSports titles and competitions.
This all leads to the tremendous growth of the eSports industry. In 2014, global eSports market revenue was around $194 million. In 2019, that figure will surpass $1 billion and by 2022, it could be as high as $1.8 billion according to Statista. This is quite extraordinary financial growth but it is echoed in terms of viewership. There were 58 million frequent/enthusiastic eSports viewers in 2012 but that number is expected to exceed 297 million a decade later.
This helps explain Blizzard's decision. Competitive gaming is a rapidly-expanding industry and is showing little signs of slowing down. Taking the Overwatch League on the road will attract more fans from around the world. This is uncommon in the world of eSports with most other games like Dota 2 holding more standalone recurring tournaments than an NBA-style league structure.
But of course, the Overwatch League is a unique example. A lot of money has been invested in the organization from sponsors and franchise investees. Major figures like Comcast, KSE, and Robert Kraft purchased franchises in the league. It looks as if that investment could pay off if this homestead structure goes to plan. This has always been Blizzard's plan. If it proves a success then other eSports titles could be structured this way in the future.