One-Click Phone-to-Phone Transfer by MobileTrans:
We have the most effective tool for you to transfer WhatsApp and its data for you conveniently. With the help of MobileTrans, you can quickly transfer WhatsApp from Android to iPhone. We will explain how you will be able to get things done right. Not just WhatsApp, you can also transfer data between iOS, Android & Windows Phone quickly. Before starting with the guidance to move WhatsApp from Android to iPhone, we will discuss the MobileTrans application.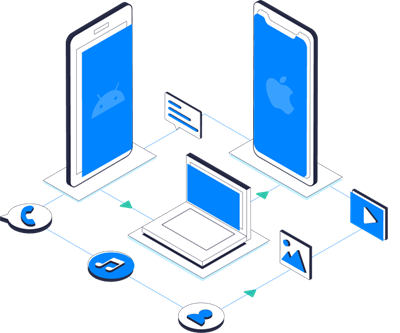 About MobileTrans:
MobileTrans has come forward with the desktop application to ease your transfers. MobileTrans helps you transfer data from one phone to another. For example, you can transfer WhatsApp and other social networking apps and restore data conveniently. MobileTrans offers cloud backups that help to restore data that you move from one mobile to another.
People have developed different applications to transfer data and Apps. However, MobileTrans outshines all. With MobileTrans, you can save time and effort. With a single click, you can transfer WhatsApp messages from Android to iPhone. We recommend you to use the MobileTrans: WhatsApp transfer application once, and have whole new service experience. In the upcoming paragraphs, we will guide you as to how you can transfer WhatsApp from iPhone to iPhone, and from Android to iPhone.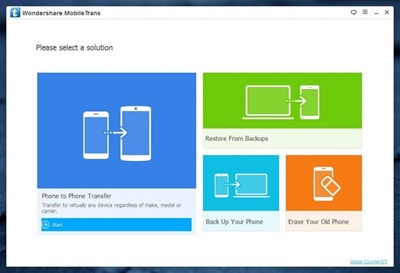 How to transfer WhatsApp from iPhone to iPhone?
MobileTrans has the most effective way to transfer Apps and data between two different iPhones. The first thing that you need to do is download the MobileTrans application on your devices. There are different ways and Apps through which you can transfer the data. However, here you will know about the best application of all times.
Now, without the help of iTunes and iCloud, you can set up your new iOS device automatically. Transfer data and Apps from your old iPhone, iPad, or iPod Touch device to your new iOS device.
You can transfer around 15 type of data that includes calendar, photos, notes, contacts, messages, videos, and much more. However, you must know that the supported data type may vary as per the systems of different iPhones. Follow three simple steps mentioned below to transfer from one phone to the other:
Step 1:
Open MobileTrans: In the first step, after you download MobileTrans, you need to open the application on your PC. For this, you have to open MobileTrans on your PC and select the option 'Phone Transfer' from the dashboard.
Step 2:
Connect Both your phones: In the next level, use a USB cable to connect both the iPhones with the computer. Once you connect both the phones with your PC, MobileTrans will automatically pick the devices.
Step 3:
Start the process with a single click: Lastly, check and select the data that you need to transfer and click the 'Start' option. It will finish the transfer process as quickly as possible.
You can now see how easy it is to perform a WhatsApp transfer between two phones.
Steps to transfer WhatsApp from Android to iPhone
Are you ready to switch from Android to iPhone? Let MobileTrans do the transferring work for you easily and quickly. No matter if you need data on iPhone, iPad, or iPod, with MobileTrans, transfers are secure. You have to follow three simple steps to get going.
Let's move onto transferring WhatsApp between Android and iPhone. If you are upgrading a phone and you need to transfer WhatsApp chats from iPhone to Android, you are in the right place. MobileTrans has made the transfer process easy and quick. You can transfer your entire WhatsApp history and chats conveniently through this outstanding app. To perform this process, you need to follow the below mentioned three easy steps:
Step 1:
Launch MobileTrans: In the first step, you need to open the MobileTrans application and select the 'WhatsApp Transfer'>'Backup WhatsApp Messages.'
Step 2: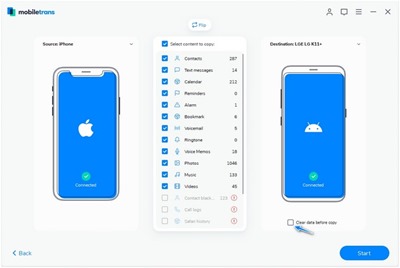 Connect the phone to your computer: In the second step, you have to connect the phone to your computer. As soon as you perform this step, MobileTrans will automatically detect the data in your WhatsApp. A powerful app will pick up the actions before a command.
Step 3:
Transfer WhatsApp messages: Click on the 'Start' option to transfer WhatsApp messages from Android to iPhone.
However, if you want the tutorial in detail, the same will be available on the official website of MobileTrans. You have to follow each step carefully to complete the process efficiently.
People usually have a habit of changing phones more often. In such a scenario, transferring data becomes hectic and troublesome. With MobileTrans, things are now accessible and quick. MobileTrans is an intelligent application that detects items automatically and reduces the time to complete the process. A single click will transfer your data quickly from one system to the other.