Choosing between Mozilla Firefox and Google Chrome has always been challenging. Mozilla (the company-developer of Firefox) and Google both make enticing claims about their web browsers. As a result, PC users might be slightly confused as to which browser is a better choice.
This post is a detailed review of both Chrome and Firefox. We'll compare the design, speed, and feature stack of both platforms to find out which web browser is better executed. The review will help you make an informed decision about your next favorite browser.
Design Review
Mozilla Firefox and Google Chrome have similar interfaces. Yet, with a slight margin, Mozilla Firefox comes off as a winner. It's more customizable, has intuitive buttons and easy-to-navigate settings.
Also, the Mozilla home page gives users access to the latest news, not just the list of frequently visited websites and a search tab.
Chrome, on the other hand, seems slightly crammed – it might be challenging for a first-time user to find his way around the browser. On the plus side, Chrome has a header that allows accessing websites in one click that is missing for Mozilla.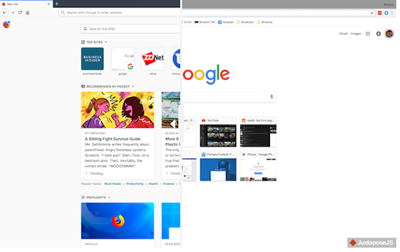 Side-by-side interface comparison of Mozilla (left) and Chrome (right)
Speed and system resources consumption
Google Chrome is known for relatively slow speed and high RAM usage. However, Mozilla, too, is often considered a PC killer. In release notes to the new version of Firefox, developers claimed that Mozilla is officially faster and less consuming in terms of RAM than Google Chrome.
Did it prove to be true?
The results of a speed test conducted by Business Insider indicated the contrary.

In fact, Mozilla loses to Chrome both by CPU consumption and RAM usage.
Page Loading Speed
Firefox claims to have the upper hand here as well. After having loaded several pages both on Windows and Mac, we've found that Mozilla does have the lead – yet, not by huge numbers.
The difference between two browsers is barely unnoticeable – check it out for yourself.
Here's a GIF of a web page loaded by Google Chrome. This one shows the same process for an identical website for Firefox.
The difference between website loading speeds is almost unnoticeable albeit when it comes to images. Firefox displays graphical content instantly – Chrome needs a few extra milliseconds to render the image properly.
Extensions vs Add-ons
Both Chrome and Firefox portable are community-driven platforms. They support add-ons to allow users to expand the functionality of the web browser. Which tool does a better job at supporting additional tools?
Let's find out.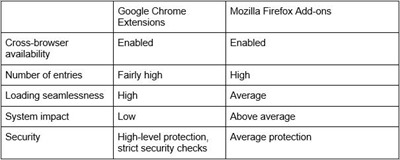 Those both platforms do a good job at plugin support, Google Chrome is times more reliable in terms of the ease of use and security protection in terms of extensions.
Synthetic Benchmarks Comparison
Synthetic Benchmarks are metrics used to evaluate the overall look and feel of the browsers. The list of benchmarks up for evaluation includes the support of standards, rendering and loading speed, and so on.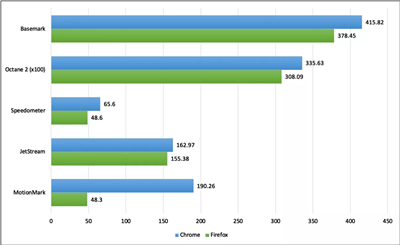 By all benchmarks, Google Chrome comes as a victor compared to Mozilla Firefox.
Final verdict
While Firefox might be slightly more innovative and responsive in terms of page loading and interface, Google Chrome still scores higher on most of the criteria.
Pros of Mozilla Firefox:
A more responsive interface;
Higher customization level;
Graphic content loads slightly faster.
Pros of Google Chrome:
Better quality of Android and iOS versions;
Less CPU and RAM used;
Additional features like casting.
It's up to you to choose the browser that tailors your personal needs better. Consider downloading and testing both to make an informed, personalized choice.