Yep, us Nintendo Ambassadors can get our 10 free Gameboy Advance games as of today. Are they worth it? I don't know, but free is free right? I got the Nintendo 3DS at launch and honestly I can't remember the last time I played it, but I guess now I've got a reason to pick it up again. Here's the list of games for you. To get them just open up the Nintendo eShop and you'll find them under the downloads section under Settings/Other on your 3DS.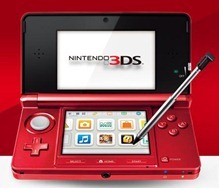 F-Zero: Maximum Velocity
Super Mario Advance 3: Yoshi's Island
Legend of Zelda: Minish Cap
Fire Emblem: The Sacred Stones
Kirby & The Amazing Mirror
Mario Kart: Super Circuit
Mario vs. Donkey Kong
Metroid Fusion
Wario Land 4
WarioWare, Inc.: Mega Microgames
I got them already and meh, I'm not exactly impressed. The sound is horrible, at least it's not what I'm accustomed to from today's games anyway.