Our friends at Thecus wanted me to let you know about a contest or competition they're having over on their Facebook page. In it you need to caption a funny photo for a chance to win some cool prizes like hats, t-shirts and USB drives.
Happy New Year everyone! To celebrate the holidays and welcome Thecus's new mascot, NAStty the NAS, into the world, Thecus is throwing a Facebook competition giving away NAStty flash drives and Thecus gear. Just fill in your own (funny!) caption for the pic to be entered to win one of four prizes!
Rules:
1. "LIKE" Thecus's Facebook page by pressing "Like" button below or going directly to Thecus's Facebook page: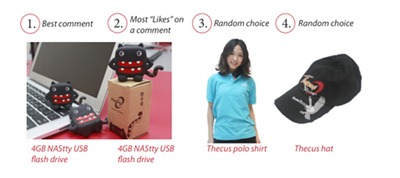 Terms and conditions:
1. This event starts on December 22, 2011  and ends on January 31, 2012, 00:00 (GMT +8);
2. All users around the world can participate;
3. Winners in the "best comment" category are determined by Thecus team;
4. Winners will be announced within 3 days after event ends;
5. Winners will be contacted by Thecus within 3 days after event ends and will need to provide their correct shipping information within the following 3 days.
Visit the competition's page to enter and win!
http://www.thecus.com/event/facebook/Christmas/
For more information on Thecus, go to:
http://www.thecus.com