Today I've got a brief review for you of a rather small product from Verbatim called the Pocket Card Reader. It's just like it sounds, it's a small and portable card reader that you can take with you on the go. Yes it's a simple and very basic product but these days you need a card reader that can handle many formats and the Pocket Reader can read most everything except compact flash I think. The reader has a built-in USB cable so you won't have to worry about carrying one with you, and best of all it's inexpensive at around $15.

The Verbatim Pocket Card Reader comes in everyone's favorite plastic clamshell style package, but it's got a perforated or pre-cut back that you just have to tear open fairly easily. I wish all companies would do that sort of thing with their packaging.
The card reader is small about 5" x 1" x .5" in dimensions. On the end is a hole for I guess a lanyard or maybe a key ring.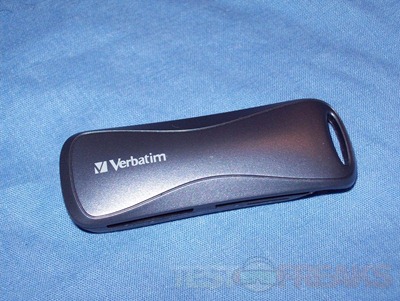 On the bottom you'll find the USB cable, it's short and it stores right inside of the unit. I think most every case out there today has USB ports on the front so the cable length shouldn't be an issue really.
On the side you'll see ports for several formats of memory cards including microSD without an adapter.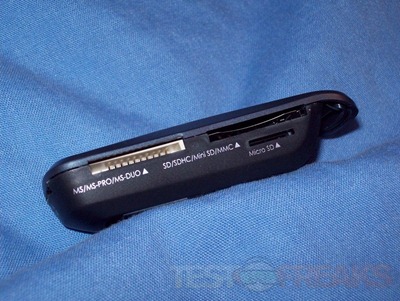 There's also another port on the end for M2 or memory stick micro cards.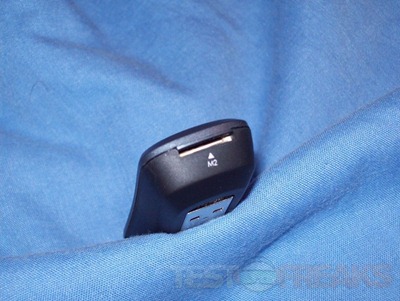 I think the Verbatim Pocket Card reader can handle most everything except compact flash cards really.
Specifications: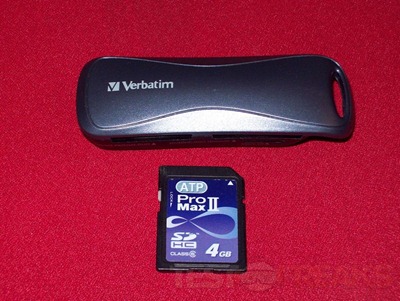 To use the Pocket Reader you just stick your card in there.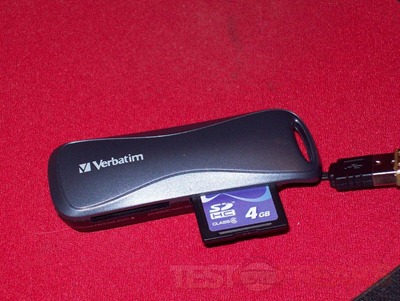 I did notice there are no LEDs or anything on the reader, it would have been nice if there was one to indicate power or activity but it's not a necessity.
For comparison I ran ATTO Disk Benchmark on the Verbatim Pocket Reader and the built-in no name card reader in my PC case. The built-in reader is just hooked up directly to the USB 2.0 header on my motherboard, it's nothing special, just a generic card reader really but it works for my needs.
Towards the end of the test there I actually got slightly faster speeds using the Verbatim pocket Reader but at the beginning it was slower than my built-in reader. This is probably a good thing though as the Verbatim seems to handle larger files better and most likely people will be transferring larger sized pictures and other files.
All in all it's not bad, really I didn't expect anything amazing from a card reader honestly. It's just a card reader after all and I think it's major selling point is that it's small and portable. It gets the job done, plain and simple.
Conclusion:
The Verbatim Pocket Card Reader is a basic card reader that's portable, easy to use, reads many types without adapter and it even has a built-in UBS connection so you've got to cable to lose.  The Pocket Reader is inexpensive at only $15.00. This little reader is great to take with you on the go, and best of all it reads microSD cards without an adapter. The unit appears fairly sturdy so it should survive just being tossed in your bag to take with you wherever your travels may take you.
Pros:
+Small and portable
+Lightweight
+Built-in USB connection
+Seems sturdy enough
+Reads most common formats without adapter
Cons:
-None really
| | |
| --- | --- |
| Grades: |   |
| Overall | |
| Design | |
| Performance | |
To learn more about our review policy please visit this page HERE.