Looking for good deals on games for your iOS or WP7 device? Sega has you covered with deals on several Sonic titles along with Altered Beast, and Super Monkey Ball 2. Sega is starting their deals early, today and ending on November 28th. So go grab yourself some cool games and have some fun.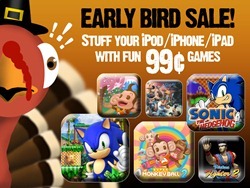 SEGA of America, Inc. and SEGA Europe Ltd. today announced some tasty new deals for a whopping 13 of their titles on the App Store, including three installments of Super Monkey Ball and the classic Sonic The Hedgehog! Stuff your iPhone, iPad, or iPod Touch with delicious deals from 50% to 80% off!

The SEGA's Early Bird Sale starts today and lasts until November 28. Visit the iTunes® App Store at http://www.itunes.com/appstore to stuff your iPhone®, iPad®, or iPod® Touch with fun games starting at only $0.99!

Sale-priced titles include:
• Sonic Spinball™ for $0.99/£0.69/€0.79
(was $1.99/£1.49/€1.59/AUD$1.99)
• Sonic the Hedgehog 4™: Episode 1 for $2.99/£1.99/€2.39
(was $4.99/ £2.99/ €3.99/AUD$5.49)
• Altered Beast™ for $0.99/£0.69/€0.79
(was $2.99/£1.99/€2.39/AUD$2.99)
• Super Monkey Ball 2™: Sakura Edition for iPad® for $0.99/£0.69/€0.79
(was $4.99/ £2.99/ €3.99/AUD$5.49)

In addition, Windows Phone users can enjoy a special holiday price onSonic the Hedgehog 4: Episode I. From today through November 28, Windows Phone fans will be able to enjoy the tasty goodness of a $4.99 sale (was $6.99)!

For more information about the SEGA Early Bird Sale on the App Store, visit the official SEGA blog at http:/s.sega.com.