You didn't think I was done yet did you? Here's some more iPad 2 accessories from Case Mate.
Case-Mate, known for its innovative accessories that protect, adorn and enhance mobile technology, today unveiled a collection of cases for the Apple iPad 2, the latest release after its highly successful iPad. The collection includes seven new accessories, from sleek and sophisticated to bold and playful, perfect for any fashion sensibility or occasion.
"Case-Mate developed a broad line of iPad 2 cases which satisfies a range of consumer desires," says Shashi Reddy, founder and CEO of Case-Mate. "From high design to functionality to playfulness, Case-Mate offers early adopters the best case designs for their new devices." 
The following Apple iPad 2 cases will be available from Case-Mate starting in late March: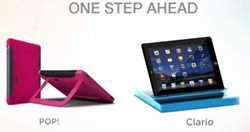 One Step Ahead:
Pop!, $49.99: Offering a support system like no other, the iPad 2 Pop! case brings a new standard to the power of two. Co-molded materials of plastic and soft rubber unite to create a hard case with a soft touch. A built in stand extends for an ideal viewing screen or remains hidden to create a flat back cover. Available in black/grey and white/grey.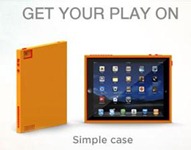 Get Your Play On:
Simple, $34.99: Go retro with the Simple Slab. This two-toned protective case strips the iPad 2 down to its truest geometric form, a rectangle. Straightforward and linear, the angular case looks unforgiving but is actually squishy and grippy; blurring the lines between high design and playfulness. Available in black, orange and blue.
In The Office, On The Town:
Leo, $99.99: This high profile case unfolds into a portable workstation that is perfect for boardroom meetings and road warriors. Made of leather and nylon, Leo comes equipped with a convenient grip handle for an easy carry solution. Secured with a zipper closure, the textured embossed case features an adjustable viewing stand and provides convenient storage for a notebook and pens. Available in black.
Venture, $49.99:  This case is a case that is meant to be seen. Take it out on the town or into a meeting, either way it's ready to perform. The Venture protects the device while on the go and doubles as a secure stand whenever and wherever it's needed. The stylish cover snaps closed to keep the screen scratch-free. Unsnap the cover, flip it over, and the Venture case works as a stable stand, ready to take notes or show your portfolio at a moment's notice. Available in black/red.
Just What's Needed:
Versant, $39.99: This sophisticated tablet case folds back to reveal a multi-use design. Prop up your tablet using the built-in stand, which offers adjustable heights ideal for both viewing and typing. The attached nylon strap provides extra mobility when it's just one of those days. Available in black, brown and pink.
Gelli, $29.99: Stand out from the sea of monotonous cases with the Gelli iPad 2 case. Striking flashes of translucent colors blend together for an eye-catching case that offers protection and individual style. The form fitting shape of the Gelli absorbs impacts and offers a soft grip. Available in red, pink and gray.
Anti-Glare Anti-fingerprint Screen Protector, $19.99: No muss, no fuss. Keep your screen free of prints, smudges, wandering eyes and most importantly, scratches with this screen protector.
All of these cases for the Apple iPad 2 will be available for purchase at www.case-mate.com. You can also find cases for a wide variety of smartphones and other tablets on the Case-Mate website.