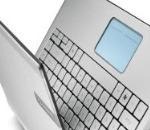 These new Gateway ID Series notebooks are nice looking, they're thin and sleek… There's three new ones just announced in 14", 15.6" and 17.3" sizes. All of them have aluminum allot lids, and the ID49 and ID59 have touchpads that glow blue when touched. Each one has different specs like either Corei3, Coei5 or Corei7 and from 4gb up to 8gb of ddr3 ram.
Stylish Mobile Performance and Entertainment On-the-Go
Ready for on-the-go mobile performance with the latest in technology and features, the Gateway ID49 and ID59 Series include support for Intel Core i3 and Core i5 processing technology and includes models that come with 4GB of DDR3 memory, expandable to 8GB. The Gateway ID79 line delivers a heightened level of performance for video editing, mainstream gaming and advanced multitasking with Intel Core i7 processors supported by up to 6GB of DDR3 memory that can be expanded to 16GB of memory.
The Gateway ID79 features a vibrant 17.3-inch LED-backlit TFT LCD with a 1600×900 resolution that shows movies and games in lifelike detail. The Gateway ID59 and ID49 models feature widescreen LED-backlit displays with a 1366×768 resolution, so visuals are crisp and clear. Images are enhanced on select models with the aforementioned NVIDIA Optimus graphics (as found on the Gateway ID49), which switches between graphics solutions for an optimized balance of performance and battery life.
Entertainment can be easily enjoyed with the many features in the ID Series. The capacitive touch multimedia keys provide easy control of features such as play, forward, pause and volume control. Customers can feel like part of the entertainment when enjoying video on the Super-DVD player and listening to high-fidelity Dolby Home Theater v3 audio. The new notebooks can be used as a mobile home theater thanks to their HDMI port, which lets customers use a single, convenient cable connection to deliver crisp high-quality visuals and high-fidelity audio to a home theater or external LCD.
The Gateway ID Series is ready for entertainment and productivity with all the ports customers need to connect to their devices such as camcorders and digital cameras, printers and a network connection. Also, the notebooks feature media card readers that accept popular media cards (Secure Digital, MultimediaCard, Memory Stick, Memory Stick PRO and xD Picture Card) as well as hard drives up to 640GB in capacity, so customers will be able to easily and quickly access, download, store and share their digital media content.
Price and Availability
The Gateway ID Series is available now in a variety of configurations to meet a range of budgets. The Gateway ID49 with a 14-inch display starts at a Manufacturer's Suggested Retail Price (MSRP) of CAD $609.99. The Gateway ID59 with a 15.6-inch display starts at an MSRP of CAD $699.99. The Gateway ID79 with a 17-inch display starts at an MSRP of CAD $1049.99.
See www.gateway.com for more information.