GlideTV, the company dedicated to simplifying the digital entertainment experience in the living room, announced today the release the Mac OS version (beta) of its GlideTV OSK, the application which links the living room to popular applications and websites, and enables web searches from the comfort of the couch. GlideTV Navigator, the award-winning and stylish device that fits in the palm of your hand and combines the functionality of a keyboard, mouse and AV remote, now works like a charm with any Mac Mini. The software can be downloaded for free from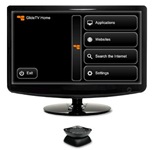 "It was a natural evolution for GlideTV to embrace this community and optimize our simple yet elegant control solution to the Mac platform." said Christopher Painter, GlideTV President and co-founder. "With all the great movies and TV shows now available from sites like Hulu and iTunes, the Mac Mini is an ideal living room entertainment platform for anyone in the Apple community."
GlideTV Navigator offers Mac users a complete control solution for the living room. The device includes:
Clickable Touchpad whose sensitivity has been optimized for the Mac OS — precise cursor control, one-thumb scrolling, single and double-click selection.
Programmable buttons which enable the user to send specific applications level commands using Apple's Keyboard Shortcuts
On-screen keyboard
Links to popular applications and websites including iTunes, Hulu, Firefox, Safari, Facebook, Apple Front Row, Skype, Flickr, and Firefox.
Dedicated Esc, Enter, Back, and Function keys to better control applications.
Dedicated media playback buttons
Up to now, consumers who wanted to control a Mac Mini connected to a TV to take advantage of digital content had to use bulky and cumbersome devices designed for the office more than the living room. GlideTV Navigator brings simplicity to the experience. Consumers just plug the USB wireless receiver into their Mac Mini and they're ready to take control of their computing experience or explore the Internet with a point and a click.
GlideTV has already garnered significant industry attention. Register Hardware, a leading technical review site gave it a 85% rating and awarded the product its prestigious "Register Hardware Recommended" stamp of approval.
The Navigator is available worldwide from GlideTV in the US and Europe. The Manufacturer's Suggested Retail Price is:
United States — $149
Eurozone –  €129 (VAT included)
United Kingdom — £119 (VAT included)
For more information, visit www.glidetv.com.
About GLIDETV
GlideTV, Inc. is dedicated to simplifying the PC living room experience. The company is headquartered in Silicon Valley and was founded in 2008 by consumer electronics and technology veterans.  GlideTV Navigator is a trademark of GlideTV Inc.  All other brands and product names are trademarks of their respective holders.