I have no use for one of these, but I still think it's rather unique and being a gadget person I'd have to get one if I had an iPhone 5. I don't know what I'd do with it though. Anyway, Griffin is now shipping their Merchant case that comes with their Square Reader and it's only priced at $19.99. The case has a storage spot built right into it for the credit card reader for you to store it when not using it.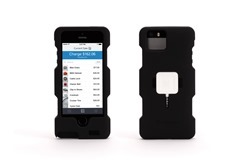 After a successful announcement at the 2014 Consumer Electronics Show, Griffin Technology's Merchant Case + Square Reader is now shipping. The Merchant case is the first protective solution optimized for the new Square Reader.

"We're extremely excited about the enthusiastic response to the Merchant case. Our case, combined with a Square Reader, is a perfect solution for business on-the-go," said J. Curtis, Director of B2B Product Development at Griffin.

The Merchant case is custom-molded to secure the Square Reader in place and eliminate excess strain on the iPhone's headphone jack when connected. A groove along the bottom aligns with the Square Reader and allows credit cards to slide through easily and consistently. Made from a durable silicone, the case protects the phone from bumps and drops and the case's non-slip material makes it easy to hand over for customers' signatures. Additionally, an integrated slot located on the back of the case conveniently stores the Square Reader when it's not in use.

 

Merchant Case + Square Reader works with Square Register, the free point of sale app that lets anyone, anywhere, accept credit card payments and run their business. With a customizable checkout flow, smart business analytics, and digital receipts, Square Register serves the needs of businesses of all sizes and types, from a locksmith to a retail store.

Griffin's Merchant case includes the new Square Reader and is now available for $19.99 at store.griffintechnology.com/merchant-square-case-for-iphone-5.

To see the Merchant Case + Square Reader in action visit: http://bit.ly/1dqfdTY.