Harman Kardon, a division of Harman International (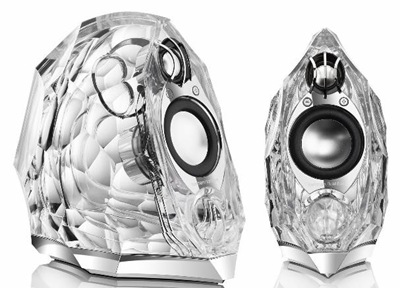 "From inception to final product, Harman's design and engineering team worked in tandem to create the aesthetics for GLA-55," said Christopher M. Dragon, director of field marketing for the Harman International. "Our goal was to create a high-end product that not only has stunning sound and visual appeal, but versatility in its use as well. GLA-55 does just that by delivering pure Harman sound while displaying simplicity and class."
"While in the design lab, the creative minds at Harman Kardon were determined to create an audio system that inspires creativity and beauty along with great sound," said Kurt Sollund, vice president of industrial design for Harman International. "With its unique design and cut glass motif, we see GLA-55 as a piece of art that will add aesthetic appeal to any surrounding."
GLA-55 combines many proprietary technologies to provide the highest quality sound featuring:
Atlas AL™ and CMMD™ Transducers – The CMMD drivers provide accurate high frequencies while capable of low frequency extension to four octaves compared with traditional powered tweeters. The Atlas AL driver is capable of nearly 1" peak-to-peak travel for tight, accurate bass reproduction. This desktop pairing provides a full rich frequency response from the lowest bass to highest highs.
Slipstream Port Design – The GLA-55 port minimizes boundary layer separation providing high output bass with low distortion, for all to see and hear.
COE (Computer Optimized Equalization) – The GLA-55 system equalization is computer optimized to provide a rich, complete sound stage over a wide range of listening positions.
OCT (Optimized Compression Topology) – The GLA-55 utilizes a proprietary compression technology to insure clean accurate sound at high output levels.
Pricing and Availability
Available in clear with chrome accents, the Harman Kardon GLA-55 is compatible with MP3 and CD players, desktop computers (all platforms), satellite radio and laptops. The Harman Kardon GLA-55 has a suggested retail price of $999.99; it will be available online at www.amazon.com and www.harmanaudio.com, as well as in-store at quality retailers nationwide.