For the past several years, the Sonos Music System has garnered accolades from both print and online media. The beauty of a Sonos system is its simplicity; they created a Multi-Room Music System that is a simple plug and play endeavor. However, one of the issues with mainstream adoption of Sonos equipment has been the price. Setups can run in the $800-1000 range with a remote purchase along with a ZonePlayer.
Sonos has been addressing this cost issue by creating a free iPhone/iPod Touch Sonos app that makes these Apple devices double as a Sonos remote. Their second method to increase their market presence is the release of their first affordable stand alone music system – the Sonos ZonePlayer S5. Priced at $399 it is still somewhat expensive but with the S5 the user gets a single portable receiver and speaker solution. The S5 can be easily integrated into a Sonos enabled home or work as a solo device for the Sonos newbie.
Looking like the Bose SoundDock's bigger brother, the Sonos ZonePlayer S5 could be mistaken for an iPod Speaker System. However iPods need not apply as the S5 is NOT a dock but can play music from a multitude of sources. Instead of connecting the ZonePlayer S5 to one's iPod, the user plugs the speaker to their router's LAN or if another Sonos ZonePlayer or ZoneBridge is in the home then via Wi-Fi. Once attached to the home network and running the Sonos software on a computer; your entire digital music library as well as Internet services such as Last.fm, Sirius Napster, Rhapsody, and Pandora becomes available.
The Sonos ZonePlayer S5 arrives in a card box with pictures and information of about the unit found on the front and back of the packaging. Once removed from the package the contents include the ZonePlayer S5, Sonos System install CD, power cord, line in audio cable, Ethernet cable, a product guide and setup poster.
The Sonos unit measures 8.50 x 14.40 x 4.80 inches and weighs 9.15 lbs. It is composed of white colored heavy plastic with a silver metal grill and looks very similar in style and construction to the Bose Sound Dock as seen here.
There are only two physical controls on the S5 –the mute and volume buttons. If you are concerned about "vampire electricity" drain then the lack of a power switch may be an issue.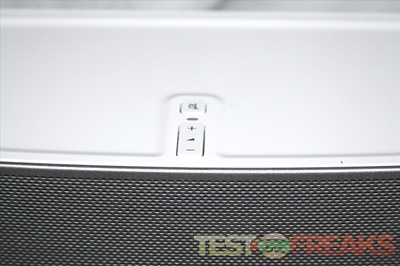 The ZonePlayer S5 is powered by five dedicated Class-D digital amplifiers. Five speakers composed of two tweeters, two mid-range drivers and a bass driver are fed by these amplifiers.
Looking at the back of the ZonePlayer S5 we find the AC connector, two LAN ports, and two 3.5mm jacks – one for an audio line in connection and the other for headphone output.
These two Ethernet ports are used to connect the S5 to a router and then leaving the other port to function as a switch or if the S5 connected wirelessly then these two Ethernet connections can act as a wireless bridge.
Sonos' devices run what they call SonosNet, which is a peer-to-peer wireless mesh network. Thus SonosNet requires one Sonos device to be physically attached via Ethernet cable to the home network. This means if the ZonePlayer S5 is the only Sonos unit in the home it will have to be tethered to a router via an Ethernet cable. Keep this in mind when deciding where to put the S5 in one's home. If the S5 does not have access to a LAN connection and you don't wish to run a network cable across the home then you may consider getting Sonos' wireless ZoneBridge ($99).
Specifications:
-Simple setup—plug it in anywhere you want music.
-Spread the music to more rooms — add S5s without adding wires.
-Play the same song in every room with perfect synchronicity. We call it Party Mode.
-Play different songs in different rooms and let everyone listen to exactly what they want.
-To access the world of music on the Internet, one S5 or a Sonos ZoneBridge™ (sold separately) must be wired to your broadband router. Then, all the rest work wirelessly.
Sound: Amplifier Five Class-D digital amplifiers Speakers Five driver speaker system – two tweeters, two 3" mid-range drivers, and one 3.5" woofer. Each driver of the product is individually powered by a dedicated amplifier. Headphone Auto-detecting 3.5 mm headphone connection. The S5's integrated speakers mute when headphones are inserted. Audio line-in Auto-detecting 3.5mm audio line-in connection
Music: Audio formats supported Support for compressed MP3, iTunes Plus, WMA (including purchased Windows Media downloads), AAC (MPEG4), Ogg Vorbis, Audible (format 4), Apple Lossless, Flac (lossless) music files, as well as uncompressed WAV and AIFF files.
Native support for 44.1kHz sample rates. Additional support for 48kHz, 32kHz, 24kHz, 22kHz, 16kHz, 11kHz, and 8kHz sample rates.
Note: Apple "Fairplay", AAC Enhanced and WMA Lossless formats not currently supported. Previously purchased Apple "Fairplay" DRM-protected songs may be upgraded. See Apple for details. Music services supported Deezer, Last.fm, Napster®, Pandora®, Rhapsody®, SIRIUS® Internet Radio, and downloads from any service offering DRM-free tracks. (Service availability varies by region. Click here to see the music services that work with Sonos in your area.) Operating systems (for stored files) Windows® XP SP2 and higher; Mac OS X v10.4 and higher; NAS (Network Attached Storage) devices supporting CIFS Internet radio supported Streaming MP3, WMA Album art supported JPEG, PNG, BMP, GIF Playlists supported iTunes®, Rhapsody, WinAmp®, Windows Media Player®, and MusicMatch™ (.m3u, .pls, .wpl)
Networking:
Wireless connectivity SonosNet 2.0, a secure AES encrypted, peer-to-peer wireless mesh network Network bridging 2-port switch (10/100Mbps, auto MDI/MDIX) allows Ethernet devices to connect through SonosNet * Internet connection required for access to Internet radio stations, online music services and software updates (DSL, cable modem or LAN-based high-speed Internet connection required.) Internet functionality may require payment of separate fee to a service provider; local and/or long distance telephone charges may apply.
General:
Power Supply AC 120/240V, 50-60Hz, auto-switchable Top-panel buttons Volume and Mute Top-panel lights Indicate ZonePlayer status and Mute status Dimensions (H x W x D) 8.50 x 14.40 x 4.80 in. (217 x 365 x 123 mm) Weight 9.15 lb (4.15 kg) Operating temperature 32°F to 104°F (0°C to 40°C) Storage temperature 4°F to 158°F (-20°C to 70°C) Product finish White finish with light metallic grill Multi-language support Sonos System Software supports Dutch, English, French, German, Italian, Spanish, and Swedish Package contents Sonos ZonePlayer S5, power cord, line-in audio cable, flat Ethernet cable, Sonos System Setup software CD-ROM, Product Guide, and Setup Poster
If this is your initial Sonos setup then install the included software and follow the setup wizard. Pressing the mute and volume up buttons simultaneously on the S5 allows a network link to be established with the PC or Mac running the Sonos software. The longest part of the setup is the indexing of your music library, obviously dependent on the size of your library.
If you already have a Sonos setup then Multi-Room Music System then go to the Zones column and click on Add a ZonePlayer or ZoneBridge. Pressing the mute and volume up buttons will allow the discovery of the new ZonePlayer to the Sonos home system. Since there already should be a wired Sonos in this setup, the S5 will function wirelessly and can be placed almost anywhere you choose.
The ZonePlayer S5 can be controlled via three options – via PC/Mac, with a iPhone/iPod Touch app or using the Sonos Controller 200 ($349). With the large penetration of Apple devices in the market, the second option would probably appeal to most consumers. Personally if you can pick up a refurbished iPod Touch for less than $200 I don't see why you would want to spend more money on the more expensive Sonos Controller.
The Sonos software is well organized and from here you can select music, input account settings for various services, update music libraries, create playlists, etc. The Sonos app provides similar functionality as the desktop software with its intuitive design. In fact my Sonos contact told me that the iPhone app served as a test platform for the Sonos Controller 200's interface. I was a beta tester and never knew it.
Sonos recently updated the app with the release of the iPhone 3.1 software update. Now users can link their Twitter accounts to the Sonos app. Playing a song you want to tell the world about, press Info View on the Now Playing screen and select Update Twitter Status.
So how does the Sonos ZonePlayer S5 sound? For a first foray producing an integrated audio device, Sonos does a very nice job. The five speakers provide a rich sound stage with a nice deep bass. Although it looks like a Bose products, the Sonos does have discreet highs and lows too. When compared to similarly price iPod stereo docks, the ZonePlayer S5 sounds as good as other brands with lots more speaker design experience.
Of course having a small cabinet with five speakers in a tight space means some acoustic sacrifices are made. The unibody nature of the S5 prevents stereo separation making the S5 sound best when the listener is directly in front of the unit. This sacrifice means the musical experience with the S5 is definitely better when the ZonePlayer is used in a smaller space such as a bedroom.
If you wish to tweak the sound emanating from the S5, simply adjust the treble, bass and balance controls. Although it is not a iPod dock, the S5 can play music off any Apple music device or any other mp3 player such as a Zune via the line in connection on the back of the unit. The headphone jack lets you listen to the Sonos without distracting others.
Prior Sonos solutions were not really portable as they had to be directly attached to a stereo or a pair of speakers. The ZonePlayer S5 remedies this problem when working within the SonosNet network; as long as there is an outlet nearby the S5 will provide the music.
Conclusion:
There is a lot to love about the ZonePlayer S5, Sonos' first stand alone music system. The controls are simple and intuitive and setup is a breeze. For the same price as a high-end iPod Speaker Dock, users can access their music library as well as music services and internet radio from one fantastic sounding device. Combine the S5 with an Apple touch device and you will have a slick remote to listen and control your music library.
There are a few caveats to the ZonePlayer S5 – if it is the only Sonos unit in the home it will need to be connected to a router to access the Sonos software on the PC/Mac. You can purchase a Sonos ZoneBridge to allow the S5 to function wirelessly but this adds another $99 to the total cost. If you don't have an iPhone/iPod Touch and want to control your music remotely then you will have to buy a Sonos Controller 200 which dramatically increases the price of the Sonos package.
I love my Sonos setup and think the ZonePlayer S5 is a great step in increasing Sonos' market share. I still think the price may turn off some people especially if they think the S5 is just another iPod speaker dock. Hopefully Sonos will drop the price in the future or add built in Wi-Fi capability into the S5 itself.
If you love music and want to listen to your music away from the computer than the Sonos' solution is probably the easiest and most elegant solution on the market.
Pros:
+Superb audio quality
+Excellent controls using the free iPhone/iPod Touch app
+Elegant appearance
+Portable
+Lowest price entry point for Sonos adoption
+Large selection of online music options
Cons:
-No power switch
-Requires Ethernet connection or other Sonos device on network
-Price
| | |
| --- | --- |
| Grades: | |
| Overall | |
| Design | |
| Performance | |
This product was given to technogog for review by the company for review purposes only, and is not considered by us as payment for the review, we do not, and never will, accept payment from companies to review their products. To learn more about our review policy please visit this page HERE.