The Super Talent Pico Drive is now available in 64gb, and yeah it's the World's Smallest surely. It's even 24k gold plated to add a little bling to your lifestyle. price will be $164, which I guess is cheap compared to other out there…
Super Talent Technology today it is now shipping a new large capacity, 64GB, Pico-C. The Pico-C is famous for its: ultra-small, light weight, water-proof, cap-less design; now it's available in a 64GB version.
"The Special Edition Pico-C is a testament to the fact that big things can come in small packages. We've taken our most popular flash drive, the Pico-C, to the next level by upping its capacity to an incredible 64GB, speed rating it and celebrating it with a 24K gold finish." – SuperTalent COO, CH Lee.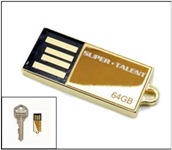 This Special Edition drive is 64GB, speed rated and offered in a 24K gold finish. Making no apologies for performance, the Special Edition Pico-C boasts a 30MB/s (200X seq. Read) and 15MB/s (100X seq. Write) speed. Hailed as the world's smallest USB drive, the Pico C drive measures a mere 31 x 12 x 3 mm and weighs no more than a nickel. Despite its incredibly small size, Super Talent is now able to pack an astounding 64GB of NAND flash into the same small form factor.

Visit the product page on our website
http://www.supertalent.com/products/stt_usb_detail.php?type=Pico-C%2064GB