This looks awesome, a tablet for kids, and I've got kids, so I think I need to get one of these. It's a 7 inch tablet with touchscreen and it has 3G, but that's about all the PR tells us.
Fable's easy-to-use interface, coupled with a secure connection to Isabella's VizitMe.com content management system, enables children to interact with educational and entertaining content at home, school or on-the-go. Fable's core applications include reading, drawing, gaming and photo sharing. Fable will ship with selected content from HMH's treasured storybook collection. The e-Reader application will provide access to the Fable library, which includes a child's personal collection of preloaded and purchased material available for immediate viewing. Parents and children will be able to purchase additional eBooks from Isabella's VizitMe bookstore or directly from the bookstore located on the Fable device. With a wide selection of picture books and interactive content, Fable provides an entertaining digital experience for children of all ages and interests.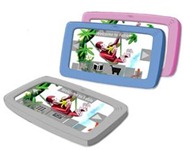 "Fable integrates classic stories and technology to enable children to experience our content in a rich and exciting way," said Cheryl Cramer Toto, Senior Vice President of Digital Strategy and Planning for HMH. "We continuously strive to entertain, educate and inspire young readers, and through the partnership with Isabella Products we are delighted to make our children's picture books available on Fable."
In addition to the e-Reader application, Fable offers:
• Drawing – Includes an artistic toolset of various sizes and colors including markers, paintbrushes, magic pens or shapes, which can be applied to a blank page, coloring book pages or photos.
• Gaming – Provides interactive games focusing on counting, reading, nutrition, colors, shapes and other educational themes, all supported by HMH and other publishers' unique characters and stories.
• Photo Sharing – Supports the delivery of photos from family and friends to Fable's own Gallery. An onboard camera will also allow users to take photos from Fable and share them as well. Photos can also be used as coloring sheets in the drawing application.
To ensure a secure and safe experience, Fable is managed by Isabella's VizitMe.com content management system that controls the device's access to new content, friends and family, and the VizitMe bookstore. Fable's settings can be adjusted on the device by parents through a pin code or can be remotely managed through a password-protected account at VizitMe.com. All purchased and created content is saved on VizitMe.com where parents can also invite and manage their friends' and family's interactions with the child's device.
Powered by a mobile broadband connection, families will be able to take their child's Fable with them almost anywhere—as a fun interactive and entertaining tool in the car, at a sibling's soccer game or on the school bus. Fable's durable design takes into consideration a child's handling of the device and external factors within various environments. For more information about Fable, please go to www.isabellaproducts.com
Via Engadget: http://www.engadget.com/2010/11/09/isabella-products-reveals-7-inch-fable-connected-childrens-tabl/