Synology released a few new NAS boxes yesterday and today I've got the DS211 for review. The DS211 features the new DSM3.0 operating system which makes life much easier when you're trying to work with it. The new interface, for lack of a better description, is similar to Windows really, it allows you to open several things at once to multi-task. The DS211 is meant to be more of a budget minded NAS box that provides all of the features of higher cost boxes but just at a lower price really. So read on to learn more about it..

I was going to do a video unboxing but part way through it my battery died, so I just gave up, sorry to disappoint you this time.
The box for the DS211 comes packaged very well in a nice well padded box.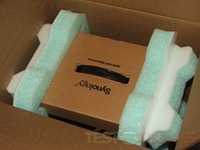 The DS211 box comes with a handle on it to help you carry it easier, when you open it up you're greeted with more packaging. Synology does a great job at packaging that's for sure.
Once you unpack everything you'll find the DS211 packaged well and a box along with a folded piece of cardboard that holds some cables as well. Inside you'll find the power cable, ethernet cable, power supply, software disc and user manual along with a bag of extra screws.
The DS211 looks just like other Synology NAS boxes, the last one I reviewed was black in color this one is white. On both side of the box you'll see the Synology logo as well.
On the front you'll see four indicator lights, a USB port, power and copy buttons.
On the bottom you'll see vents for cooling and rubber feet.
Moving to the back you'll see the 70mm fan along with connections for power, ethernet, USB, reset button and a Kensington style lock.
The one I got for review came with drives installed, to access the HDD racks you'll need to remove a couple screws and then just slide the top off.
Here's what it looks like with the drives in there, you can see there's a nice space between them to allow air to flow through keeping the drives cool.
The drives are Seagate 7200.12 1TB drives.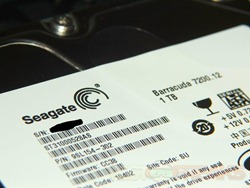 Of course I was curious so I removed the drives to get a better look inside. The SATA ports are actually a riser card, or at least one is. You can see the fan right there behind the drives.
Here's the bottom of the DS211 where you'll see the CPU and other components.
Specifications:
Feature-rich 2-bay NAS Server for Workgroups and Offices
Synology DiskStation DS211 is an affordable and full-featured 2-bay NAS server designed to increase productivity for business workgroups. Cross platform file sharing, rich office applications, data backup and security are easily achieved in a flexible solution. Running on DiskStation Manager 3.0 (DSM 3.0) operating system, it delivers ease of use and variety of features.
* Optimal Price/Performance Ratio
* RAID Protection
* Windows+Mac+Linux Cross Platform File Sharing
* Rich Office Applications
* Effortless File Backup
* Peace of Mind with AES 256-bit Share-level encryption
Optimal Price/Performance Ratio
The Synology DS211 delivers an average 104.37 MB/sec reading speed under RAID 1 configuration in a Windows environment, and 53.29 MB/sec writing. The Synology DS211 provides a reliable solution for data sharing with an easy to use interface, and comprehensive office applications, including a complete backup solution making it one of the best values in 2-bay NAS devices available today.
Easy Setup and Management
Synology DSM 3.0 operating system offers intuitive and easy-to-use web experience. For users who are limited on time and not familiar with configuring complicated routers, the Synology EZ-Internet Wizard simplifies the process of setting up access to the Synology DS211 from the Internet. The EZ-Internet Wizard steps through all of the settings including firewall settings, port-forwarding, PPPoE setup and DDNS registration.
The multi-tasking web UI on DSM 3.0 lets users to run multiple applications simultaneously on one tab browser and switch between them instantly. User Home feature makes creating private shared folders for a large number of users an easy task as it minimizes the steps and time for the administrator to create private shared folders. Sub-folder privilege settings further extend the flexibility to allocate permissions for different workgroups. All of these features are performed in a web browser, akin to a full desktop experience.
Windows+Mac+Linux Cross Platform File Sharing
Synology DiskStation is designed for data storage and sharing among Windows, Mac, and Linux. Seamless file sharing across different operation systems is an effortless process. Windows ADS integration allows the Synology DS211 to quickly and easily fit into an existing network environment with no need to recreate user accounts on the Synology DS211.
Peace of Mind with Data Encryption
Data protection is an important matter for business of all sizes. Synology DS211 comes with share-level AES 256-bit encryption to aid in the prevention of unauthorized access attempts to the hard drives.
Rich Office Applications
Synology Mail Station add-on provides a one step installation and enables Synology DS211 to be a mail server that supports Outlook-like Web mail, SMTP, POP3, and IMAP.
Synology Web Station with Virtual Host option allows users to host up to 30 websites on one single Synology DS211. The built-in PHP+MySQL provides the ability to create interactive websites without complicated settings.
Synology DS211 supports two USB printers simultaneously as a Print Server, and the Add Printer Wizard simplifies setup process with a wizard.
Effortless File Backup
The Synology DS211 offers a centralized backup target to consolidate fragmented and unstructured data across a network. PC Users can back up their data to the Synology DS211 using the free Synology Data Replicator software, while Mac OS X users enjoy native Apple Time Machine integration. A web-based backup wizard is provided for backing up data in the Synology DS211 to another Synology DiskStation or any rsync server via an encrypted transmission, or to an external hard drive via USB connection. In addition, backing up to the cloud using Amazon S3 service is also supported.
Eco Friendly
Synology DiskStation is designed and developed perpetually with the concept of energy saving. Compared with average PC counterparts, Synology DS211 consumes a relatively low amount of power in operation (22W) and has the HDDs hibernate when not in use (10.8W). This not only helps to save energy but also extends the lifespan of the hard disk. Unique Scheduled Power On/Off feature, and the smart fan design effectively cools down the system with minimum power consumption, yet keeps the system quiet on operation.
Basic Specs:
-CPU Frequency: 1.6GHz
-Hardware Encryption Engine
-Memory: 256MB
-Internal HDD1: 3.5″ SATA(II) X2 or 2.5″ SATA/SSD X2 (with the Disk Holder)
-Max Internal Capacity: 4TB (2x 2TB hard drives)
-External HDD Interface: USB 2.0 port X3
-Size (HxWxD): 161mm X 88mm X 218mm
-Weight: 0.98kg
-LAN: Gigabit X1
-Wireless Support11
-Fan: X1(70mmX70mmX25mm)
Applications:
File Browser
File Station
FTP Server
Web Station
Surveillance Station
Photo Station
Download Station
Audio Station
DLNA/UPnP Media Server
iTunes Server
Printer Server
Synology Packages:
* SqueezeCenter
* Mail Station
* Webalizer
* phpMyAdmin
* Time Backupbeta
iPhone/Android Applications:
* DS photo
* DS audio
* DS cam
You can read the full specs here: http://www.synology.com/us/products/DS211/spec.php
Price: $334.88 (Without disks, from Amazon at time of review)

To install the DS211 hook up the ethernet and power, then turn it on. You'll then need to pop in the disc and install the Synology Assistant software to get things started.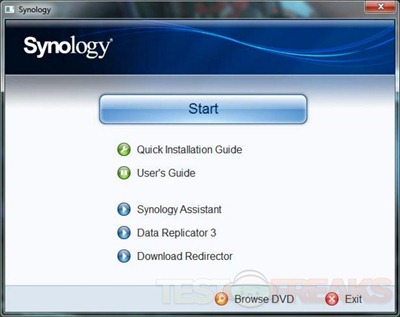 Just follow a prompt or two and then you'll be taken to a browser window so you can login to the box.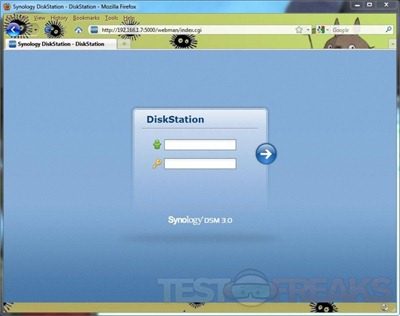 When opened you'll be greeted with the Quick Start window to Set up the volume, add users, access files and help you learn more or discover things about your new NAS box.
The setup process can take a while, but most of that time will actually be the formatting the drives or creating the raid array of your choice.
The two drives are configured in hybrid raid, which is basically mirrored.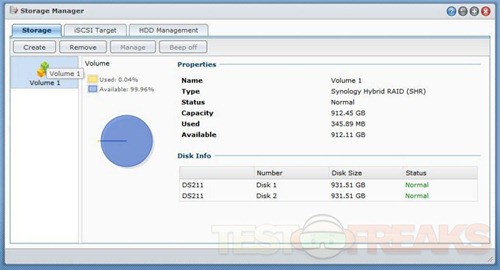 The new operating system for Synology NAS boxes is called DSM 3.0 and it's very similar to Windows really, you can open more than one window at a time to access multiple things. Here's a few open to show you:
On the very top you'll see what is basically the Task Bar, just push the button and down pops a menu.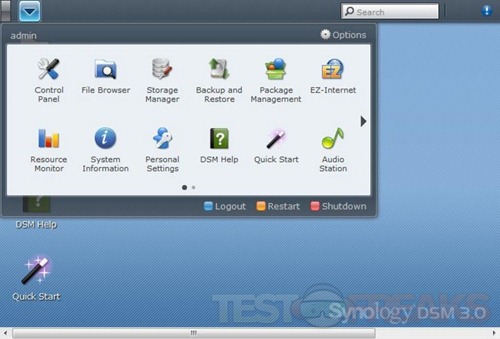 Don't worry I'm not going to go into every option, but the set up is very easy and everything is accessed right from the Control Panel.
You can even change how you want the log in to work.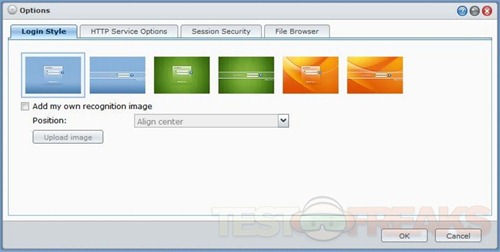 Here's the Download Station and the Audio Station from the User perspective. Yes you can play music right from the DS211 and it has its very own torrent client built in.
I run two NAS boxes normally, one is the Synology DS210+ and the other is the Thecus N4200 which is a 4-bay box. I run both boxes with encryption, so  that needs to be kept in mind for the tests. The DS210+ is running Raid 0 or striped while the Thecus is running Raid 5.
To test these boxes I used three types of transfers to and from the boxes.
Small Video File Transfer  .TS (900Mb), Large File Transfer ISO file (3.GB), and a Files and Folders Transfer which is a total of 3.GB with 874 files within 199 folders.
We'll start with the transfer from or read test:
As you can see the DS211 performed very well overall, then again the other boxes are encrypted.
Here's the same test expect transferring to or writing to the boxes:
Here we see quite a difference really, the speeds are much closer here.
Here's the regular drag and drop method with the same files:
Here's the Files and Folders Transfer test:
Transfer To: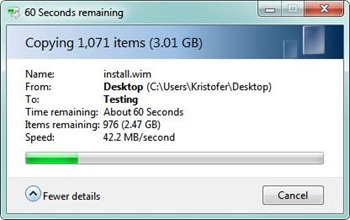 Transfer From: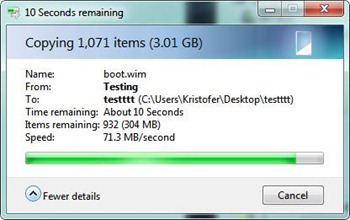 Next is the 3.02gb ISO file:
Transfer To: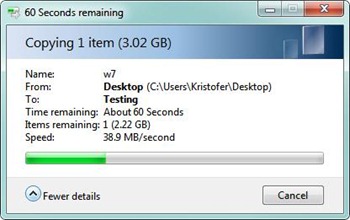 Transfer From: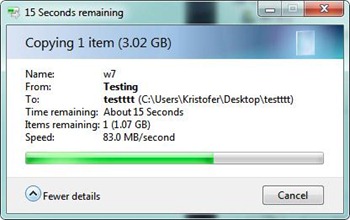 Then finally a small file, about 900mb video file:
Transfer To:
and finally Transfer From: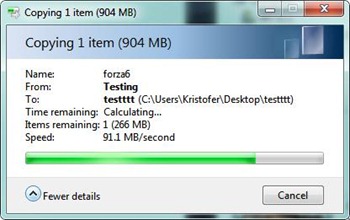 As you can see we hit about 90mb/s for read speeds and then only about 40mb/s for write speeds.
Conclusion:
The new DS211 is an excellent product really and I'm truly amazed at how smoothly everything works. The box only has 256MB of ram on board and it running a 1.6GHZ CPU, but yet the interface is smooth and problem free.
The new DSM 3.0 interface is truly a pleasure to use, it's quick and responsive even with several windows open, it works very well.
The speeds of the DS211 are impressive and the quality of the box itself is very good.
Pros:
+Low price when compared to others
+Simple to set up and use
+New DSM 3.0 really makes it easier to use
Cons:
-None really
| | |
| --- | --- |
| Grades: | |
| Overall | |
| Design | |
| Performance | |
To learn more about our review policy please visit this page HERE.