So this popped into my inbox earlier today, it's letting us know that Kingston has just announced new HyperX memory made just for the Z87 Haswell platform.  The ram is the available in speeds from 1600mhz up to 2666mhz and capacities from 8gb up to 32gb.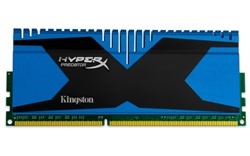 Kingston Technology Company, Inc., the independent world leader in memory products, today announced a series of Intel® XMP-validated HyperX® memory solutions for the 'Haswell' 4th generation Core™ i7, i5 and i3 processors and Z87 chipset-based platforms.

Kingston® has HyperX memory in frequencies ranging from 1600MHz to 2666MHz, in various kits of two and four. The complete list of HyperX XMP-validated memory can be found

For more information, please call www.kingston.com.