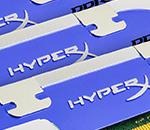 I've got the need for speed! If you do too then you need to check out the new HyperX. Certified by Intel and ruining at 2400MHz, it is the world's fastest memory on the market today…
March 15, 2010 — Kingston Technology Company, Inc., the independent world leader in memory products, today announced it has developed the fastest Intel-certified memory in the world. Running at 2400MHz, Kingston's HyperX® dual-channel DDR3 memory kit (Kingston® part#: KHX2400C9D3T1K2/4GX) gained Intel® XMP certification on the Core i7™ platform. Intel's certification is posted at: http://www.intel.com/en_US/Assets/PDF/prodspec/ww09-2010-XMP-self-cert_Core-i7-BlueBadge.pdf.
            The 2400MHz kit runs at 9-11-9-27-2 timings at 1.65 volts and was developed for enthusiasts, gamers, and benchmarkers looking to scale new memory heights. As with all Kingston memory, the 2400MHz kit was created with the highest design-engineering principles and subjected to OEM-quality production and testing standards to gain Intel XMP certification. The memory was tested to great success on several P55-based systems including the GIGABYTE GA-P55A-UD4P motherboard.
            The 2400MHz kits will be available in Q2. Kingston HyperX memory is backed by a lifetime warranty and free 24/7 technical support. For detailed information please visit the Kingston Web site at www.kingston.com.
About Kingston Technology Company, Inc.
Kingston Technology Company, Inc. is the world's largest independent manufacturer of memory products. Kingston designs, manufactures and distributes memory products for desktops, laptops, servers, printers, and Flash memory products for PDAs, mobile phones, digital cameras, and MP3 players. Through its global network of subsidiaries and affiliates, Kingston has manufacturing facilities in California, Taiwan and China, and sales representatives in the United States, Europe, Russia, Turkey, Ukraine, Australia, New Zealand, India, Taiwan, China, and Latin America. For more information, please call 800-337-8410 or visit www.kingston.com.