Black Friday is almost here, are you excited yet? I'm not, I hate to be a scrooge, but Christmas is not supposed to be about who buys the best present, and that's all it's become anymore. It's all about shopping, and on that note I'd like to see one of these under my tree if someone would buy me one.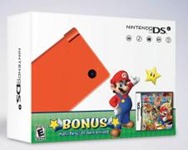 Nintendo is giving Black Friday a splash of color with two new bundles for its hot-selling Nintendo DSi™ system. For the first time, shoppers can choose an orange or green system, which will be bundled with the Mario Party™ DS game. The new colors go on sale on Nov. 26 and will be available while supplies last at a suggested retail price of $149.99.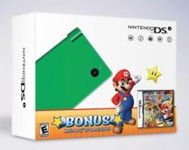 These new colors join Nintendo's other great value bundles for the holidays that are being released in honor of the 25th anniversary of the Super Mario Bros.™ game on the NES™. These include the limited-edition red Nintendo DSi XL™ bundle, which features a red Nintendo DSi XL system with three iconic Super Mario Bros.-themed graphics, the Mario Kart™ DS game, and preloaded software titles including Brain Age™ Express: Arts & Letters, Brain Age Express: Math and Photo Clock at a suggested retail price of $179.99. In addition to those preloaded titles, each Nintendo DSi system comes preloaded with Flipnote Studio™, which lets users create, upload and share their own fun animations.
Nintendo is also offering the limited-edition red Wii™ hardware that includes a new red Wii Remote™ Plus controller, a red Nunchuk™ controller, and games New Super Mario Bros.™ Wii and Wii Sports™ at a suggested retail price of $199.99.
Through the end of October, Nintendo has sold more than 43 million systems in the Nintendo DS™ family in the United States alone, according to the independent NPD Group.
For more information about Nintendo DSi, visit http://www.nintendodsi.com.