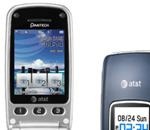 Pantech has just announced a new phone, it was actually supposed to be in my hands by now.. not sure why it hasn't been delivered yet, I was hoping to have some 'real' pictures of it for you to go along with this PR.. Anyway the new Breeze II is your basic clamshell style phone for the AT&T network. Price will be $19.99 after Mail-in rebate and new two year agreement.
With breEZe II, an external LED notifier has been added providing visual alerts for missed calls, new messages and low battery.  Additionally, the phone has one-touch buttons that make calls to friends and loved ones easy, as well as a menu smart search.  breEZe II includes the following convenience features:
EZ One-Touch Quick-Call Keys — Three programmable quick-call buttons are located directly below the screen, letting users easily select one of the three quick-call contacts and press the send button to start a call.
Customizable Menu — Users can choose between two menu options: "breEZe mode," which is a simple, linear menu that provides customers access to the features they use most, and "Advanced mode," an icon representation of the phone's full set of features including social networking, games and music options.
Large Font and Keypad — In breEZe mode, menu screens use a highly visible large font, while the keypad is enlarged to ensure that keys are easily seen and activated.
External Notification – Whether users are in a noisy environment, using the phone in silent mode, or out of earshot of their handset, an external LED light signals missed calls, waiting messages and low battery.
3G Speeds – Operating on AT&T's 3G network, Internet browsing and navigation functions are made faster.
For more information about Pantech and its products, please visit www.pantechusa.com, or follow us on Twitter www.twitter.com/pantechusa, or Facebook www.facebook.pantechusa.com.