Neese Products (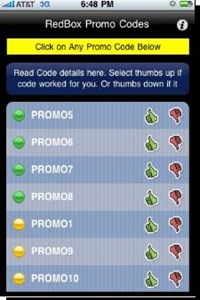 How it Works
Consumers simply launch the application or update/refresh the codes before leaving to rent a movie and they will be presented with the latest collection of ranked promotion codes for free DVD rentals at Redbox self-service kiosks. After selecting a movie, click "Enter Promo Code" on the Redbox checkout screen and enter one of the promo codes provided by the app. The Redbox will confirm the FREE rental before you finish.
Where to Get it
The Neese Products app can be found in the iTunes store by searching for keyword "red box free rental promo codes" or "Neese products".
Users can also find it directly with the following link:
http://itunes.apple.com/us/app/red-box-free-rental-promo-codes/id339521804?mt=8
About Neese Products
Neese Products LLC was founded to create new and innovative products that solve everyday household problems. The company's first product, QuickSeals®, was born from a common vacation dilemma—how to salvage all of those half-started snacks and other food items instead of throwing them out. Today, this problem is solved with QuickSeals® which transforms any opened food, bag or box into a zip-sealed container. The patented product is being manufactured for sale and distribution in the US with international distribution to follow. Other Neese Products include Sha-Co!, a learning tool to teach children shapes and colors, as well as a host of other products currently in development. For more information on Neese Products, visit the company Web site at www.NeeseProducts.com or call 800-705-4000.