The Rock Band series and the other music style games are very popular, and for good reason they're tons of fun. Rock Band has recently released a new version featuring everyone's favorite toy Lego! Since it's Lego you can obviously guess it's aimed at children, the other Rock Band games are more for adults and older gamers, but Lego Rock Band is for the young little rockers out there. It's colorful, quirky and all around fun, I very much enjoyed playing this game as do my children.

No box shots, you know what  box looks like right?
We'll start off with the Menu: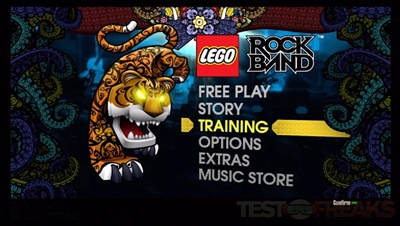 There's a few options to Lego Rock Band, they're similar to what you find in other Rock Band games. The Free Play mode is just that, pick a song and play it. The story mode is actually quite long, and has lot of different features to it, but nothing really different from the other Rock Band games at heart. Really it's just Rock Band two skinned over with Lego, but that's not a bad thing.
In the training menu you'll find Tutorials, Practice Mode and Drum trainer.
Under Options you'll find the basic stuff like settings, and calibration. Under Extras you've only got two choices, Credits and Modify game. Then of course there's the music store where you get to buy more songs for the game. The included track list is decent, some of them I questioned, but like any music game there's bound to be songs you don't like in it.
When you play Story Mode you'll first be taken to a hub of sorts, or you home base, it's like a big warehouse where your band lives. It's broken into sections Continue Tour (which leads to the garage, more on that in a minute), The Office, Free Play, Practice Stage, Rock Shop, Rock Power Challenges and Watch TV.
In the game you'll have these things called Rock Power Challenges that feature neat cinematic movies of the Legos, you can got the Watch Tv section to re-watch the ones you already visited.
The Office is where you can speak to your manager, basically just looking over your career stats, and you can also hire Entourage characters as they become available.  The Entourage characters are special characters like Music Video Producer, all of these characters, when in your entourage, will add bonuses to the final score like extra money and more fans.
In the warehouse you can also customize it, by playing you'll unlock things like decorations, new drum kits and new speakers, and a lot more. You can purchase these things and add them to certain spots on the walls, floor and ceiling to give you a customized living space.
If you go to the Rock Shop you can customize all of your characters including the Road Crew and Entourage.
Moving to Continue Tour takes you to the garage and story mode. Each area is broken down into vehicles that you'll need to buy, but they can only be unlocked when you complete the challenge. The idea of the vehicles is that they help you get places. here's a few of the vehicles, not all of them.. didn't want to spoil any surprises…
When you select the vehicle you're greeted with the familiar venue and song selections.
As I mentioned to get to the next level or venue you'll need to complete the Rock Power Challenge, this is a great part of the game that's fun. You use your music to complete a task and the song is appropriate to the setting, like you'll be playing Ghostbusters in a haunted house fighting off ghosts. You do have to have enough money though to purchase the next vehicle, but I found that I always had enough money, it's easy to make money in Lego Rock Band.
Here's one of the Rock Power Challenges with the opening cinematic and part of the song to give you an idea:
(Not sure what happened with the encoding here, it's perfectly fine for me, apparently Viddler re-encoded it and messed it up a bit… I'll re-upload it and insert the new video shortly)
Specifications:
Build a band and rock out!
LEGO Rock Band delivers a unique family-friendly music experience that will take tweens, teens, families and gamers of all ages on a wild journey to rock stardom in order to "Build a Band and Rock the Universe." Combining the authentic multiplayer music experience of Rock Band with the accessibility, customization and humor of LEGO games, LEGO Rock Band allows players to create their own unique rock star style and customize their own avatars, band members, roadies, and managers. As players successfully complete songs and rock challenges, they can collect LEGO studs, unlock additional content and collect amazing vehicles, which can take their band from local gigs at rock clubs to epic stadium shows and even fantasy settings on Earth and beyond.
* Songs you know and love: Rock out to everything from current radio hits to past favorites the whole family will enjoy.
* LEGO-themed rock challenges: Play killer riffs to destroy a giant robot, summon a storm, and demolish a skyscraper using the power of rock!
* Enhanced customizer: Don't stop with your avatar, customize your whole entourage! Design the band, roadies, and manager just the way you want.
* Build fame LEGO-style: Collect LEGO bricks after each song to build cooler vehicles and move to new venues.
* LEGO rock den: Buy furniture, decorate the walls and customize your band's hang-out as you climb the ladder to rock success.
* Fun for everyone: Turn down the difficulty with an easier skill set option for budding musicians.

Load times are long and frequent, everything you do requires a load, but between each on you'll get a neat little fun fact about Legos and the game.
Game play is just like Rock Band, but with Lego..
At the end of each song you'll get you're score along with things that are unlocked, here's where having the Entourage helps, you'll get bonuses for having them.
Game play is simple, if you're played Rock Band you'll have no problem with Lego Rock Band.
The graphics are decent, they're Lego so they're cute and funny and Lego themed, but not everything is Lego…
Conclusion:
Lego Rock Band is good game overall, it's aimed at children and that's where it really shines. The characters and themes are fun and everything is nicely done and vey colorful. Children of all ages should love this game really, and it's a great way to get young kids to play the Rock Band series.
At heart though it's just Rock Band with a new look, game play is virtually the same, so there's nothing new there really. The additions that were added like the Rock Power Challenges are fun and exciting really, I found myself looking forward to playing the next one to just see what was going to happen next.
Pros:
+Great kids game
+Fun and rather long story mode
+Good track list
Cons:
-Re-skinned Rock Band
-Long load times
| | |
| --- | --- |
| Grades: | |
| Overall | |
| Design | |
| Performance | |