The new ReadyCache SSD from SanDisk is an SSD yes but not like others, it's used as a caching system for your regular hard drive. The ReadyCache is only 32gb and you use the ExpressCache software  to speed up your system basically. The two run together with your current hard drive for fast boot time and fast application launching. I guess it's a neat idea to do it this way but I think I would just rather have a regular SSD. I run a 250gb SATA6 SSD along with an SATA6 2TB hard drive and my system is nice and fast overall I think.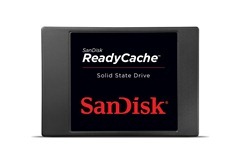 Easy Upgrade Breathes New Life Into Desktop Computers

The SanDisk ReadyCache product is a performance enhancing caching solution that combines a 32 gigabyte (GB)1 2.5-inch SSD that resides alongside a desktop computer's hard drive with ExpressCache™ software by Condusiv™ Technologies. The software, sold exclusively by SanDisk, is easily downloaded from the SanDisk website and can be installed on any desktop PC running Windows® 7 operating system. After installing the SSD and software, the SanDisk ReadyCache solution's advanced caching algorithms automatically manage data by caching frequently used files to improve overall performance2.

Faster Boot Times: The SanDisk ReadyCache hardware and software solution enables up to four times faster boot performance3than a standalone hard drive, letting consumers boot their computer quickly and shut down the system in moments
Faster Application Launches: The caching solution launches applications up to 12 times faster3, which is especially useful during gaming, business and multimedia applications
Supports Multiple Hard Drives: Unlike most SSD caching solutions, the SanDisk ReadyCache solution can pull data from multiple hard drives, enabling a consistent performance improvement when utilizing more than one hard drive
Supports High-Capacity Hard Drives: The solution supports hard drives with any amount of capacity so users can enjoy maximum storage space
Data Coherency: All data that resides in the cache also resides on the primary storage, which helps prevent data loss if the caching solution is later uninstalled
Seamless Multitasking: The caching solution enables consumers to smoothly run simultaneous applications, ideal when multitasking
Fast Installation: With the SanDisk ReadyCache solution, consumers don't need to replace their existing hard drive, clone their operating system, perform lengthy installs or migrate data. The product comes with an installation kit that includes a SATA 6Gb/s cable, a 3.5-inch mounting bracket and screws; and the software is simple to download and install
Affordability: The caching solution allows consumers to enjoy the fast performance of a new computer without paying for an entire system

"The SanDisk ReadyCache is an easy, affordable way to turbocharge a desktop computer," said Kent Perry, director, product marketing, SanDisk. "Our new SSD caching solution lets consumers enjoy the performance benefits of frequently used data coming from an SSD while retaining the storage capacity of their hard drive. It is an ideal combination of the benefits of an SSD and hard drive."

Availability and Pricing

The SanDisk ReadyCache solution is available now at www.amazon.com and www.newegg.com, and carries a three-year warranty and an MSRP of $59.99.

For more information, visit www.sandisk.com.

1 1 gigabyte = 1 billion bytes. Some capacity not available for data storage.
2 Windows 7 OS and software download required. Terms and Conditions apply.
3 As compared to 7200 RPM SATA 2.5" hard drive. Based on published specifications and internal benchmarking tests.
4 Mean Time Between Failures based on parts stress analysis.