HDTVs and home theaters system are great, most of us have one and mostly everything these days is HDMI which is nice as it's just one simple connection for everything. What isn't nice is the fact that you can quickly run out of HDMI connections on your TV, I know I did so I run a few through the home theater stereo system and I found that's still not enough for everything I have. I found myself having to manually unplug and then plug in the device I want to use at times or use an alternate connection method like composite for said devices. Up for review today I have the Sewell Hydra 3×1 HDMI Cable Switch that allow you to connect three HDMI devices to one HDMI connection on your HDTV or theater system. The Hydra consists of four cables, three input and one output with a very small push button switch in the middle and the best part is that it doesn't need an external power source. So read on to learn more…

Specifications:

Hydra 3×1 HDMI Cable Switch
Sewell Part #: SW-30004  
Mfg Part #:  SW-30004
Features:
-Supports HDMI 1.3b
-LEDs indicate port usage
-Simple One Touch switching feature
-Plug and Play
-Full 1080p
-Supports 12-bit Deep Color
-High Performance up to 2.5Gbps
-HDCP Passthrough
-Requires no Power
The Sewell Hydra is the worlds first all in one HDMI cable switch. What makes this switch special is the compact in-line design and the attached premium HDMI cables. The Hydra allows you to manually switch between three HDMI sources to one device.
Most HDMI switches are bulky and require you to find a flat area to place the device. This usually results in the unit being placed in the open next to you AV equipment adding yet another piece of clutter to you home theater. The Hydra's in-line design allows you to let the switch hang behind your equipment helping you keep things clean and uncluttered. Another problem with traditional HDMI switches is that they do not come with HDMI cables so not only do you need to find the right switch you will also need to find four HDMI cables to even use the product. This can become very expensive and time consuming waiting for separate shipping. Why not just make your life a little easier and just get the Sewell Hydra.
How to Install and Use the Hydra:
The Hydra comes ready to use. Simple plug and play installation takes only minutes and requires no software just follow these simple directions.
-Plug the end with a single HDMI cable into your HDMI source (usually your display).
-Run the 6 ft. cable to your AV equipment and plug in the HDMI cables.
-Once the cables are all plugged in you can easily switch sources using the button on the switch. The LED lights on the switch will indicate which cable is being used.
-All in all you should only need 1-3 minutes for this entire operation.
-No extra power needed
This HDMI switch simplifies life by running off the power provided in the HDMI signal you plug into it. No need to rack your brains to find another power plug, or purchase another power strip.
What the Hydra Works With:
This HDMI switch is compatible with all HDMI sources and supports HDCP. This means you can connect your DVD player, Blu—ray player, Xbox 360, Playstation 3, Apple TV, HD Tivo, Laptop — you get the point. Any HDMI device you can think of.
Specifications:
-Total Length: 6"5 Inch
-Output Cable Length:4"6 Inch
-Input Cable Lenghts: 1"6 Inch
-SwitchLenght: 5
-Box Dimensions: 18.5×21.5×4 cm (LxWxH)
-Weight: 292 grams
-Color: Black
Price: $29.95
The Hydra HDMI switch comes in a rather plain small box with instructions on the back.
Inside you'll find a plastic tray with the Hydra in it.
There are no instructions included, but then again I don't think you need any.
The Hydra consists of one long HDMI cable, a switch and then three shorter HDMI cables coming out of it. The cables are nice and thick and overall the Hydra feels well made.
The HDMI ends are gold plated for better signal conductivity and they all come with protective caps for when not in use.
The switch itself is basically just a small black box with a button and three LED indicators on it. You just push the button to cycle through the devices you've got connectors to it.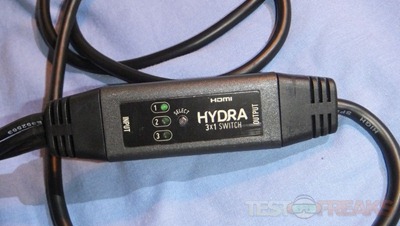 The back of the switch is just plain, nothing special.
To use it you just connect the single output end to your HDTV or home theater system, and then connect the three ends to whatever devices you need to. The switch gets it's power from your devices, when powered on the LED turns green to indicate which device is in use. Setup is very simple, anyone can do it, really just plug and play.
I did run across a small problem with the Hydra, not its functionality but its design. I found the three input cables to be rather short for my needs. I originally wanted to have my three game systems on one HDMI input, the PS3, Xbox360 and the Wii (my Wii is HDMI now thanks to the

Conclusion:
The Sewell Hydra 3×1 HDMI Cable Switch works exactly as advertised, if you've run out of HDMI ports and need more this is a simple and easy way to add more to your existing system. The switch is very easy to use, just push the button to change devices and the LED lights up to visually let you know which one you're using. The cables are thick and sturdy and the connectors are gold plated for better signal conductivity. The Hydra isn't powered so you don't have a need for another power outlet and yet another wire in your system to clean up.
Overall I like it a lot and it works but there are two things I would change about it.  The cables aren't numbered, so you don't really know which cable is for which switch number until you start turning things on and pushing the button. The three cables are too short I think, at least for my uses. It would be nice if they were longer to reach were you need it to and still be able to access the switch easily. One way to fix this problem would be to use female HDMI connectors on the Hydra, this way you could use your existing cables and just connect it that way so there would be no need to worry about the overall length. Using your own cables will also let you pick the length you need for your system, as is now with the Hydra you're kind of stuck having to keep the three things you want to use close together in your system.
Pros:
+Simple to use
+Well made overall
+Thick cables with gold plated connectors
+Works as advertised
Cons:
-Cables aren't numbered
-Cables a bit too short
| | |
| --- | --- |
| Grades: |   |
| Overall | |
| Design | |
| Performance | |
To learn more about our review policy please visit this page HERE.